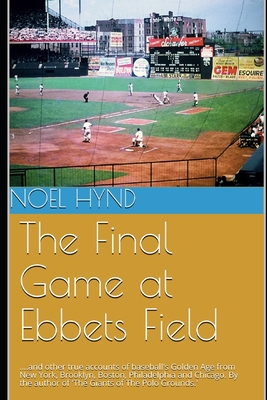 The Final Game at Ebbets Field (Paperback)
....and other true accounts of baseball's Golden Age from New York, Brooklyn, Boston, Chicago and Philadelphia. By the
Independently Published, 9781074174767, 242pp.
Publication Date: June 17, 2019
* Individual store prices may vary.
Description
Nominated by SABR (The Society for American Baseball Research) for Best New Book about The Brooklyn Dodgers in 2019.The Dodgers' final game in Brooklyn was played on September 24th, 1957. From the author of "The Giants of The Polo Grounds," here's a thoughtful entertaining new account of that last game played by the Brooklyn Dodgers at baseball's fabled Ebbets Field. 'The Final Game At Ebbets Field' starts this unique collection of true baseball stories. Photographs and a treasure trove of new insights and details accompany this newly researched account. The book continues with a lively assemblage of true major league stories from the golden age of baseball, focusing on New York, Boston, Chicago, Philadelphia and Brooklyn, with a touch of San Francisco at the conclusion. We meet the fascinating men and women of the first half of the 20th Century. We get to know the people and places of a colorful bygone time: back when there were sixteen teams and hundreds of legendary players. Meet, for example, the family that lived at a ballpark in New York, the female Olympic swimmer who became the pitcher and captain of the New York Female Giants. Spend time with championship Boston Red Sox team that featured the greatest everyday outfield ever. Go back to the day when John Dillinger played professional baseball and Al Capone asked a Chicago player for an autograph, a request that was not to be refused. Fly a single engine plane with Ruth Law, the skilled aviatrix who dropped a grapefruit from an airplane on the Brooklyn manager. Relive the torments of the A's owner who erected a spiteful wall in Philadelphia to prevent neighborhood fans from seeing his team's games.All these true stories and more are contained here, told in the wry amusing style of Noel Hynd, a former contributor to Sports Illustrated.'The Final Game at Ebbets Field' is an insightful romp through some of American baseball's quirkiest events. It's a memorable read Come join us on a road trip into baseball's most colorful times.Praise for Noel Hynd's "The Giants of The Polo Grounds"......"A compelling and comprehensive history of an extraordinary ball club." - New York Times"Grandly digressive The owners, stars like Mathewson and Mays, various eccentric players are all here in this vivid history by Sports Illustrated contributor Hynd." - Publishers' Weekly"Fans of all ages will treasure the crazy quilt text for its stylish recall of the game's summer roots." -Kirkus Library Journal"Just plain enjoyable as baseball is supposed to be." - The Pennsylvania GazetteE-book priced in a tribute to Ty Cobb's career batting average. Trade paperback publication, late May 2019.