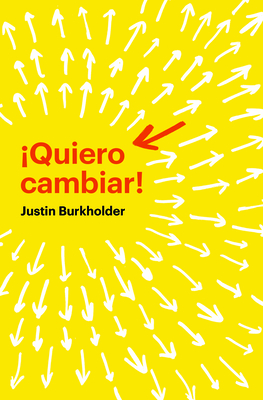 ¡Quiero cambiar!
Paperback

* Individual store prices may vary.
Description
Todos queremos un cambio. Hay aspectos de nuestra vida que nos gustaría que fueran diferentes. La pregunta es ¿cómo lo logramos? Si lo que queremos es tener una vida abundante y plena, ¿dónde la podemos encontrar? La Biblia nos dice que los cambios son un proceso. Luego de creer en el evangelio, pasamos por un proceso de cambios que suceden de adentro hacia afuera. Este proceso no es tan lineal como quisiéramos que fuera, es más bien lento y doloroso, y va sucediendo a lo largo de nuestras vidas. Estos cambios ocurren cuando sometemos nuestras vidas a Cristo Jesús y a Su evangelio.
We all want to change. There are aspects of our lives that we would love to be different. The question which we struggle with is how? If what we want is an abundant and fulfilled life, where do we find it? The Bible tells us that change is a process. After believing the Gospel, we enter into a process of change that takes place from the inside out. This process is not as linear as we would like it to be. Rather, it is a slow and painful process that takes place throughout the course of our lives. This change occurs when we submit our lives to the Gospel of Jesus Christ.
B&H Español, 9781087709796, 192pp.
Publication Date: October 1, 2020
About the Author
Justin Burkholder y su familia sirven como misioneros en la ciudad de Guatemala junto a TEAM (The Evangelical Alliance Mission). También como coordinador de país en Guatemala, para Acts 29, y es uno de los pastores plantadores de iglesia Reforma en la ciudad de Guatemala. Colabora frecuentemente con artículos y videos para Coalición por el Evangelio. Justin creció en la ciudad de México, donde aprendió español y se enamoró de la cultura hispana. Sus padres también sirvieron como misioneros plantando iglesias en varias ciudades de México. Después de graduarse con una Licenciatura en Teología, tuvo varios roles pastorales en los Estados Unidos, hasta que Dios lo llamó a él y a su esposa Jenny a Guatemala. Justin y Jenny tienen dos hijas nacidas en Guatemala.

Justin Burkholder and his family serve as missionaries in Guatemala City with TEAM (The Evangelical Alliance Mission). He is also the Guatemala country coordinator for Acts 29 and one of the founding pastors of Iglesia Reforma in Guatemala City. He collaborates regularly with articles for Coalición por el Evangelio. Justin grew up in Mexico City, where he learned Spanish and fell in love with Latin America. His parents were missionaries who also served Latin America in church-planting. After graduating with a B.A. in Theology from Moody Bible Institute, he served in various pastoral roles in the USA, until God called him and his wife, Jenny, to Guatemala. They now have two daughters, both born in Guatemala.