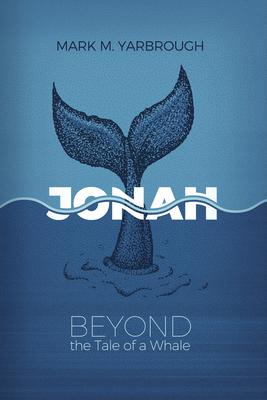 Jonah
Beyond the Tale of a Whale
Hardcover

* Individual store prices may vary.
Description
Many people are intrigued by the biblical account of Jonah. Unfortunately, some view it as a simplistic moral tale, akin to a fish story or a child's fable. In Jonah: Beyond the Tale of a Whale, author Mark M. Yarbrough leads readers into a deeper investigation of this significant biblical book, discovering in it encouragement to Christ- followers to evaluate their spiritual growth as they pursue the heart of God.
Praise For Jonah: Beyond the Tale of a Whale…
"Mark Yarbrough brings us a fresh study of the famous narrative of Jonah. The research is rich, the humor is hilarious, and the exposition purposes to do what the experience of Jonah and intent of the book was, and still is, about—to expose our hearts as readers so God can transform us."
—Mark L. Bailey, chancellor, Dallas Theological Seminary
 
 "Dr. Mark Yarbrough—biblical scholar, theologian, and master storyteller—has given the church a  wonderful resource in his latest work. Packed with in-depth insights, Jonah: Beyond the Tale of a Whale will challenge antiquated notions of Jonah as it encourages you to grow in Christ-likeness. You will never look at the runaway prophet the same."
—Rebecca Ashbrook Carrell, radio host and co-founder, HeartStrong Faith Ministries
 
 "This practical guide to unpacking and understanding Jonah, a prophet that we think we know so well, but want to be nothing like, will challenge God's people to develop and display a kingdom heartbeat for all individuals. You will do well to embrace the major challenges from this minor prophet, and Yarbrough helps us see each one as the book unfolds. This is a great resource for use in the church, in the classroom, or for personal growth."
—Tony Evans, senior pastor, Oak Cliff Bible Fellowship, Dallas, TX, and president, the Urban Alternative
 
"Jonah: Beyond the Tale of a Whale is an accessible and entertaining exploration of a story frequently relegated to irrelevancy. What Mark Yarbrough surfaces about Jonah, and the manner in which the biblical author presents his story, fosters amazement at the beauty, creativity, and love of God. This book is great for the next generation of Jesus-lovers or anyone interested in taking a fresh look at an ancient account that calls us to marvel at God's grace."
—Louie Giglio, pastor, Passion City Church, Atlanta, GA
 
 "Like a Mary Poppins of theology, Mark Yarbrough helps make some hard medicine ("love your enemies") go down in the most delightful way. Writing in an easy-to-read style, he makes even a study of the Hebrew word for 'vomit' fun. Jonah: Beyond the Tale of a Whale is laced with family anecdotes and examples of Yarbrough's own foibles, culminating in step-on-toes application that guides readers to align their hearts with the heart of God."
—Sandra Glahn, associate professor of media arts and ministry, Dallas Theological Seminary
 
 "You'll love this book! My friend and president of Dallas Seminary, Mark Yarbrough, takes an old story— Jonah—that I 'thought I knew, and created a fascinating and insightful process for me to discover 'afresh' the God I know. You will never read the book of Jonah the same again, and better yet . . . you will never be the same again if you follow Mark's practical study of this classic story."
—Chip Ingram, CEO and teaching pastor, Living on the Edge
 
"Mark Yarbrough dispels an often-embraced myth about Jonah—that the book is merely a quaint story, a child's fairytale. With expert analysis of this cherished Old Testament narrative, Mark plumbs the depths of Hebrew storytelling at its finest. The reader will be impressed, not simply with Mark's engaging analysis, but with the object of his study—God's Word."
—Andy Stanley, pastor, North Point Community Church, Alpharetta, GA
 
 "Some biblical stories are so familiar that they have long ago lost their grip on our hearts. Jonah is no exception. Thanks to Mark's thoughtful and interesting unwrapping of the real meanings of the story, this read is transformative! No longer is the story merely about a fish and a prophet but about the wonder of our God who is busy in our lives in unordinary ways to accomplish unordinary outcomes for the good of our world and his glory . . . sometimes in spite of us. Highly recommended!"
—Joe Stowell, president, Cornerstone University
 
B&H Academic, 9781087723488, 224pp.
Publication Date: September 1, 2020
About the Author
Mark M. Yarbrough (PhD, Dallas Theological Seminary) serves as president and professor of Bible exposition at Dallas Theological Seminary.  As an author, speaker, and academician, his practical communication leads him to conferences, classrooms, and churches throughout the U.S. and around the world.   
or
Not Currently Available for Direct Purchase