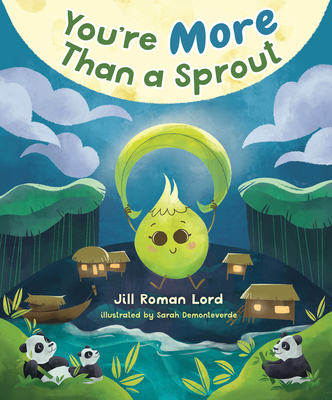 You're More Than a Sprout (Hardcover)
B&H Kids, 9781087730462, 32pp.
Publication Date: April 6, 2021
* Individual store prices may vary.
Description
"When I didn't think I was growing at all, the Master was strengthening me to grow tall.

In this lyrical story, a young bamboo seed loves his time floating through the air, on his way to his new life . . . until he slams to the ground and finds himself stuck in the soil for a long, long time. He pouts and grumbles as the other seeds grow and become strong plants. When the bamboo sprout finally starts to stretch toward the sky, a panda arrives to nibble his stalks and dash his hopes once again. 

But the wise moon offers words of comfort, assuring the bamboo sprout that the Master is at work in his life, and one day the little sprout will become part of all the wonderful things he saw below on his first journey . . . more than he could ever imagine.

Through this rich story, children can find encouragement during seasons of waiting, or times of transition, or while working hard to reach a still faraway goal. Just as the Master did for the bamboo sprout, God is molding young readers to fit His purpose for their lives too.
About the Author
Jill Roman Lord is a speaker and award-winning author of over twenty books, including The Silent Noisy Night and The Quiet Crazy Easter day. She lives in Charlotte, North Carolina, with her husband, Bill. She enjoys visiting with her adult-children, traveling, and running with her golden retriever. She loves Jesus, all things avocado, and maybe a little bit of dark chocolate.