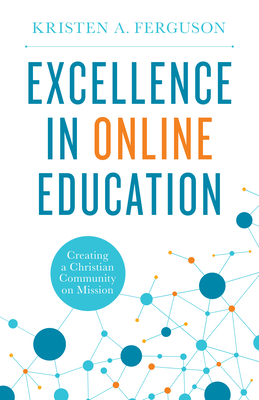 Excellence in Online Education
Creating a Christian Community on Mission
Paperback

* Individual store prices may vary.
Description
Online education offers incredible potential to reach students and their context for Christ, but doing so requires intentional implementation of a philosophy and practice of online education. As online professors and administrators seek to create a Christian community on mission, students can be transformed, and the gospel will be spread throughout the world. Excellence in Online Education provides an overview of the debates surrounding online Christian education, a framework for building community online, and practical advice about course design, delivery and program management.
 
 
Praise For Excellence in Online Education: Creating a Christian Community on Mission…
"I have just completed creating two compilation videos of student experiences in sharing the gospel with adherents of other global faiths to encourage and inform my online students. Frankly, that whole first sentence was unthinkable for me just a couple of years ago before Kristen started coaching me. Her insights have really blessed this colleague who is neither the resistant professor nor the early adopter. I am just glad to have this book, so I don't keep looking for my notes from our last conversation."
—Don Dent, director, Kim School of Global Missions, Gateway Seminary
 
"With the publication of Excellence in Online Education, Kristen Ferguson has solidified her role as a shaping leader and strategic voice among Christian educators in the design, delivery, and management of online education. Providing helpful guidance for both faculty and administrators in the various aspects of online education, Ferguson simultaneously offers a persuasive case to those who continue to doubt the validity of this educational approach. Ferguson brings together a distinctive vision for mission faithfulness and theological fidelity while offering a thoughtful proposal for developing Christian community and spiritual formation in an online format. While Christian educators will need to continue to wrestle with and engage the ongoing questions and challenging issues associated with online education, particularly in a post-COVID-19 context, Ferguson has given us a framework around which we can have these important conversations. It is a joy to recommend this fine book."
—David S. Dockery, president, International Alliance for Christian Education, and theologian-in-residence, Southwestern Baptist Theological Seminary
 
"When our program was recently recognized as an example of the best practices in distance education, that validation was largely due to the educational insight and leadership skills of Dr. Kristen Ferguson. She has distilled and described those best practices in this very helpful book. Implementing these insights will accelerate the quality of your distance learning program and significantly improve both student satisfaction and fulfillment of learning outcomes. Distance learning is now a vital part of curriculum delivery in almost every educational institution. It can be done well, and this guidebook shows the way!"
—Jeff Iorg, president, Gateway Seminary

"Excellence in Online Education is a must-read for anyone currently or potentially engaged in online education. This book provides valuable insights for educators, administrators, and students no matter where they might be on the continuum of the theory and practice of online education. Ferguson provides the right balance between theology, philosophy, and application of the critical issues facing higher education in general but online education in particular. She bridges the unnecessary dichotomy between those two worlds in a way that forges a renewed strategy going forward!"
—Mary Lowe, associate dean and professor, John W. Rawlings School of Divinity, and executive director, The Association of Christian Distance Education (ACCESS)
 
"Ready or not, students, professors, and administrators alike were thrust into online education. How we all needed this book! We still do. In this well-researched and thoughtful volume, Kristen Ferguson takes us through the who, what, when, where, and why of online education. Even more, she gives us the how of course design, delivery, community, and management. And she does so ably, succinctly, warmly, and with genuine appreciation for the most reluctant among us." 
—Christopher W. Morgan, dean and professor of theology, School of Christian Ministries, California Baptist University
 
"In a time where online theological education is more important than ever, I can't think of a more timely and essential book on the topic. While there are a growing number of resources for online theological education, none match the combination of a solid evangelical framework with a concise but thorough understanding of online education. Kristen is able to merge the two that results in a necessary resource for both faculty and administrators. This book will now be my primary recommendation going forward for online faculty and our instructional design team."
—Brian Renshaw, associate vice president for the global campus, The Southern Baptist Theological Seminary
 
"Excellence in Online Education challenges all those responsible for leading change at their institution and defines the kind of online education that transforms Christian students through community building wherever they are in the world. Kristen lays out a very convincing way forward for a biblically based model for online education." 
—Gregory S. Smith, associate vice president for distributed learning, Southwestern Baptist Theological Seminary
 
 
B&H Academic, 9781087731797, 128pp.
Publication Date: August 1, 2020
About the Author
Kristen A. Ferguson (EdD, The Southern Baptist Theological Seminary) is the director of online education and associate professor of educational leadership at Gateway Seminary. 
or
Not Currently Available for Direct Purchase