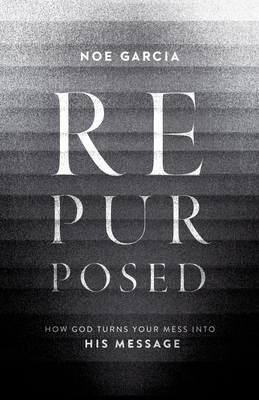 Repurposed
How God Turns Your Mess into His Message
Paperback

* Individual store prices may vary.
Description
Have you ever thought your life is beyond repair? Perhaps you asked, "How could God possibly use my brokenness for good?"
We all tend to look for purpose in our pain. We are broken people living in a broken world. Depression, anxiety, hurting relationships, unmet expectations, and just that constant feeling of unease and discouragement make us question God, wondering if there is even a purpose to be found.  
In
Repurposed
, Noe Garcia takes readers on a journey through Romans 8, which many have called "The Greatest Chapter in the Bible." Noe shares his life story, including abuse, depression, and overwhelming hopelessness. He reveals how God has redeemed him, repaired his brokenness, and restored him to new life.  
Whether your life is like Noe's was, or your brokenness looks different, this book will meet you where you are, and:
Provide hope for your future.
Remind you of the promise that God is for you.
Lead you to surrender your brokenness to God.
Help you see how God is using all things together for your good.
Praise For Repurposed: How God Turns Your Mess into His Message…
"Many Christians have wondered how to experience victory in Christ when doubts, fears, sins, and guilt of the "old self" plague and assault their thought life each day? In Noe Garcia's new book Repurposed, He takes the reader on an unflinching journey through Romans 8 to look at how God can repurpose our failures, our pain, and our sin for His glory and our good. Repurposed is a discipleship resource for anyone desiring to mature as a Christian."
—Robby Gallaty, pastor, Long Hollow Church, author, Replicate and Recovered
 
"Noe García is a pastor's pastor. I love his honesty and candor of his personal life that is grounded with biblically based insights. In a season where we have all questioned God's purpose, pastor Noe helps to recenter and prepare us for the new normal. I'm excited to endorse this book, it will bless your soul!"
—Dhati Lewis, lead pastor, Blueprint church
 
"This isn't a clever book, it's a true story of our God who can turn messes into messages. And just like God repurposed Noe's story, I believe God will use this book to help bring restoration, healing, and hope to so many."
—Brad Jones, Passion City Church, Atlanta City Pastor
 
"Noe's story of God's redemptive power is a great reminder of how God can take our mess and turn it into His message. His story is real, raw, and filled with God's grace."
—Miles McPherson, pastor, Rock Church, former NFL player
 
"God can speak so powerfully to others when we open our hearts and honestly share our struggles. I am grateful that my friend Noe Garcia has done that here. He bares his soul and the most vulnerable places in his journey, which ultimately leads to healing and hope. If you are walking a similar path or want to minister more effectively to those who are, this is a book you will want to read and refer to often."
—Kevin Ezell, president, North American Mission Board, SBC
 
"I have seen up close the life-changing power of Christ in and through Noe Garcia. You'll find Noe's story engaging and his biblical application personally helpful. This book is the outpouring of a man who walks intimately with Christ."
—Dr. Nick Floyd, senior pastor, Cross Church
 
"Every Christian at some point has wondered, "How will God use 'this' in my story…for His glory?" Often we see our struggles differently than God sees them. In this book, Noe gives us a front row seat into God's redemptive power using Romans 8 to show us that God never wastes any experiences in our life, whether good or bad."
—Marcus Hayes, lead pastor, Crossroads Baptist Church
 
B&H Books, 9781087740492, 208pp.
Publication Date: October 19, 2021
About the Author
Dr. Noe Garcia is the senior pastor at North Phoenix Baptist Church in Phoenix, Arizona. He and his wife have four children. Noe holds a Doctorate of Ministry and Executive Leadership from The Southern Baptist Theological Seminary. Noe is an adjunct professor at Gateway Seminary and a writer for Lifeway Voices. He is passionate about reaching and equipping people with the gospel of Jesus Christ, in Phoenix and around the world.
or
Not Currently Available for Direct Purchase