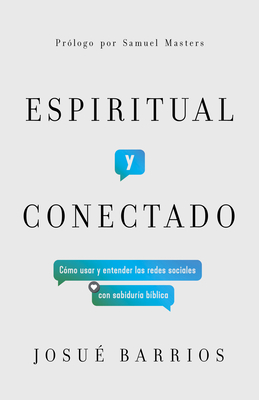 Espiritual y conectado
Cómo usar y entender las redes sociales con sabiduría bíblica
Paperback

* Individual store prices may vary.
Description
Nuestra vida hoy en día está llena de contradicciones. Piense esto: "Más conectados y al mismo tiempo más distantes que nunca. Muchas herramientas para ser eficientes, y al mismo tiempo más distraídos que nunca antes". Uno de los lugares donde esto sucede es en las redes sociales, donde la promesa de la conectividad ha provocado soledad y ansiedad. Este libro nos ayudará a desenvolvernos en nuestro día actual sin comprometer nuestra salud espiritual y nuestra devoción a Dios.

Our modern day is filled with contradictions. Think of it like this, "never more connected, yet more distant than ever. So many tools for efficiency, yet more distracted than ever before." One of the main places where this is true is social media where the promise of connection has delivered more solitude and anxiety. This book will help us engage our current day without compromising our spiritual health and our devotion to God.
B&H Español, 9781087748214, 176pp.
Publication Date: February 15, 2022
About the Author
Josué Barrios sirve como Coordinador Editorial en Coalición por el Evangelio. Posee una licenciatura en periodismo. Vive con su esposa Arianny en Córdoba, Argentina, y se congrega en la Iglesia Bíblica Bautista Crecer. Puedes leerlo en josuebarrios.com y seguirlo en Instagram, Twitter y Facebook.