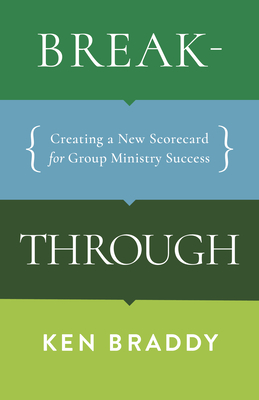 Breakthrough
Creating a New Scorecard for Group Ministry Success
Paperback

* Individual store prices may vary.
Description
A church without discipleship is just a gathering.
It is an important distinction that many pastors and leaders have known for years. In leading their churches well, pastors have provided a trustworthy curriculum, enlisted gifted teachers, and have made sure to offer times for members to gather and fellowship with each other. However, amid all these gatherings, one question kept popping up among leaders, "How do we know if what we are doing is working?"
Over the years, leaders have tried to answer this question with numbers. If people attended these groups and seemed to enjoy the material, then they must be finding success. Ken Braddy, the director of Sunday school for Lifeway Christian Resources, felt that there had to be a better way to measure what matters. In Breakthrough, Ken guides leaders to measure their groups by observing if they are discipling each other, if they are caring for others in and outside of their group, and if they are engaging in acts of service. Breakthrough offers a new scorecard for leaders to not only track the progress of their groups but measure their success.
B&H Books, 9781087757681, 256pp.
Publication Date: August 16, 2022
About the Author
Ken Braddy is the director of Sunday school for Lifeway Christian Resources and has managed ongoing Bible studies for adults over the past decade. Ken has served on three church staffs as a discipleship pastor. His first church began as a mission with forty-four people in groups on launch day, and grew to more than twenty-four hundred members, becoming the fastest growing Sunday school in Texas. He led a Nashville area church to become the fastest growing Sunday school in Tennessee by percentage growth. Ken has trained thousands of Bible study leaders all over the country. 
Ken blogs weekly about Sunday school and small groups. He has authored or compiled seven books on the topic and has written numerous articles for Facts & Trends magazine, Outreach.com, ChurchLeader.com, and Lifeway Voices. His six-session Bible study in the Bible Studies for Life series was studied by 1.6M adults and teens. 
Ken and his wife Tammy have been married thirty-five years, have two grown sons, one daughter-in-law, and two grandchildren.