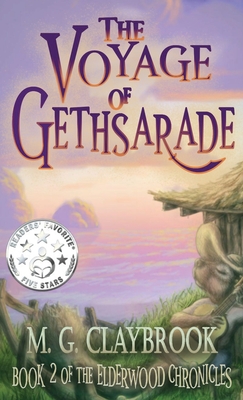 The Voyage of Gethsarade (Hardcover)
Book two of the Elderwood Chronicles
Matthew Claybrook, 9781087801216, 272pp.
Publication Date: December 2, 2019
Other Editions of This Title:
Paperback (12/2/2019)
* Individual store prices may vary.
Description
"Many things in this world plainly are when they should not be, despite the greatest of odds. Think nothing impossible Some impossible things persist even against the inconsolate hurls of time ever vast, like the Sun's endless burning away at the gates of a long abandoned home. Sometimes they haunt your door like the ghost of a friend. And sometimes they sit in your arms and laugh while they tease your whiskers, and they kiss your worries goodnight like a half-told story, telling you worry no more."
Young Gethsarade does not know that he does not know who he is. His lonely, fumbling existence is interrupted by stumbling onboard a strange ship while on the run from creditors. Yet, no matter what he does, drama and trouble seem to follow, and soon he finds himself in front of a terrifying nemesis. Eyes' dead glow, and redrot teeth, the intelligent evil of Barrogan Black sends him on the path to a destiny he could never have prepared for.
If you loved the rich world of Redwall, the wonder of The Sword in the Stone, or the literary tradition of fables like Watership Down, The Guardians of Ga'Hoole, or The Secret of NIMH, your family will love The Elderwood Chronicles, and the Voyage of Gethsarade
"A young adult fantasy tale that is practically worthy of the pen of T.H.White, the acclaimed author of The Once and Future King." The U. S. Review of Books
"An excellent read for anyone who enjoys lavish, epic fantasy and well-realized and enjoyable animal characters." Readers' Favorite