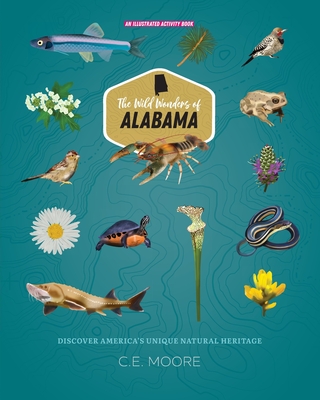 The Wild Wonders of Alabama
Paperback

* Individual store prices may vary.
Description
In this illustrated sensory journey of Alabama's rich wildlife you'll find one of the deepest canyons in the southeast United States, an ancient underwater cypress forest, and a lost world full of botanical treasures.
Alabama has over three million acres of wetlands. It not only leads the United States in freshwater fish, mussels, snails, and crayfish but it is also a terrestrial hot spot for predatory, carnivorous plants. The Wild Wonders of Alabama is a captivating adventure through unique habitats with the incredible native species that live there.
Explore a magical world of bioluminescent larval flies, a land of fire, and a collection of rare, colorful flowers found nowhere else. Celebrate the wild things through vibrant illustrations and fun, engaging activities like designing your own species and finding hidden objects. Learn through informative graphics about ecology levels, ecosystem interactions, and biological classification. Inquiring minds from ages 9 to 12 and beyond will have a better understanding of the important role native plants and animals have in ecosystems. A Glossary and Explore Further sections are at the end to encourage further exploration and learning.
An entertaining and fresh non-fiction read, curious-minded readers will be inspired by and appreciate our natural wonders in this perfect introduction to Alabama's amazing natural heritage.
Publisher, 9781087898155, 48pp.
Publication Date: October 20, 2020