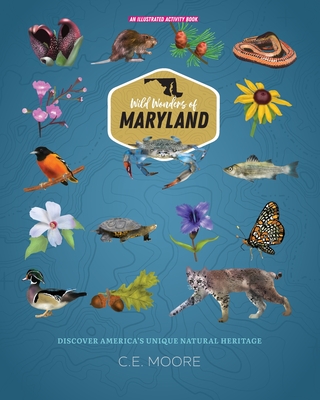 Wild Wonders of Maryland
Paperback

* Individual store prices may vary.
Description
In this illustrated sensory journey of Maryland's rich wildlife you'll find an abundance of diverse marine life in the Chesapeake Bay, the nation's largest estuary. Venture further to learn about a remnant boreal fen, mysterious shallow depressions, a ribbon of barren land underlain by rare, oceanic rock known for its snakelike appearance, and so much more
Wild Wonders of Maryland is a captivating adventure through the state's wild places and a highlight of the incredible native species that live there. Stretching 198 miles east to west, Maryland's landscapes shift from the sandy dunes and tidal marshes of the Coastal Plain to the streams and hardwood forests of the Allegheny Mountains. Come explore a state that features many unique pockets of atypical species like larch and bald cypress, as well as, its most well known inhabitant, the blue crab.
Engage in fun activities like designing your own species and navigating a blue crab through a water maze. Learn through vibrant illustrations and informative graphics such as bird identification, ecology levels, and wetland classification. Additional resources include a Glossary and Explore Further sections to encourage continued exploration and learning. Readers will come away with a better understanding of the important role native plants and animals have in ecosystems and will be inspired to help conserve our wild lands.
A perfect introduction to Maryland's amazing natural heritage, nature lovers of all ages will enjoy this entertaining and informative journey through the state's natural wonders.
Publisher, 9781087963211, 46pp.
Publication Date: May 25, 2021