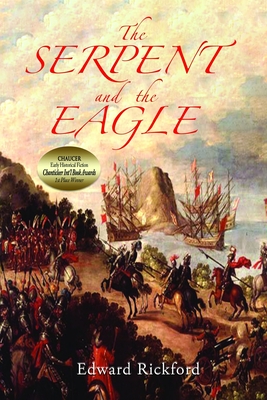 The Serpent and the Eagle (Paperback)
Independently Published, 9781090111470, 312pp.
Publication Date: March 18, 2019
* Individual store prices may vary.
Description
Great fortunes draw the worst suitors... Tenochtitlan, 1519. Motecuhzoma, leader of the Mexica Confederacy, rules over the largest domain in all of Mesoamerica and has every expectation that his nation will continue to reign supreme... but the arrival of strange foreigners will test that confidence. Driven by God, gold, and glory, the uncouth interlopers are led by Hernando Cortes and command weapons that can shake the sky. Their disruptive presence demands a response, but Motecuhzoma knows better than to rush into war and sends out envoys to discover more. The information they return with is nothing short of shocking, and a decision is thrust upon Motecuhzoma that will either elevate his nation to new heights or cause its ruin. Combining the political intrigue of Hillary Mantel's Wolf Hall Series with the gripping battles of Conn Iggulden's Conqueror Series, this award-winning novel draws upon modern scholarship to recount an event still unique today: the epic collision of two civilizations separated for millennia. Editorial Reviews "The epic encounter of Aztecs and conquistadors has attracted-and tested-many a novelist. The challenge is one of staying believably true to the historical tale and its Mexican setting, while at the same time offering the reader some surprises. Rickford rises to that challenge with considerable aplomb, balancing evidence with imagination, research with flights of fiction. Fueled by a complex narrative tension and a deft deployment of detail, The Serpent and the Eagle is unpredictable in all the right ways."
-Matthew Restall, Professor of Colonial Latin American history, Director of Latin American studies at Penn State, author of When Montezuma Met Cort's and Seven Myths of the Spanish Conquest "Edward Rickford knows his history. The Serpent and the Eagle is a masterpiece of historical fiction. It's filled with surprises and heart-rending characters, but it's Rickford's attention to cultural details, both native Mexica and Spanish, that puts this book one step above its competition. Plan a long weekend of reading. You're going to love this book."
Kathleen O'Neal Gear, New York Times bestselling author of People of the Canyons "A captivating, well-plotted, bicultural dramatization of the months prior to Motecuhzoma's meeting with Cort's, deftly transporting the reader 500 years back into the eyes and intimate relationships of key participants-Mesoamerican and European, emperor and counselor, conqueror and slave."
-Andrew Rowen, author of Encounters Unforeseen: 1492 Retold "A wonderful premiere novel."
-N.D. Jones, USA Today bestselling author "Difficult to put down. Well-written, fascinating, and full of wonderfully diverse points of view "
-Zoe Saadia, author of the Pre-Aztec Trilogy and the Rise of the Aztec Series "When two cultures collide, there are always multiple versions of history. A brave and expansive look into the bygone era of exploration by the Spaniards into Aztec lands. A thinking person's novel. Fascinating "-Chanticleer Reviews "The Serpent and the Eagle is another literary text that may offer the reader exits out of the colonial wound of indignity and entrances into the enunciative reclamation of silenced historical, social, and cultural spaces."
-C.T. Mexica, Ph. D, Arizona State University Grand Prize Winner in the 2018 Chaucer Book Awards.