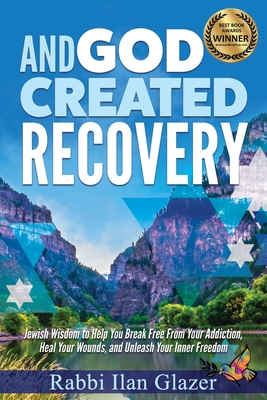 And God Created Recovery
Jewish Wisdom to Help You Break Free From Your Addiction, Heal Your Wounds, and Unleash Your Inner Freedom
Paperback

* Individual store prices may vary.
Description
Is your addiction taking over your life? If I can just have one more drink, one more pill, one more cookie, I'll be okay. Give me one more and I'll never do it again. I'll change my ways, settle down, take care of my family, and live a good life. I just need one more to get me through... Have you ever said anything like that, or asked yourself these questions: Why do I keep repeating the same bad habits? Will I ever find the love I'm looking for? Is it possible to put down the bottle or pills if I need them to survive? Can I possibly break the cycle and get clean and sober? Will I ever be happy? No matter which addiction you have, And God Created Recovery is here to jumpstart your growth and help you overcome whatever challenges you're going through. You can write a new chapter in the story of your life, and find love at home again. And God Created Recovery blends timeless Jewish wisdom with principles of recovery, spirituality, and the science of personal achievement to bring you a book that will dramatically move you forward toward the life you desire. Rabbi Ilan Glazer has felt the pain of addiction personally. In And God Created Recovery he shares insights and highlights of his recovery path, and helps you find experience, strength, hope, faith, joy, and a better life, one day at a time. He knows the struggles and is here to guide you towards a healthier future, wherever you are on your recovery journey. This book will: -Give you practical Jewish techniques to keep you motivated on your recovery journey -Show you that you're not alone, even if the Jewish world still doesn't talk about addiction all that often -Inspire you to grow through your struggles -Help you step out of the darkness and pain of your addiction and into the light of healing and hope for a better future. If you've ever thought that just one more will be all you need to be free of your unhealthy habits, this book is for you. If you've ever wondered whether Jewish wisdom can help you through the pain of addiction and help you get or maintain sobriety, Rabbi Ilan is here to tell you that it can. Read this book today.
Independently Published, 9781091574991, 238pp.
Publication Date: May 16, 2019