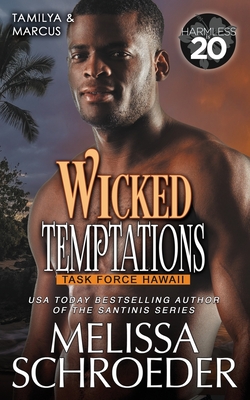 Wicked Temptations (Task Force Hawaii #5)
Paperback

* Individual store prices may vary.
Description
With a terrorist threatening Honolulu, two former lovers are thrust together and discover resisting each other is impossible.
Marcus Floyd made a mistake five years ago. He walked away from a woman he thought he could forget. Finding out they both landed in Hawaii for work, and she is now on his team, makes it impossible to ignore his need for her. Unfortunately, she has made it clear that she wants nothing to do with him.
Tamilya Lowe picked up the pieces of her FBI career after a botched investigation and moved back to Hawaii. She knows working with TFH will have her working with Marcus, and she is convinced she is over him. As they start to piece together the threat, they grow closer, and inevitably end up in bed. The next morning, Tamilya insists that is just a fling with no consequences, so Marcus plays along, biding his time until he can convince her otherwise.When the terrorist contacts Tamilya, they use that connection to attempt to uncover his next target and unknowingly put her life in jeopardy. As TFH races against the clock, both Marcus and Tamilya discover that they have more to lose than they thought.
Get the rest of the Task Force Hawaii Books
SEDUCTIVE REASONING Book 1
HOSTILE DESIRES Book 2
CONSTANT CRAVING Book 3
TANGLED PASSIONS Book 4
WICKED TEMPTATIONS Book 5
The Task Force Hawaii books are a spinoff ofTHE HARMLESS SERIES
A LITTLE HARMLESS SEX Book 1
A LITTLE HARMLESS PLEASURE Book 2
A LITTLE HARMLESS OBSESSION Book 3
A LITTLE HARMLESS LIE Book 4
A LITTLE HARMLESS ADDICTION Book 5
A LITTLE HARMLESS SUBMISSION Book 6
A LITTLE HARMLESS FASCINATION Book 7
A LITTLE HARMLESS FANTASY Book 8
A LITTLE HARMLESS RIDE Book 9
A LITTLE HARMLESS SECRET Book 10
A LITTLE HARMLESS REVENGE Book 11
A LITTLE HARMLESS RUMOR Book 12
A LITTLE HARMLESS FAITH Book 13
A LITTLE HARMLESS TABOO Book 14
Independently Published, 9781091771659, 286pp.
Publication Date: March 29, 2019