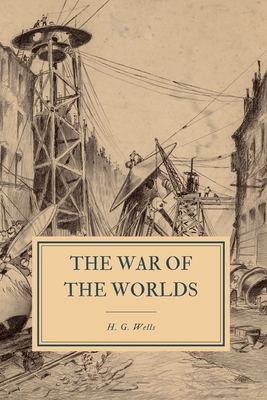 The War of the Worlds
Paperback

* Individual store prices may vary.
Other Editions of This Title:
Paperback (8/1/2013)
Paperback (7/28/2018)
Paperback (6/6/2018)
Paperback (10/11/2012)
Paperback (2/19/2013)
Paperback (7/28/2018)
Paperback (10/10/2013)
Paperback (11/8/2018)
Paperback (9/27/2014)
Paperback (3/9/2009)
Paperback (10/10/2012)
Paperback (4/21/2014)
Paperback (9/9/2014)
Paperback (3/17/2011)
Paperback (12/22/2014)
Paperback (1/27/2019)
Paperback (7/30/2013)
Paperback (7/10/2019)
Paperback (5/1/2014)
Description
Complete and unabridged paperback edition.
The War of the Worlds is a science fiction novel by English author H. G. Wells, first serialised in 1897 by Pearson's Magazine in the UK and by Cosmopolitan magazine in the US. The novel's first appearance in hardcover was in 1898 from publisher William Heinemann of London. Written between 1895 and 1897, it is one of the earliest stories to detail a conflict between mankind and an extraterrestrial race. The novel is the first-person narrative of both an unnamed protagonist in Surrey and of his younger brother in London as southern England is invaded by Martians. The novel is one of the most commented-on works in the science fiction canon. Description from Wikipedia, the free encyclopedia.
Independently Published, 9781092602532, 128pp.
Publication Date: April 3, 2019
About the Author
H.G. Wells was a professional writer and journalist, who published more than a hundred books, including novels, histories, essays and programmes for world regeneration. Wells's prophetic imagination was first displayed in pioneering works of science fiction, but later he became an apostle of socialism, science and progress. His controversial views on sexual equality and the shape of a truly developed nation remain directly relevant to our world today. He was, in Bertrand Russell's words, 'an important liberator of thought and action'. Brian Aldiss is a famed science fiction writer. Patrick Parrinder has written on H.G. Wells, science fiction, James Joyce and the history of the English novel. Since 1986 he has been Professor of English at the University of Reading. Andy Sawyer is a Librarian at the University of Liverpool with a particular interest in science fiction. He has annotated four volumes in this series.