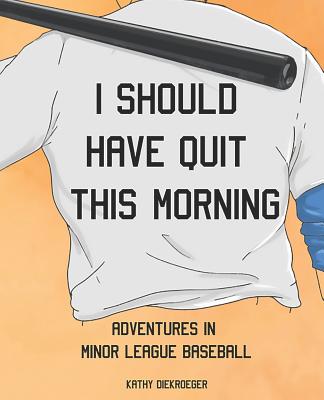 I Should Have Quit This Morning (Paperback)
Adventures in Minor League Baseball
Independently Published, 9781093282610, 320pp.
Publication Date: April 8, 2019
* Individual store prices may vary.
Description
The road to Major League baseball goes through the minor leagues. Every year there are over 5,500 players trying to work their way to the top of the tiered minor league system. Very few people know what life is really like for these aspiring players -- until now. This collection of stories from actual minor league players is a hilarious, heartbreaking and honest account of the struggle to make it to the big leagues. In this book, you will learn: * How it feels to be the first pick in the MLB draft ("everyone started screaming") and how it feels for a player to not hear his name called at all ("Three days came and went and I didn't get picked.") * Why some players don't sign a minor league contract ("It was an unbelievably tough decision.") * Who the players meet when they show up as a rookie on day one ("It's a very rude awakening.") * Where players go in the off season ("You can make some serious dough in the Dominican and Venezuelan leagues.") *What Spring Training is like for minor leaguers ("The difference between big league camp and minor league camp is night and day.") * Where players live and how they eat ("I became a pro at cooking in the 'kitchen bathroom' in the hotel.") * Which minor league ballpark promotions the players enjoy the most ("It's time for Cowboy Monkey Rodeo ") * What really happens during road trips ("It was straight out of a horror movie.") * Why crazy things happen on the field ("Our manager stormed out there and just started unloading on the umpire.") * What it's like to get promoted, demoted and traded ("It was the first time I actually cried when someone got moved or traded.") * How players get released and how they make the decision to retire ("I remember everything about that last game.") * What it's like when players get the ultimate call up to the Major Leagues ("It was still during the game and everyone was like, 'Dude, go call your parents or something.")And so much more Kathy Diekroeger has watched her three sons play over 2,100 baseball games. She stopped counting when two of them made it to professional baseball. After hearing stories about minor league life for four years, she felt compelled to document and share those experiences with anyone who considers themselves a fan of baseball. This is her first book.