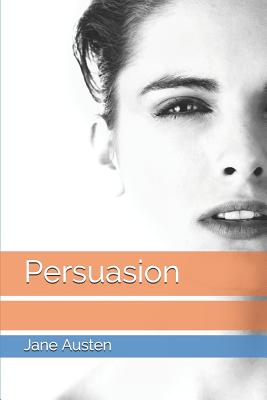 Persuasion
Paperback

* Individual store prices may vary.
Other Editions of This Title:
Paperback (4/5/2014)
Paperback (8/11/2018)
Paperback (7/17/2018)
Paperback (4/27/2012)
Paperback (7/23/2018)
Paperback (1/30/2017)
Paperback (5/12/2013)
Paperback (9/18/2014)
Paperback (2/2/2013)
Paperback (6/14/2018)
Paperback (7/2/2018)
Paperback (3/5/2018)
Paperback (3/29/2018)
Paperback (12/17/2011)
Paperback (6/6/2013)
Paperback (9/16/2012)
Paperback (10/19/2007)
Paperback (6/12/2019)
Paperback (12/7/2016)
Description
Persuasion is the last novel fully completed by Jane Austen. It was published at the end of 1817, six months after her death.The story concerns Anne Elliot, a young Englishwoman of 27 years, whose family is moving to lower their expenses and get out of debt. They rent their home to an Admiral and his wife. The wife's brother, Navy Captain Frederick Wentworth, had been engaged to Anne in 1806, and now they meet again, both single and unattached, after no contact in more than seven years. This sets the scene for many humorous encounters as well as a second, well-considered chance at love and marriage for Anne in her second "bloom".The novel was well-received in the early 19th century. Greater fame came later in the century, continued in the 20th century, and through to the 21st century. Much scholarly debate on Austen's work has since been published. Anne Elliot is noteworthy among Austen's heroines for her relative maturity. As Persuasion is Austen's last completed novel, it is accepted as her most maturely written novel showing a refinement of literary conception indicative of a woman approaching forty years of age. Unlike Sense and Sensibility and Pride and Prejudice, Persuasion was not rewritten from earlier drafts of novels that Austen had originally started before 1800. Her use of free indirect discourse in the narrative was by 1816 in full evidence.The first edition of Persuasion was co-published with the previously unpublished Northanger Abbey in late December 1817 (1818 given on the title page), as the second two volumes of a four-volume set, with a preface for the first time publicly identifying Austen as the author of all her novels. Neither "Northanger Abbey" nor "Persuasion" was published under the working title Austen used. The later editions of both were published separately.Four made-for-television adaptations of the novel were made in Britain, beginning in 1960 with a mini-series featuring Daphne Slater in Persuasion. The next starred Ann Firbank in the lead role in the 1971 version co-starring Bryan Marshall; Amanda Root starred in the 1995 version co-starring Ciar n Hinds, and Sally Hawkins starred in the 2007 version co-starring Rupert Penry-Jones and made for ITV1. Another was made in the US in 1995.
Independently Published, 9781095084885, 246pp.
Publication Date: May 7, 2015