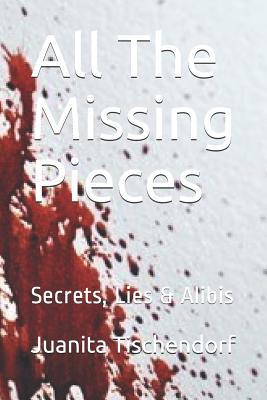 All The Missing Pieces
Secrets, Lies & Alibis
Paperback

* Individual store prices may vary.
Other Editions of This Title:
Hardcover (5/6/2019)
Description
Katrina Engelman-Fischer was murdered, or did she just disappear. The Engelman's, a rich and powerful family resided in a mansion in Upstate New York. Once married to Philip Fischer, Katrina found herself in a small town in Tennessee without the wealth of her birthright. After the death of their parents, Kirtland, the brother of Katrina, took over the powerful position in the Engelman household and became heir to the mansion on the hill and the head of the Engelman businesses. As the Fischer grandparents could not afford to provide for them, it would be Kirtland Engelman who would be contacted to take in the Fischer children after Katrina's disappearance and the death of her husband Philip.From a cradle of love into a cold, unfeeling environment, Tyler, and Alyssa where transported to live with their Aunt and Uncle Engelman, whom they had never met.In this household lives the son of the Engelmans; a spoiled monster by the name of Barstow whose one purpose in life is to make the life of his cousins miserable. Barstow does everything in his power to discredit his cousins and manages to make them feel inferior to him.But as the saying goes, "People in glass houses..." There are many skeletons that will come out of the closet and murders that will need to be solved.Barstow and Tyler continue their dispute well beyond their teenage years leading many to wonder if Tyler is behind Barstow's disappearance, but when all is said and done, surprisingly the Aunt and Uncle stand behind their niece and nephew as they fight for their life and reputation.This suspenseful mystery will have you on the edge of your seat as you become privy to all the shameful offenses happening in this family.
Independently Published, 9781097177257, 524pp.
Publication Date: May 6, 2019