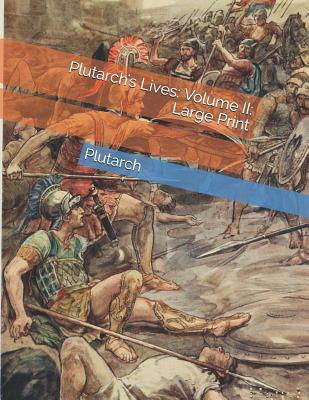 Plutarch's Lives (Paperback)
Volume II: Large Print
Independently Published, 9781097287963, 302pp.
Publication Date: May 7, 2019
Other Editions of This Title:
Paperback (1/28/2009)
Paperback (10/6/2014)
Paperback (3/30/2014)
Paperback (1/15/2018)
Paperback (2/4/2010)
Paperback (5/16/2014)
Paperback (6/9/2017)
Paperback (5/7/2019)
Paperback (5/7/2019)
Paperback (12/31/2010)
Paperback (8/26/2018)
Paperback (4/7/2014)
Paperback (9/6/2018)
Paperback (9/1/2013)
Hardcover (3/29/2014)
Paperback (5/7/2019)
Hardcover (1/28/2009)
Hardcover (8/26/2018)
Hardcover (1/1/2013)
* Individual store prices may vary.
Description
DescriptionLives is a series of biographies of famous Greeks and Romans by the ancient Greek historian Plutarch who lived during the first and second century AD. Consisting of twenty-three paired biographies, one Greek and one Roman, and four unpaired, which explore the influence of character on the lives and destinies of the subjects. Rather than providing strictly historical accounts, Plutarch was most concerned with capturing this issue of character. This volume contains the second part of this classic history in which you will find the biographies of the following persons: Pelopidas, Marcellus, Aristeides, Marcus Cato, Philopoemen, Titus Flamininus, Pyrrhus, Caius Marius, Lysander, Sulla, Kimon and Lucullus.