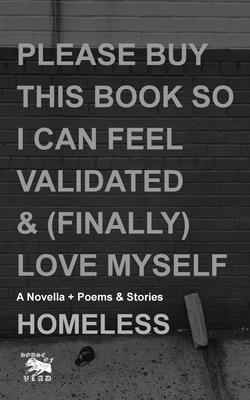 Please Buy This Book So I Can Feel Validated & (Finally) Love Myself
A Novella + Poems & Stories
Paperback

* Individual store prices may vary.
Description
HOMELESS is based out of New York City. He has the personality of a duct-taped Wiffle ball bat. His hobbies include staring into empty McDonald's bags, blowing his nose into empty McDonald's bags, and drawing on empty McDonald's bags. He's also the author of a novel, This Hasn't Been a Very Magical Journey so Far (Expat Press), and a forthcoming poetry collection, Ghost Crumbs (University of Hell Press). // "Richard Brautigan meets James Purdy while waiting in line at McDonald's."-the Hamburglar // " Homeless] balances comedy, nihilism, and grief to tell a heartfelt story that amuses you with its absurdity and makes you laugh with the] unexpected..."-HEAVY FEATHER REVIEW.
Independently Published, 9781097508587, 234pp.
Publication Date: August 1, 2019