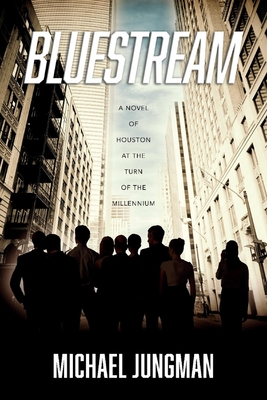 Bluestream
A Novel of Houston at the Turn of the Millennium
Paperback

* Individual store prices may vary.
Description
Houston, Texas, in the year 2001, the turn of the millennium. CEO Jack Burnam's global powerhouse Conquest Corporation signs a deal to buy Bluestream, a California R&D firm that claims to have made a telecommunications breakthrough. Jack's CFO, the spinsterish Norah Needham, devises the accounting tricks needed to keep Conquest afloat as it digests Jack's binge of acquisitions. The story begins when Russ Wheeler, one of Norah's trusted lieutenants, steals the Bluestream files and blackmails his former employer.

This novel, by turns comic and tragic, unfolds from the multiple perspectives of Jack, Norah, Wheeler and six other characters. Feo Duarte, a newly-hired security employee, goes after the stolen files. Sherry Shipley, a New Age T'ai Chi devotee, accompanies the blackmailer Wheeler on a jaunt to Mexico. Maggie, a young company wife, unapologetically enjoys her extramarital affair with an older man. Lulu Barker, a financial reporter holding a grudge, determines to bring Conquest down by any means necessary.

At the center of it all is Miranda Sesno, a mid-level cost accountant thrown into the breach to finalize the Bluestream deal after Wheeler disappears. As Miranda gradually learns the truth about Conquest's flimsy financial underpinnings and faces the agonizing prospect of blowing the whistle, her feckless husband David makes her choice even more difficult.

Interwoven are four vignettes drawn from Houston's rich history. The founding of Houston by the Allen Brothers in 1839, the discovery of oil at Spindletop in 1901, the fabulous wealth at the peak of the oil boom in 1949, and the shocking oil crash of 1983 all tie to the events of the main story and illuminate the Houston of 2001.

This fast, funny and sexy novel tells the story of Houston in the way that Chinatown tells the story of Los Angeles. Although set in the Texas of twenty years ago, its themes of ambition, greed, and workplace corruption resonate in any era and in any great American city.
BookBaby, 9781098310226, 288pp.
Publication Date: August 8, 2020
About the Author
Michael Jungman was born in Houston and practiced law with a major Houston firm for twelve years. In addition to his law degree, he holds a Master of Fine Arts degree from Southampton College and has published short stories in the Southampton Review.
or
Not Currently Available for Direct Purchase