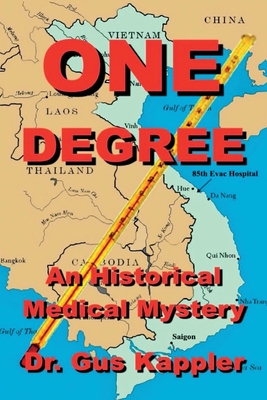 One Degree
An Historical Medical Mystery
Paperback

* Individual store prices may vary.
Description
ONE DEGREE is an historical medical mystery of an illness that begins in the 1971 Vietnam wartime jungle andfollows five Vietnam Veterans and people touched by it in their stateside journey to define and irradicate this fatal gruesome disease.
The veterans feel helpless to treat this disease first encountered in soldiers during the mid-1960s, peaking globally in the early 1970s, and essentially disappearing by 1975. A talented plastic surgeon, Claire Ferrier, tragically succumbs to this dormant illness after returning to the US from Cameroon in 1986. With great effort, dedication and original thinking the brotherhood of Vietnam Veterans spearheads the discovery of the disease's causation and eliminates this vile occurrence. Corrupt activities of Big Pharma in collusion with an influential US Senator are at the root of the causation of the disease.
BookBaby, 9781098311452, 262pp.
Publication Date: August 18, 2020
About the Author
On February 8th, 1940, Gus was born in Mather Hospital in Port Jefferson, LI, NY. He grew up Lake Ronkonkoma, LI, NY and attended Port Jefferson HS. He graduated Cornell, having done Honors Research in Chemistry with a BA in 1961. He received his MD in 1965 from Cornell Medical College in New York City. In 1963, after his second year, he and Robin were married. Kim was born a few weeks prior to graduation.
His rigorous five year surgical training was completed in July of 1970 at the Medical College of Virginia, Richmond, VA. The last year of residency Chris was born. Gus had been drafted in 1965 but allowed to complete his training. After basic training at Fort Sam Houston in San Antonio, Texas he arrived on September 7th of 1970 in Vietnam. He served as an Army trauma surgeon with the rank of Major at the 85th Evacuation Hospital, Phu Bai, Vietnam, '70-'71 supporting the 101st Airborne Screaming Eagles. That year was the most influential of his life. Gus was changed forever having witnessed the devastation of war on body, mind and soul. His last months of active duty were spent at Fort Carson, Colorado '71-'72. He enjoyed a successful general surgical practice in Amsterdam, NY from July 1972 to September 2000. Gus has been a Lecturer in Surgery at Weill Cornell Medicine from 2000 to the present. He facilitated WCM first-year medical students in Problem Based Learning from 2000 to 2015 and received two excellence in teaching awards. Gus is featured in "Wounds We Feel at Home" an Albany, NY area PBS Vietnam documentary (2017).
He is the author of Welcome Home From Vietnam, Finally, A Vietnam Trauma Surgeon's Memoir (2015). He is a researcher and lecturer in active duty military and Veteran PTS(D), substance abuse and suicide. He has been a Veteran Advocate for 50 years. Gus is a lecturer on battlefield trauma, shock, and treatment. He presented the keynote address in Quantico for the Navy/Marines at their first 21st Century Battlefield Medicine Symposium.
Gus has been retired for twenty years and divides his time with his wife of fifty-seven years,Robin, between New York City in the winter and Amsterdam, NY in the summer. This small city rests in the beautiful Mohawk River Valley, a short distance from the majestic Adirondack Mountains. Gus enjoys kayaking, hiking, photography, deer hunting, managing their small farm, the shooting sports, and training his young English Setter as a pointer for bird hunting.