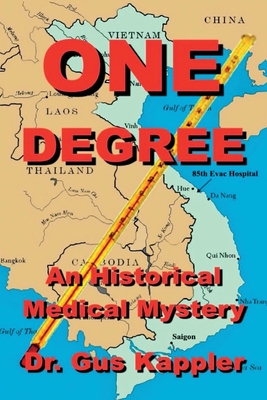 One Degree
An Historical Medical Mystery
Paperback

* Individual store prices may vary.
Description
ONE DEGREE is an historical medical mystery thriller involving a fatal infectious illness that is first observed in 1971 in the postoperative American Vietnam War wounded. Five Vietnam Veterans who observed the illness first hand and others touched by it are followed in ONE DEGREE during their decade and a half stateside journey to define and eradicate this fatal gruesome disease. It is a metaphor for the real-life factors involved in my Vietnam War experience, the Agent Orange poisoning of us, the corrupt relationships between corporate America and Washington, the loss of control of our fighting men in Vietnam after Tet '68, and the total abdication of responsibility by the United States to rehabilitate and reintegrate our soon to be veterans into a peaceful society.
The veterans felt helpless to treat this disease first encountered in soldiers during the early 1970s, which peaked globally in the mid-1970s and essentially disappearing by 1975. A talented plastic surgeon, Claire Ferrier, tragically succumbs to the same once dormant illness after returning to the US from Cameroon in 1986. With great effort, dedication, and original thinking the brotherhood of Vietnam Veterans and their group spearhead the discovery of the disease's causation and eliminates its vile occurrence. Corrupt activities of Big Pharma in collusion with an influential US Senator are documented to be at the root of the causation of the disease.
BookBaby, 9781098311452, 262pp.
Publication Date: August 18, 2020
About the Author
Gus Kappler was born on February 8, 1940, at Mather Hospital in Port Jefferson, Long Island, New York. He grew up in Lake Ronkonkoma and graduated from Port Jefferson High School in 1957. There he began dating Robin Viverito whom he would marry on June 29, 1963, in St. John the Baptist RC Church in Wading River, LI. NY. He graduated, having been selected for Honors Research in Chemistry, from Cornell University with a BA in 1961. Gus then attended Cornell University Medical College in New York City and received his MD in 1965. That was followed by a grueling five years of surgical training at the Medical College of Virginia in Richmond. Having been drafted by the Army for active duty (Vietnam) in 1965, he was given a deferment which allowed him to complete his residency in 1970. Following basic training at Fort Sam Huston, he said goodbye to Robin, Kim, and six-month-old Chris at the Dallas Airport to begin his yearlong service as a trauma surgeon at the 85th Evacuation Hospital, Phu Bai, Vietnam on September 7, 1970.

Gus endured twelve months witnessing the devastation of war on the body, mind, and soul on hundreds of very young men. Surgical procedures to save lives were at times mutilating. These experiences are documented in his first book, a memoir, "Welcome Home From Vietnam, Finally." It includes discussions of PTS, Agent Orange, and the disgraceful treatment of returning Veterans by the public, the federal government, and the VA System.

Gus's second duty station was at Fort Carson, Colorado. There he bonded and shared with other medical personnel just home from Vietnam. His PTS improved by dealing with his demons aided by a rock-solid Robin. PTS may be lifelong. To this day, Gus defuses recurrent anger, hopelessness, and guilt by storytelling and lecturing on the etiology and prevention of PTS.

Following discharge on July 28, 1972, he pursued a successful surgical practice in Amsterdam, New York, Exit 27 on the NYS Thruway in the rural Mohawk River Valley.

Gus retired in 2000. He and Robin then began to winter in New York City. During those five months from 2000 to 2015, he facilitated (taught) first-year medical students at Weill Cornell Medicine in basic medical science. He received several Excellence in Teaching awards from WCM. Gus has been a veteran advocate since 1972. He currently lectures on battlefield trauma comparing Vietnam with current hostilities and the etiology and possible prevention of PTS, substance abuse, and suicide in active duty military and veterans. "Welcome Home From Vietnam, Finally" was well received as authentic; describing and illustrating the ugly truth about war. He has also published "One Degree," an historical medical mystery thriller that begins in 1971 Vietnam and concludes with an abdicating presidential candidate in 1988.
Gus enjoys being creative in designing his several web sites, photographically capturing scenes from hiking and deer hunting in the Adirondack Mountains of New York State, and travel. For a time he painted in oils from his many photographs of NYC, the landscapes of NY, and Europe. He derives much satisfaction in pursuing innovative approaches in training his young English Setter pointer. Gus is very involved in shotgun sports and bird hunting.

Currently, Gus is sequestered in Amsterdam, NY with his wife, Robin, of 57 years. Their son Chris and daughter Kim enjoy their happy and healthy families.
or
Not Currently Available for Direct Purchase