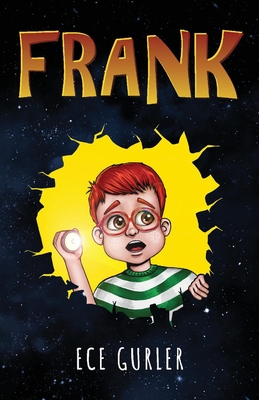 FRANK
Paperback

* Individual store prices may vary.
Description
" Frank is, frankly, a priceless gem." - Foluso Falaye

"This is a compassionate story full of adventure, lasting friendships, and the power of family love, as well as the need to feel a sense of belonging. An exciting read full of hope, promise, and, of course, science." - Emily-Jane Hills Orford

"Author Ece Gurler has crafted a truly excellent work that ticks all the boxes to engage and excite the MG reading audience. I would highly recommend Frank as a high-quality reading gift for the little bright sparks in your life to devour." - K.C. Finn

Have you ever dreamt of an alternate world? A world full of second chances and lost dreams, found again. Just like the one Frank has stumbled upon.

Frank, an eleven-year-old science nerd, fashions a hiding place in his closet with his favorite things. He calls it the "Aurora Shell", where he retreats whenever he feels upset or scared. The day he learns that he was adopted, he discovers an empty space behind his Big Bang Theory poster, in the Aurora Shell. He decides to crawl in and find out what awaits him at the end of this dark tunnel. There, he meets an incredibly cheerful kid, Andy, who becomes his first true friend. Soon after they realize that this is not just a simple passage, but it is a bridge that connects two parallel universes! Frustrated that he was unwanted by his biological parents in his own world, Frank decides to take his chance in this new universe to gain acceptance. Maybe this time his parents would welcome him and love him? Grabbing their backpacks, the two friends set out on a quest to find Frank's birth parents in Andy's universe. In the beginning of their journey, everything looks brand new and astonishing to Frank. But this adventure will hold dangers they never could have imagined. Will they be able to survive the grave challenges and find Frank's family in the end? Was their secret going to cause them trouble?

Ece Gurler's middle-grade novel, Frank, is an excellent coming of age story for young readers who are 7-12 years old. Following the quest of one eleven-year-old science genius, Frank, readers will share experiences and sentiments that might mirror some of their own. The plot is full of unexpected twists and turns as the two main characters, Frank and his alternate dimension counterpart, Andy, discover new realities in worlds full of chances and dreams, both lost and real. This science fiction story will introduce young readers to the wide world of fascinating discoveries, like penicillin and electricity, and how much fun learning about science can be (as well as being useful).
BookBaby, 9781098320119, 222pp.
Publication Date: December 1, 2020
About the Author
Ece Gurler, who was born and raised in Ankara, Turkey, has always believed in the power of diversity, equity, and inclusion. Besides her work as a School Director in Boston, she is also a full-time author and artist. She studied Geological Engineering in ODTU. But her career path deviated from science and she chose to make difference in people's lives by becoming an educator. Now, she is pursuing her Master of Arts degree in Critical and Creative Thinking at UMASS Boston. Working in the international education sector for more than a decade gave her the ability to read diverse behavior of her students. This unique skill set, combined with her love for science, gave birth to her debut book, "Frank." As an avid reader, she likes to read about history, psychology, science and fictions with strong characters. Currently, she lives in the inspiring city of Boston. When she doesn't write, she makes art. She gives real-time drawing and painting tutorials online. Learn more about her writing and art, get tips and her free resources at: www.ecegurler.com
or
Not Currently Available for Direct Purchase