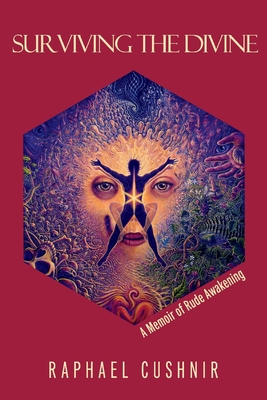 Surviving the Divine
A Memoir of Rude Awakening
Paperback

* Individual store prices may vary.
Description
When Raphael Cushnir's marriage fell apart, he decided to stop running away from the pain and embrace it. This led to an unintended explosion of "Kundalini" energy, as well as a spiritual awakening. Yet his awakening was anything but typical. At first it was chaotic, terrifying, and even sometimes demonic. With his life in danger, struggling to distinguish between madness and legitimate energetic attack, Cushnir chanced upon a seasoned guide who helped him restore his spiritual and literal safety. But even afterward, he still found himself sharing the space of his body and consciousness with a force that wasn't part of his previous identity, and which had an overpowering will of its own.

Over the ensuing five years, mostly on his own, Cushnir had to navigate this confounding terrain along with the ordinary challenges of daily life. Through vivid journal entries from that time, as well as commentary afforded by three decades of subsequent reflection, he offers a searingly intimate portrait of experiences usually relegated to secrecy. While such secrecy has often served a valuable purpose, especially for seekers in unsupportive environments, Cushnir believes that now it does more harm than good. He's sharing this story now to support the growing numbers of those who struggle with unconventional openings, and also to shed new light on the more perilous parts of the perennial mystic path.

Writing about ineffable experiences inevitably falls short. It's an attempt to describe the indescribable. With that in mind, Cushnir employs poetry, as well a recurring chorus of dissenting selves, in order to best capture the nature of his awakening. All the while, his storytelling remains grounded in earthy details, such as an ever-shifting array of physical symptoms, the need to hold down a job while in between worlds, and the nature of intimacy and sexuality once new channels of perception have been activated. Cushnir's awakening merits particular interest in part because of what followed – his new life as a spiritual teacher, an emotional intelligence facilitator, and the author of seven books about how to thrive amid great adversity.
BookBaby, 9781098362225, 222pp.
Publication Date: July 15, 2021
About the Author
Raphael Cushnir is a leading voice in the world of emotional connection and present moment awareness. He is the author of six books, teaches worldwide, and is a faculty member of the Esalen Institute and the Kripalu Center for Yoga and Health. He has shared his unique approach to healing and wholeness with millions of readers in O, The Oprah Magazine, Beliefnet, Spirituality and Health, Psychology Today, and The Huffington Post. In addition to his ongoing counseling practice for individuals, couples, and business teams, Raphael is partnering with Sounds True in the founding of a revolutionary online learning community. For more information: cushnir.com.