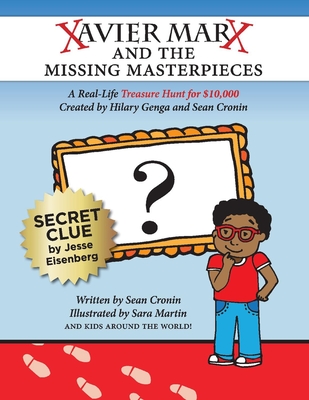 Xavier Marx and the Missing Masterpieces
Paperback

* Individual store prices may vary.
Description
When shy Xavier goes on a field trip to an art museum, all he wants to see is Vincent van Gogh's "The Starry Night." But suddenly the museum's masterpieces go missing and Xavier must come out of his shell to figure out where the paintings went, who took them, and why. This fun mystery delights, as its whimsical rhymes and joyous pictures take the reader on a dazzling journey of discovery. Proudly featuring art from children around the world, this book is a treat for all ages.

Children, parents, and teachers will love this adventurous story! Get ready to let your curiosity soar as you join Xavier to solve this mystery. The cherry on top is a real-life treasure hunt hidden within the book's pages. Who will be the first to discover the real-world location where a treasure awaits and claim the $10,000 prize?

This treasure hunt benefits the International Child Art Foundation and proudly features art from child artists around the world.


BookBaby, 9781098397302, 90pp.
Publication Date: October 27, 2021
About the Author
Sean Cronin lives in Long Beach, California. When he's not scouring the ends of the earth for treasure, he enjoys long walks on the beach with his dog Perry, playing disc golf with his girlfriend Larissa, and arguing with movie producers that yes, the world really does need the animated musical parody Air Dud: A Jockey's Tail. Sean is thrilled to be working on this book with Hilary and Sara as two of his biggest passions in life are teaching kids and creating art.Hilary Genga lives in Tarzana, California with her family - which includes her dog, Goliath (who has his own Instagram, @gentlegiantgoliath). Hilary is an entrepreneur, an award-winning theatre producer and the founder and CEO of Trunkettes Swimwear. She designed the iconic bikini that made history when worn by Ashley Graham on the cover of Sports Illustrated, and recently teamed up with the incredible Kathy Ireland to create The Fashion Jungle swimwear line. She is thrilled to collaborate with Sean and Sara for her newest entrepreneurial venture into children's books and treasure hunting.Sara Martin is a graphic designer and fine artist from Long Island, New York. She loves collaborating with writers and other creative types on illustration projects. Working with Sean and Hilary has been an exciting endeavor for Sara, and she is so grateful that they found her art through Instagram (@sleepypaints). Sara hopes to inspire readers of all ages to get creative and always be on the hunt for new adventures! She dedicates her work in this book to her sweet husky, Brick, who makes sure that her house is always full of love and fluff!