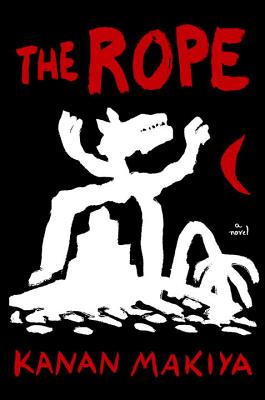 The Rope
A Novel
Hardcover

* Individual store prices may vary.
Other Editions of This Title:
Digital Audiobook (3/14/2016)
Description
From the best-selling author of Republic of Fear, here is a gritty and unflinching novel about Iraqi failure in the wake of the 2003 American invasion, as seen through the eyes of a Shi'ite militiaman whose participation in the execution of Saddam Hussein changes his life in ways he could never have anticipated.
 
When the nameless narrator stumbles upon a corpse on April 10, 2003, the day of the fall of Saddam Hussein, he finds himself swept up in the tumultuous politics of the American occupation and is taken on a journey that concludes with the discovery of what happened to his father, who disappeared into the Tyrant's gulag in 1991. When he was a child, his questions about his father were ignored by his mother and his uncle, in whose house he was raised. Older now, he is fighting in his uncle's Army of the Awaited One, which is leading an insurrection against the Occupier. He slowly begins to piece together clues about his father's fate, which turns out to be intertwined with that of the mysterious corpse. But not until the last hour before the Tyrant's execution is the narrator given the final piece of the puzzle—from Saddam Hussein himself.
 
The Rope is both a powerful examination of the birth of sectarian politics out of a legacy of betrayal, victimhood, secrecy, and loss, and an enduring story about the haste with which identity is cobbled together and then undone. Told with fearless honesty and searing intensity, The Rope will haunt its readers long after they finish the final page.
Praise For The Rope: A Novel…
"Mr. Makiya loves Iraq—or the idea of what a new Iraq could be—and his rage and despair at the brutality that has seized his country comes through on every page….Mr. Makiya's writing is sublime when his subject is the slide from decency to evil. His depiction of the descent into barbarism of Haider, one of the central character's closest friends, is as good a portrait as we are likely to get of Iraq's post-Saddam savagery….The book is an indispensable guide into the 'warehouses of cruelty' of the modern Middle East and gives us a better idea of why Iraq failed after being liberated from a tyrant, and why Sunnis and Shiites now so eagerly kill each other." —Reuel Marc Gerecht, Wall Street Journal

"Americans know very little about Iraq, and this was as true at the beginning of our war there as it is today. Now Kanan Makiya has written a fictionalized narrative of the first years of the American occupation, seen from the Iraqi (and the Shi'ite) side. His book is a remarkable evocation of those terrible years, simultaneously informative, scary, worrying, and deeply engaging. Start reading it and you won't stop—and don't skip the beautifully written, morally and politically powerful personal note at the end." —Michael Walzer, author of Just and Unjust Wars

"A searing novel of the Iraq War from an Iraqi point of view, with Saddam Hussein in a starring role. Our narrator has no name, but The Tyrant certainly does, and it is on every tongue. As Makiya's novel opens, Saddam's body is swaying in the breeze, having been transferred by The Occupier to the Iraqis as 'proof of our independence from the American invaders.' Into that brief phrase a whole world is packed: the Americans are unwanted conquerors, the rulers of Iraq are exiles driven to hang Saddam out of 'revenge, or blood libel, or communal solidarity,' and a once-coherent nation, for better or worse, is now splintered irreparably…. A close study of the psychology of oppression and dictatorship, of a piece with the author's now classic nonfiction study Republic of Fear (1989)." —Kirkus Reviews, *starred review*

"A razor-sharp dissection of the post-Saddam unraveling through the eyes of a fictional Shiite militiaman…highbrow, brilliant." —New York Magazine

"Set in Iraq soon after the toppling of Saddam Hussein, this novel follows an unnamed Shiite soldier in one of many militias jockeying for power. As he strives to understand the complex political, spiritual, and military world around him, he confronts convoluted loyalties and gruesome betrayals within his own family….Succeeds in its passionate dramatization of a mind-set still poorly understood by the American reader." —The New Yorker

"Astutely challenging…deeply resonant….Nuanced and essential reading for every global citizen, this novel proves that all politics are personal." —Booklist

"Makiya's book is a challenge to Iraqis—many of whom are fed up with their corrupt leaders—to stop blaming the West and confront the officials who are destroying their country. He believes that only some form of federalism—that rises above a strict Shiite-Sunni divide—can save the country. The novel couldn't be more timely. Last week Sadr's followers invaded the Shiite-led government "green zone" for the second time in a month, purportedly protesting against corruption but really seeking more power. As Sayyid Majid's death makes clear, Iraqi Shiites must first stop killing one another before the country can emerge from chaos. That is the harsh truth The Rope wants Iraqis to face." —Philadelphia Inquirer

"Powerful….By keeping his creation torn and anguished as he digests unpalatable facts, Makiya forces us to sympathise, to see his character as a human as well as a soldier, a lost boy gulled into believing anything and duped into doing the dirty work of others." —Malcolm Forbes, The National (Abu Dhabi)
Pantheon, 9781101870471, 336pp.
Publication Date: March 15, 2016
About the Author
KANAN MAKIYA was born in Baghdad. He is the author of several books, including the best-selling Republic of Fear, The Monument, The Rock, and the award-winning Cruelty and Silence. He is the Sylvia K. Hassenfeld Professor of Islamic and Middle Eastern Studies at Brandeis University. He lives in Cambridge, Massachusetts.

Coverage from NPR
or
Not Currently Available for Direct Purchase