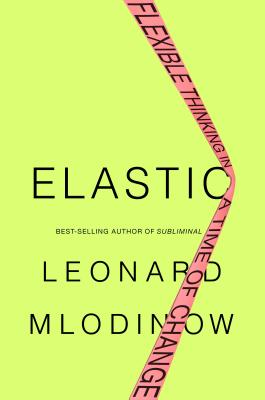 Elastic (Hardcover)
Flexible Thinking in a Time of Change
Pantheon Books, 9781101870921, 272pp.
Publication Date: March 20, 2018
Description
How can we train our brains to be more comfortable with change? How can we become more adept at innovation? The best-selling author of Subliminal and The Drunkard's Walk, Leonard Mlodinow, teaches us the habits of mind essential to thriving in these dynamic and troubled times. "In this wise and persuasive book, Leonard Mlodinow calls for a change in the very way we think. . . . Elastic is a book that will help you survive the whirlwind."
--Daniel H. Pink, author of WHEN and A WHOLE NEW MIND "Timely and engrossing, Elastic is a fascinating exploration of one of the most important topics: how the human mind deals with change. If you liked Subliminal, you'll love Elastic." --Charles Duhigg, author of the best sellers The Power of Habit and Smarter Faster Better Drawing on cutting-edge research, Leonard Mlodinow takes us on an illuminating journey through the mechanics of our minds as we navigate the rapidly changing landscapes around us. Humans possess a cognitive style that Mlodinow terms elastic thinking, a unique set of talents that include neophilia (an affinity for novelty), schizotypy (a tendency toward unusual perception), imagination and idea generation, and divergent and integrative thinking. These are the qualities that enabled innovators from Mary Shelley to Miles Davis, from the inventor of jumbo-sized popcorn to the creators of Pok mon Go, to effect paradigm shifts in our culture and society. In our age of unprecedented technological innovation and social change, it is more important than ever to encourage these abilities and traits.
About the Author
LEONARD MLODINOW's previous books include the best sellers Subliminal (winner of the PEN/E. O. Wilson Literary Science writing award), The Drunkard's Walk (a New York Times Notable Book), War of the Worldviews (with Deepak Chopra), and The Grand Design (with Stephen Hawking), as well as The Upright Thinkers, Feynman's Rainbow, and Euclid's Window. He also wrote for the television series MacGyver and Star Trek: The Next Generation.leonardmlodinow.com
Advertisement