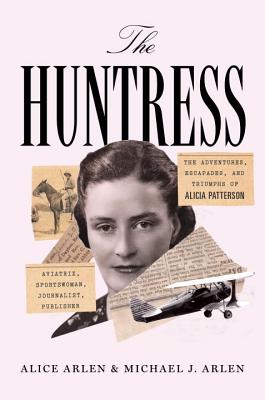 The Huntress
The Adventures, Escapades, and Triumphs of Alicia Patterson: Aviatrix, Sportswoman, Journalist, Publisher
Hardcover

* Individual store prices may vary.
Other Editions of This Title:
Digital Audiobook (8/22/2016)
Description
From National Book Award–winner Michael J. Arlen and screenwriter Alice Arlen, here is the fascinating, adventurous life of Alicia Patterson, who became, at age thirty-four, one of the youngest and most successful newspaper publishers in America when she founded Newsday.

With The Huntress, the Arlens give us a revealing picture of the lifestyle and traditions of the Patterson-Medill publishingdynasty—one of the country's most powerful and influential newspaper families—but also Alicia's rebellious early years and her dominating father, Joseph Patterson. Founder and editor of the New York Daily News, Patterson was a complicated and glamorous figure who in his youth had reported on Pancho Villa in Mexico and had outraged his conservative Chicago family by briefly espousing socialism.

Not once but twice, first at age twenty, Alicia agreed to marry men her father chose, despite having her own more interesting suitors. He encouraged her to do the difficult training required for an aviation transport license; in 1934 she became only the tenth woman in America to receive one. Patterson brought her along to London to meet with Lord Beaverbrook, to Rome to meet Mussolini, and to Moscow in 1937, at the time of Stalin's "show trials," where a young George Kennan took her under his wing.

Alicia caught the journalism bug writing for Liberty magazine, an offshoot of the Daily News. A trip to French Indochina highlighted her hunting skills and made the sultan of Johor an ardent admirer; another trip would involve India,the dangerous sport of pigsticking, several maharajas, and a tiger hunt. A third marriage, to Harry Guggenheim, blew hot and cold but it did last; it was with him that she started Newsday in a former car dealership on Long Island. Governor Adlai E. Stevenson, two-time Democratic candidate for president, would be one of her last admirers.

With access to family archives of journals and letters, Michael and Alice Arlen have written an astonishing portrait of a maverick newspaperwoman and an intrepid adventurer, told with humor, compassion, and a profound understanding of a time and place.

(With black-and-white illustrations throughout)
Praise For The Huntress: The Adventures, Escapades, and Triumphs of Alicia Patterson: Aviatrix, Sportswoman, Journalist, Publisher…
"[Patterson's] life seems like a novel, and this biography reads like one, with names dropped, gossipy letters shared, and endless family turmoil revealed. Patterson was the anti–Paris Hilton, the society girl with the slightest of expectations who defied everyone, even the men who loved her, to succeed in an overwhelmingly male-dominated business. Book clubs will devour the story of this whip-smart woman's life told in the wittiest of styles. Patterson herself would thoroughly approve."
—Booklist (starred)
 
"A biography that fascinates as it illuminates. As they chronicle Patterson's long editorship of Newsday, the Long Island paper she launched in 1940, the authors manage to dish delicious gossip about her three marriages and her long affair with Illinois governor and presidential candidate Adlai Stevenson. In long, sinuous sentences, the book paints a portrait of a unique and powerful woman, her ambitions only thwarted by the "vast gulf between men and women" that persisted even as so many things changed. Not only "a proud, briskly unsentimental woman," Patterson emerges as a complicated person, one whose "own past, with its soup of vague and vivid memories, with its powerful and sometimes deafening tribal music," weighed heavily, and often painfully. If the test of a biography is whether readers come to feel they truly know and care deeply about its subject, this one is a smashing success."
—The Boston Globe

"Entertaining…a finely drawn, multigenerational portrait of life in the golden era of print journalism."
—The New Yorker
 
"A vivid and entertaining biography...engagingly written...a rounded, clear-eyed portrait of a remarkable woman, a veritable force of nature."
—Martin Rubin, The Wall Street Journal 
 
"Each page [is] a cascade of digressions and asides that are just as engaging as the main storyline itself….This biography moves Alicia Patterson's legend beyond the realm of family lore and establishes her as a singular and inspiring figure in 20th-century American history."
—Nick Romeo, Christian Science Monitor
 
"[The Arlens] detail their subject's exceptional life and career as her family moved among the wealthiest in the nation…Readers who enjoy biographies of compelling and powerful women will relish Patterson's story, which is nicely interwoven with major events of the 20th century."
—Library Journal

"[A] carefully researched and compelling biography."
—Newsday

"The next best thing to having been the blue-blooded and gutsy Alicia Pat­terson is to read the Arlens' fascinating, wittily told account of her life. Of course, it would also be nice to emulate Patterson by founding a Pulitzer Prize–winning newspaper."
—Patricia Marx, author of Let's Be Less Stupid: An Attempt to Maintain My Mental Faculties
 
"Alicia Patterson made headlines ('Society Girl Betrothed to One Man, as Another Gets License to Wed Her') even before—as Newsday's founder—she published them. Hers was a high-wire act of a life, as the tenth-grade expul­sion for reading Anna Karenina might have suggested. Whether hunting tigers or establishing a newspaper, she is indomitable; she turns out as well to be irresistible in the Arlens' luminous, spirited account."
—Stacy Schiff, author of Cleopatra: A Life


Pantheon, 9781101871133, 368pp.
Publication Date: August 23, 2016
About the Author
ALICE ARLEN is the author of Cissy Patterson and was for many years a successful screenwriter; among her cred­its are Silkwood—cowritten with Nora Ephron and nomi­nated for an Academy Award—Alamo Bay, Cookie, Then She Found Me, and The Weight of Water. She is the niece of Alicia Patterson and, until her death in March 2016, lived in New York City.

MICHAEL J. ARLEN was for thirty years a staff writer and television critic at The New Yorker. He is the author of many books, including Thirty Seconds, An American Verdict, Exiles, which was short-listed for a National Book Award, and Passage to Ararat, which won a National Book Award.
or
Not Currently Available for Direct Purchase