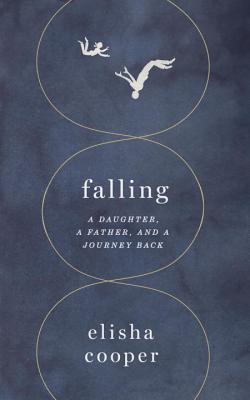 Falling
A Daughter, a Father, and a Journey Back
Hardcover

* Individual store prices may vary.
Other Editions of This Title:
Paperback (6/13/2017)
Description
Elisha Cooper spends his morn­ings creating children's books and his afternoons playing with his two daughters. But when he discovers a lump in five-year-old Zoë's midsection as she sits on his lap at a Chicago Cubs game, everything changes. Surgery, sleepless nights, months of treatment, a drumbeat of worry. Even as the family moves to New York and Zoë starts kindergarten, they must navigate a new normal: school and soccer and hot chocolate at the local café, inter­rupted by anxious visits to the hospital. Elisha and his wife strive to help their daughters maintain a sense of stability and joy in their family life. And he tries to understand this new world—how it changes art and language and laughter—as he holds on to the protective love he feels for his child.
 
With the observant eye of an artist and a remarkable sense of humor, Elisha captures his family's journey through a perilous time and, in the process, shows how we are all transformed by the fear and hope we feel for those we love
Praise For Falling: A Daughter, a Father, and a Journey Back…
"Compact yet powerful . . . Cooper writes with the plainspoken grace and sharp eye of an artist . . . [Falling] is something special, a tough, tender book that gets at the heart of what it means to make a family and a life."
     —The Boston Globe

"Poignant . . . [Cooper] proves not that art has saved him but that creative expression, be it by brushstroke, keystroke or both, can help a person transition through a devastating circumstance and transmute something terrifying and painful into a work of art."
     —The Wall Street Journal

"Cooper's prose evokes the sharpness—and the melancholy—of his watercolor paintings for his children's books." 
     —The New York Times Book Review
 
"Lovely . . . With meditations on memory, loyalty, and the gifts parents and children give one another, Falling is every bit as relevant to parents in general as it is essential to parents facing challenges similar to those that Cooper's family is dealing with . . . [Falling] shows us that hope, laughter, strength and insight can flourish."
     —Bookreporter
 
"Gorgeous, stunning . . . [Cooper's] perspectives and his honesty in sharing them endear him to readers. Sentence by sentence, Cooper's prose is admirable . . . Bravo."
     —New York Journal of Books
 
"This tale of fatherly devotion is also a story of discovering what it means to survive in the face of the unknowable. . . . A poignant but never melodramatic musing on parenting, love, and risks . . . Packs a mighty punch." 
     —Publishers Weekly (starred review)
 
"Witty, wise. . . . Cooper's musings are a good reminder to count blessings, maintain a sense of humor, and live life to the fullest."
     —Booklist
 
"Spare and heartfelt."
     —BookPage

"A beautiful book that knows so much about love and uncertainty. It knows that life isn't made of Grand Sweeping Truths but of particular moments--moments of sublimity and irritation, soccer balls kicked into rivers and sandwiches eaten in pediatric oncology wards. This book left me deeply moved, full of admiration, and vibrating with gratitude for the ordinary moments of my own family's life."
     —Leslie Jamison, author of The Empathy Exams
 
"A  small, wry, trenchant, immensely moving book. While Cooper's subject is ostensibly his young daughter's scarifying illness and recovery, in these deft pages he takes on the large themes of risk, responsibility and love—integers of the intricate geometry of family life—with rage and tenderness."
     —Cynthia Zarin, author of An Enlarged Heart

"As delicate yet plainspoken as his beautiful picture books, Elisha Cooper's Falling sketches out, in moving detail, a father's ultimate ordeal, from the time his young daughter is diagnosed with cancer through the long purgatory of waiting to find out if she will be cured. It's also a wonderful and often comic account of raising kids amid the quirky vexations and comforts of life in New York City."
      —Julia Glass, National Book Award–winning author of Three Junes 

"Falling is the picture of a man helpless to help a sick child. Cooper's fear and powerlessness turn into a range of emotions, but ultimately, Falling is about love. This is a book I will never forget. I recommend it to everyone."
      —Abigail Thomas, author of A Three Dog Life

"A profoundly moving memoir."
     —Kirkus Reviews (starred review)
Pantheon, 9781101871232, 160pp.
Publication Date: June 14, 2016
About the Author
ELISHA COOPER is the author of many children's books, including Train, Farm, Homer, and 8: An Animal Alphabet. Beach received a Society of Illustrators Gold Medal in 2006 and Dance! was a 2001 New York Times Best Illustrated Book of the Year. He was awarded a Sendak Fellowship in 2016. Cooper's books for adults include A Year in New York and the memoir Crawling: A Father's First Year. He lives with his family in New York City.
or
Not Currently Available for Direct Purchase