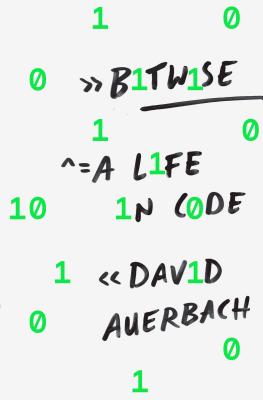 Bitwise
A Life in Code
Hardcover

* Individual store prices may vary.
Other Editions of This Title:
Digital Audiobook (8/27/2018)
Paperback (7/23/2019)
Compact Disc (8/28/2018)
MP3 CD (8/28/2018)
Compact Disc (8/28/2018)
Description
An exhilarating, elegant memoir and a significant polemic on how computers and algorithms shape our understanding of the world and of who we are
 
Bitwise is a wondrous ode to the computer lan­guages and codes that captured technologist David Auerbach's imagination. With a philoso­pher's sense of inquiry, Auerbach recounts his childhood spent drawing ferns with the pro­gramming language Logo on the Apple IIe, his adventures in early text-based video games, his education as an engineer, and his contribu­tions to instant messaging technology devel­oped for Microsoft and the servers powering Google's data stores. A lifelong student of the systems that shape our lives—from the psy­chiatric taxonomy of the Diagnostic and Statistical Manual to how Facebook tracks and profiles its users—Auerbach reflects on how he has experienced the algorithms that taxonomize human speech, knowledge, and behavior and that compel us to do the same.
 
Into this exquisitely crafted, wide-ranging memoir of a life spent with code, Auerbach has woven an eye-opening and searing examina­tion of the inescapable ways in which algo­rithms have both standardized and coarsened our lives. As we engineer ever more intricate technology to translate our experiences and narrow the gap that divides us from the ma­chine, Auerbach argues, we willingly erase our nuances and our idiosyncrasies—precisely the things that make us human.
Praise For Bitwise: A Life in Code…
"A hybrid of memoir, technical primer and social history . . . [Auerbach] suggests that we need to be bitwise (i.e. understand the world through the lens of computers) as well as worldwise . . . We need guides on this journey—judicious, balanced and knowledgeable commentators, like Auerbach." —The New York Times Book Review

"[A] fun and informative memoir of a life in coding explains what makes coding deeply fascinating, and is tamped full, like a scientist's experiment in sphere-packing, of history, fact, and anecdote." —Popular Mechanics, Best Sci/Tech Books of the Year
 
"A valuable resource for readers seeking to understand themselves in this new universe of algorithms, as data points and as human beings." —The New Republic
 
"With wit and technical insight, former Microsoft and Google engineer Auerbach explains how his knowledge of coding helped form him as a person, at the same time showing how coding has influenced aspects of culture such as personality tests and child-rearing . . . An enjoyable look inside the point where computers and human life join." —Publisher's Weekly

"An eye-opening look at computer technology and its discontents and limitations." —Kirkus Reviews

"A profound memoir, a manifesto, and a warning about the digital world. Auerbach spins out the secret history of the computational universe we all live in now, filtering insider technical know-how through a profoundly humanistic point of view like no book since Gödel, Escher, Bach." 
—Jordan Ellenberg, author of How Not to Be Wrong
 
"Auerbach artfully combines a personal and professional narrative with a philosophical examination of the way the real and digital worlds contrast and intertwine. It is a subject that will take on ever more importance as algorithms continue to gain dramatically more power and influence throughout our world." —Martin Ford, author of Rise of the Robots
 
"Very attractive (in all senses). The sentences resemble something both plain and clear, like a Shaker desk—a kind of generous transparency, and about things that are not transparent at all." —John Crowley, author of Little, Big
 
"A delightful journey through the history of personal computing. It succeeds brilliantly at conveying what it's like to be a coder and at exploding common stereotypes. I couldn't stop reading." —Scott Aaronson, David J. Bruton Centennial Professor of Computer Science, University of Texas at Austin
Pantheon, 9781101871294, 304pp.
Publication Date: August 28, 2018
About the Author
DAVID AUERBACH is a writer and software engineer who has worked for Google and Microsoft. His writing has ap­peared in The Times Literary Supplement, MIT Technology Review, The Nation, The Daily Beast, n+1, and Bookforum, among many other publications. He has lectured around the world on technology, literature, philosophy, and stupidity. He lives in New York City.
or
Not Currently Available for Direct Purchase