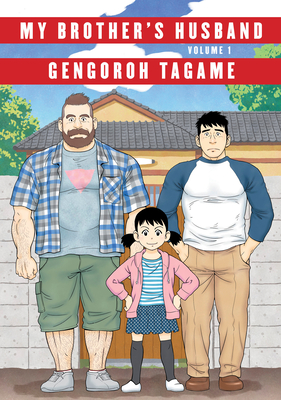 My Brother's Husband, Volume 1 (Pantheon Graphic Library)
Hardcover

* Individual store prices may vary.
Other Editions of This Title:
Paperback (2/11/2020)
Hardcover (9/18/2018)
Description
The first volume of the acclaimed global sensation, from one of Japan's most notable manga artists: Yaichi is a work-at-home suburban dad in contemporary Tokyo; formerly married to Natsuki, and father to their young daughter, Kana. Their lives suddenly change with the arrival at their doorstep of a hulking, affable Canadian named Mike Flanagan, who declares himself to be the widower of Yaichi's estranged gay twin, Ryoji.

Mike is on a quest to explore Ryoji's past, and the family reluctantly but dutifully takes him in. What follows is an unprecedented and heartbreaking look at the state of a largely still-closeted Japanese gay culture: how it's been affected by the West, and how the next generation can change the preconceptions about it and prejudices against it.

(Please note: This book is a traditional work of manga, and reads back to front and right to left.)
Praise For My Brother's Husband, Volume 1 (Pantheon Graphic Library)…
"When a cuddly Canadian comes to call, Yaichi—a single Japanese dad—is forced to confront his painful past. With his young daughter Kana leading the way, he gradually rethinks his assumptions about what makes a family. Renowned manga artist Gengoroh Tagame turns his stunning draftsmanship to a story very different from his customary fare, to delightful and heartwarming effect."
—Alison Bechdel, author of Fun Home

"Heartbreaking yet hopeful, Gengoroh Tagame's beautifully rendered meditation on the struggle for gay acceptance in today's Japan is quietly dazzling. I am already looking forward to part two!"
—Anderson Cooper, CNN

"Beautifully written and drawn—an eye-opening story about children and parents and how they affect each other. And I'm 11 years old, so I should know!"
—Clara Ware

"The art is crisp, and the characters' faces expressive, allowing the reader to see their hurt, confusion, and relief . . . A sensitive exploration of the transition some families go through when a family member comes out and a possible entry point for those needing to start conversations of their own."
—Booklist [starred review]

"Not only is My Brother's Husband very touching; it's also, for the non-Japanese reader, unexpectedly fascinating. Gay life remains largely closeted in Japan, and Tagame's complex but deftly told story seeks to examine the effect such secrecy has, not only on those who must live it, but also on their wider family relationships."
—The Guardian (London) 

"Gengoroh Tagame's beautiful manga novel My Brother's Husband disentangles family secrets and homophobia with endearing grace . . . Thoughtful and fetching, My Brother's Husband is the first in a two-volume omnibus about grief, reconciliation and the strength to be who you are."
—Shelf Awareness [starred review]

"My Brother's Husband focuses more on the uneasy relationship between Yaichi, a single father raising his daughter, Kana, and Mike Flanagan, who was married to Yaichi's recently deceased (and estranged) twin brother, Ryoji . . . There's something beautiful in the careful way that My Brother's Husband handles Yaichi's coming to terms with his feelings about his brother that's rarely seen in mainstream comics. Rather than treating the tension between Mike and Yaichi as a massively dramatic point on conflict, the book instead treats it like the complicated and messy holding pattern that it is . . . The message that Tagame's trying to get across—that quiet, subtle bigotry can be just as harmful as loud, bombastic bigotry—isn't always an easy one to process. Tagame understands that and hopefully, as the rest of the book unfolds, readers will too."
—io9.com

"My Brother's Husband is focused on normalizing a gay relationship to those who are uncomfortable with the idea . . . there's an audience and a need for works like this . . . The storytelling is straightforward, easy to read, particularly for those who might be new to the medium. There are plenty of panels that establish detail, so the reader gets a feel for this small family's daily life . . . It's charming and provides hope for the future."
—Comics Worth Reading

"The story provides a very interesting look at Japanese society through Yaichi's struggle to come to terms with his brother's sexuality, revealing some of the struggles the Japanese gay community faces at the same time . . . One of the most notable things about Tagame's artwork is just how vastly different it is from nearly anything I've seen before. Not necessarily in terms of character designs, or settings, but in terms of the gaze itself. It's fascinating to see the male body portrayed through the gaze of a gay male creator . . . There's a softness and warmth to My Brother's Husband that makes it incredibly easy to get into . . . there's a strong sense of heart, honesty and earnestness."
—Sequential Ink

"Refreshing. Transporting. Clever. Inspiring. If these are qualities that help books rise to the top of your summer reading list, your new number one is My Brother's Husband . . . The story moves along quietly and gently, Tagame cleverly evoking parallels between mutual misperceptions of gays and straights, older and younger generations, Westerners and Japanese."
—Passport Magazine

"This winsome look at culture clash compares the largely still-closeted Japanese gay culture with the West, underscoring a theme of universal yearning for family."
—Library Journal

Pantheon, 9781101871515, 352pp.
Publication Date: May 2, 2017
About the Author
GENGOROH TAGAME was born in 1964 and lives in Tokyo. After graduating from Tama University of Art, Tagame worked as an art director while writing manga and prose fiction, contributing illustrations for various magazines. In 1994 he cofounded the epochal G-Men Magazine and by 1996 he was working full-time as an openly gay artist. He is the author of dozens of graphic novels and stories which have been translated into English, French, Italian, and Korean. His artwork has been exhibited in galleries across Europe and America. My Brother's Husband marks his first all-ages title, and earned him a 2018 Eisner Award as well as the Japan Media Arts Award for Outstanding Work of Manga from the Agency of Cultural Affairs.