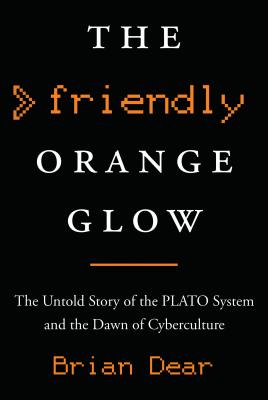 The Friendly Orange Glow
The Untold Story of the PLATO System and the Dawn of Cyberculture
Hardcover

* Individual store prices may vary.
Other Editions of This Title:
Digital Audiobook (11/13/2017)
Paperback (10/2/2018)
Description
At a time when Steve Jobs was only a teenager and Mark Zuckerberg wasn't even born, a group of visionary engineers and designers—some of them only high school students—in the late 1960s and 1970s created a computer system called PLATO, which was light-years ahead in experimenting with how people would learn, engage, communicate, and play through connected computers. Not only did PLATO engineers make significant hardware breakthroughs with plasma displays and touch screens but PLATO programmers also came up with a long list of software innovations: chat rooms, instant messaging, message boards, screen savers, multiplayer games, online newspapers, interactive fiction, and emoticons. Together, the PLATO community pioneered what we now collectively engage in as cyberculture. They were among the first to identify and also realize the potential and scope of the social interconnectivity of computers, well before the creation of the internet. PLATO was the foundational model for every online community that was to follow in its footsteps. 

The Friendly Orange Glow is the first history to recount in fascinating detail the remarkable accomplishments and inspiring personal stories of the PLATO community. The addictive nature of PLATO both ruined many a college career and launched pathbreaking multimillion-dollar software products. Its development, impact, and eventual disappearance provides an instructive case study of technological innovation and disruption, project management, and missed opportunities. Above all, The Friendly Orange Glow at last reveals new perspectives on the origins of social computing and our internet-infatuated world.

Praise For The Friendly Orange Glow: The Untold Story of the PLATO System and the Dawn of Cyberculture…
"Mr. Dear guesses that he spent about 11 years of solid work on his book over more than 30 years. His diligence shows. Thanks to his meticulous research and conversational writing style, The Friendly Orange Glow is an enjoyable and authoritative treatment of an important piece of our social and technological heritage." 
—Phil Lapsley, The Wall Street Journal

"Brian Dear has made an important and fascinating contribution to the history of the digital age. This insightful book tells the story of the pioneering system of networked computing known as PLATO.  Much of what we enjoy today sprang from PLATO and the colorful community that created and embraced it." 
—Walter Isaacson, author of The Innovators and Steve Jobs

"That Dear was able to interview the many engineers, programmers, authors, and users of PLATO is a signal achievement. One might say that The Friendly Orange Glow is a kind of 'fan non-fiction'; Dear is to PLATO what Chernow is to Hamilton. . . . Dear has done a great deal of heavy lifting here to tell a story that needed to be told and we are much the richer for his telling." 
—Steve Jones, New Media & Society

"A full decade before the history most people believe, PLATO was the original system that inspired modern computing—and even the cloud. Designed and built by Midwestern pioneers starting in 1960, PLATO was still operational when I attended the University of Illinois Urbana-Champaign in the early 1990s. In fact, I took math classes on it before building Mosaic. This story is a testament to the importance of both innovation and timing!" 
—Marc Andreessen, cofounder of Netscape and Andreessen Horowitz
 
"I loved this deep unknown history. An incredible tale of a rag-tag team of students inventing key technologies—flat screens, instant messaging, networked games, blogging—decades before Silicon Valley, and then they were totally forgotten. Your mind will be blown."  
—Kevin Kelly, Senior Maverick for Wired Magazine and author of The Inevitable

"Prodigious research. . . . The story shines through—a fascinating tale of missed opportunities and blind spots."  
—Sharon Weinberger, Nature

"Absorbing and eye-opening history. . . . Entertaining, anecdote-laden account waxes more than a little nostalgic about the little-remembered program . . . behind cyberculture's flourishing global impact."  
—Booklist
 
"This exuberant history . . . offers a lively portrait of the energy and creativity that a networked world can unleash. . . . Dear's sprawling re-creation conveys the excitement of technological innovation and the freewheeling eccentricity of this vibrant scene."  
—Publishers Weekly

"Promoted as an educational experiment, PLATO became home to the first interactive games, electronic communities, student hacking escapades and online romances. Could Nixon's staff censor online impeachment discussions?  Is online gaming a form of education?  Should systems sell advertising?  Here's the astonishing story of that first network—how students and programmers twisted a thousand clunky, connected computers to change the course of computing."
—Clifford Stoll, author of High-Tech Heretic

"Packed with delightful details, The Friendly Orange Glow offers a fascinating account of how the first initial forays by passionate geeks snowballed to establish digital culture. This book is an essential read for anyone who takes the internet for granted." 
—danah boyd, founder of Data & Society and principal researcher, Microsoft Research

"The word that comes to mind about this book is comprehensive! It is truly a historical tour de force telling the story of the PLATO system, its origins and the people who made it happen. I had a glancing exposure to the program and Don Bitzer in the late 1960s as I embarked on work at UCLA on the ARPANET. The team was wrestling with the neon plasma panel display and I came away very impressed by Bitzer's palpable can-do enthusiasm. He may have been Felix Ungar to Daniel Albert's Oscar Madison, but I have never met a more determined engineer in my fifty-year career. This book is a timely reminder of what PLATO people astonishingly accomplished long before the rest of the world caught on."  
—Vint Cerf, vice president and chief internet evangelist at Google
 
"Finally!  Here is the secret history of the Internet's elder sibling, the one no one talks about after a mysterious disappearance." 
—Jaron Lanier, author I Am Not a Gadget

"Long before 'UI' signified User Interface, 'UI' signified University of Illinois, where, fifty years ago, much of what we take for granted as a User Interface for personal and collaborative computing first took form. To an Internet user, The Friendly Orange Glow is like finding a trunk in your attic full of detailed notes kept by your parents chronicling all the adventures they had before you were born. This is history of the best kind: authoritative, intimate, and painstakingly assembled, firsthand. A landmark work."
—George Dyson, author of Turing's Cathedral
Pantheon, 9781101871553, 640pp.
Publication Date: November 14, 2017
About the Author
BRIAN DEAR is a longtime tech-startup entrepreneur and the founder of companies including Coconut Computing, FlatWorks, Eventful, and Nettle. He has also worked at a variety of dot-com companies, including MP3 and eBay, and he worked in computer-based education for eight years, including five on the PLATO system. He has written for Educational Technology, BYTE, IEEE Expert, and San Diego Reader. Dear lives with his wife in Santa Fe, New Mexico.
or
Not Currently Available for Direct Purchase