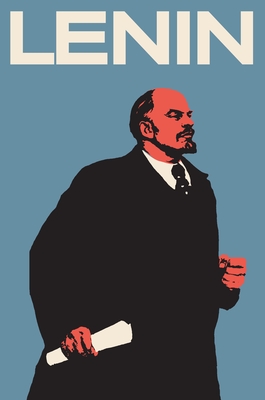 Lenin
The Man, the Dictator, and the Master of Terror
Hardcover

* Individual store prices may vary.
Other Editions of This Title:
Digital Audiobook (11/6/2017)
Paperback (10/9/2018)
Description
Victor Sebestyen's riveting biography of Vladimir Ilyich Lenin—the first major biography in English in nearly two decades—is not only a political examination of one of the most important historical figures of the twentieth century but also a fascinating portrait of Lenin the man.

Brought up in comfort and with a passion for hunting and fishing, chess, and the English classics, Lenin was radicalized after the execution of his brother in 1887. Sebestyen traces the story from Lenin's early years to his long exile in Europe and return to Petrograd in 1917 to lead the first Communist revolution in history. Uniquely, Sebestyen has discovered that throughout Lenin's life his closest relationships were with his mother, his sisters, his wife, and his mistress. The long-suppressed story told here of the love triangle that Lenin had with his wife, Nadezhda Krupskaya, and his beautiful, married mistress and comrade, Inessa Armand, reveals a more complicated character than that of the coldly one-dimensional leader of the Bolshevik Revolution.

With Lenin's personal papers and those of other leading political figures now available, Sebestyen gives is new details that bring to life the dramatic and gripping story of how Lenin seized power in a coup and ran his revolutionary state. The product of a violent, tyrannical, and corrupt Russia, he chillingly authorized the deaths of thousands of people and created a system based on the idea that political terror against opponents was justified for a greater ideal. An old comrade what had once admired him said that Lenin "desired the good . . . but created evil." This included his invention of Stalin, who would take Lenin's system of the gulag and the secret police to horrifying new heights.

In Lenin, Victor Sebestyen has written a brilliant portrait of this dictator as a complex and ruthless figure, and he also brings to light important new revelations about the Russian Revolution, a pivotal point in modern history.


(With 16 pages of black-and-white photographs)
Praise For Lenin: The Man, the Dictator, and the Master of Terror…
"Sebestyen has managed to produce a first-rate thriller by detailing the cynicism and murderous ambition of the founder of the Soviet Union."
–The New York Times Book Review, "100 Notable Books of 2017"
 
"An accessible, fair, and marvelously written biography…For anyone interested in an introduction to the world's greatest revolutionary that draws on the latest research, Mr. Sebestyen's Lenin would be the place to start."
–Douglas Smith, The Wall Street Journal

"Can first-rate history read like a thriller? With Lenin: The Man, the Dictator and the Master of Terror, the journalist Victor Sebestyen has pulled off this rarest of feats . . . How did he do it? Start with a Russian version of "House of Cards" and behold Vladimir Ilyich Lenin pre-empt Frank Underwood's cynicism and murderous ambition by 100 years. Add meticulous research by digging into Soviet archives, including those locked away until recently. Plow through 9.5 million words of Lenin's "Collected Works." Finally, apply a scriptwriter's knack for drama and suspense that needs no ludicrous cliffhangers to enthrall history buffs and professionals alike."
—Josef Joffe, The New York Times Book Review

"Intriguing"
—Karl Ove Knausgaard, The New York Times

"The absence of a post-Soviet Lenin biography has finally been corrected, with this brilliant and compelling portrait of the Soviet state's founder…Sebestyen covers Lenin as a private person as well as a thinker and revolutionary… [this] superb biography is a commentary on how, with even the best of intentions, adoption of a revolutionary ideology can lead to a living hell."
–Ronald Radosh, The National Review

"Lenin is the best biography I've read in years. It takes Victor Sebestyen less than five pages to perform the hardest of all literary tricks: making the person he's writing about seem like a familiar human being."
–Bob Blaisdell, The Christian Science Monitor 

"An illuminating new biography of the cold, calculating ruler on whom the subsequent Soviet state modeled itself . . . Sebestyen ably captures the man, "the kind of demagogue familiar to us in Western democracies." A compelling, clear-eyed portrait of a dictator whose politics have unfortunate relevance for today."
—Kirkus Reviews (starred review)

"Insightful . . . A compelling portrait of an epoch-making figure . . . Readers explore the complexities of [Lenin's] personality: sophisticated intellectual and shameless demagogue, cerebral logician and emotional rageaholic, sensitive lover of music and callous murderer. But no complexities will fascinate readers more than those characterizing Lenin's tangled relationships with the women who influenced him. Taking readers deep into a marriage that previous biographers have dismissed as merely functional, Sebestyen illuminates moments of real tenderness—and of painful tension—as Lenin succumbs to the charms of a beautiful émigré, whom he makes his mistress without abandoning his wife."
—Booklist (starred review)

"[An] excellent, original and compelling portrait of Lenin as man and leader."
—Simon Sebag Montefiore, author of The Romanovs

"A fresh, powerful portrait of Lenin, and just at the right time: As Bolshevik ideas and tactics return to world politics, Victor Sebestyen focuses our attention on man who invented them."
—Anne Applebaum, author of Red Famine: Stalin's War on Ukraine      

"A vivid and rounded picture of Lenin the man. Serious and deeply reserved, the great revolutionary had few friends but loved at least two women deeply, and at the same time. Lenin's life has been told before, but Sebestyen brings to the task a gift for narrative and for describing his rich cast of characters."
—Margaret MacMillan, The Oldie (UK)

"An entertaining read . . . Sebestyen writes in a lively journalistic style and has an eye for memorable anecdotes and quotations . . . He brings Lenin the man to life and shows persuasively how 'he was driven by emotion as much as by ideology.'"
—Orlando Figes, The Sunday Times (UK)
 
"Richly readable . . . Sebestyen does full justice to the astonishing, thriller-like tale of [Lenin's] return to Russia to organize the October uprising . . . Lenin saw enemies everywhere. Blaming peasant farmers for the shortage of food, he ordered provincial officials to round them up and hang them. Even Josef Stalin was rebuked for not being 'merciless' enough . . . An enthralling but appalling story."
—The Mail on Sunday (UK)

"Sebestyen brings Lenin's complexities to life, balancing personality with politics in succinct and readable prose, [and] describes particularly keenly how this ruthless, domineering, often vicious man depended on women to sustain him. "
—David Reynolds, The New Statesman (UK)

"Sebestyen, whose family fled Hungary as refugees when he was a child, revives a style of history familiar to the Cold War, in which leading Bolsheviks appear as black sheep in an unhappy eastern bloc family history. Like the Polish-born historian Richard Pipes, his writing is full of caustic asides and asterisks and daggers leading down wormholes of communist lore. His well-sourced narrative feels as if it was honed around kitchen tables for decades before he sat down to write it."
—Roland Elliott Brown, The Spectator (UK)
Pantheon, 9781101871638, 592pp.
Publication Date: November 7, 2017
About the Author
VICTOR SEBESTYEN was born in Budapest. He has worked as a journalist on many British newspapers including The Times, the Daily Mail, and the London Evening Standard, where he was foreign editor and editorial writer. He has also written for many American publications, including The New York Times, and was an editor at Newsweek. He is author of Twelve Days: The Story of the 1956 Hungarian Revolution, Revolution 1989: The Fall of the Soviet Empire, and 1946: The Making of the Modern World.
or
Not Currently Available for Direct Purchase