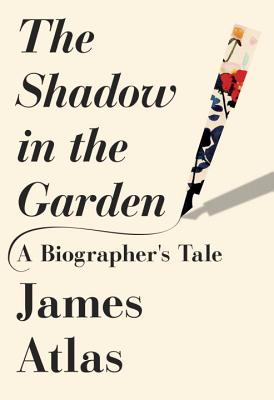 The Shadow in the Garden
A Biographer's Tale
Hardcover

* Individual store prices may vary.
Other Editions of This Title:
Digital Audiobook (8/28/2017)
Paperback (11/6/2018)
Description
The biographer—so often in the shadows, kibitzing, casting doubt, proving facts—comes to the stage in this funny, poignant, endearing tale of how writers' lives get documented. James Atlas, the celebrated chronicler of Saul Bellow and Delmore Schwartz, takes us back to his own childhood in suburban Chicago, where he fell in love with literature and, early on, found in himself the impulse to study writers' lives. We meet Richard Ellmann, the great biographer of James Joyce and Atlas's professor during a transformative year at Oxford. We get to know Atlas's first subject, the "self-doomed" poet Delmore Schwartz. And we are introduced to a bygone cast of intellectuals such as Edmund Wilson and Dwight Macdonald (the "tall pines," as Mary McCarthy once called them, cut down now, according to Atlas, by the "merciless pruning of mortality") and, of course, the elusive Bellow, "a metaphysician of the ordinary."

Atlas revisits the lives and works of the classical biographers, the Renaissance writers of what were then called "lives," Samuel Johnson and the obsessive Boswell, and the Victorian masters Mrs. Gaskell and Thomas Carlyle. And in what amounts to a pocket history of his own literary generation, Atlas celebrates the biographers who hoped to glimpse an image of them—"as fleeting as a familiar face swallowed up in a crowd."

(With black-and-white illustrations throughout)
Praise For The Shadow in the Garden: A Biographer's Tale…
"There are times when you like a book so much that you want to call up the author. For me, this is one of those rare times." —John Tytell, Los Angeles Review of Books

"Entertaining . . . A goody bag of quotable incidents and a useful guide to the biographer's tradecraft." —James Wolcott, The London Review of Books

"Absorbing . . . The Shadow in The Garden will, I predict, have a long life precisely because its author, a man for whom biography-writing proved a release into literary expressiveness, has endowed it with so much genuine thought and feeling." —Vivian Gornick, Boston Review

"A work of both depth and radiance . . . Expert, provocative, and enlightening . . . Atlas relays all with wry hilarity, bighearted candor, and effervescent passion for the art of literary biography." —Donna Seaman, Booklist (starred review)

"In recounting a life largely subsumed by the lives of others, James Atlas reveals, with sincerity, humor, and incisiveness, the value and the difficulty of looking outside oneself for meaning. The Shadow in the Garden is a brutally honest look at the ways in which our lives are shaped—both with and without our knowledge—by the lives of others." —Amanda Foreman, author of Georgiana: Duchess of Devonshire

[Praise for the audiobook edition] "A listener's treat . . . Expertly read by George Newbern . . . One of those rare literary gems that exceed their dimensions." —David A. Walton, Audiofile

"Illuminating . . . A brutally honest examination of the biographical craft and a good companion piece to Richard Holmes's This Long Pursuit." —Kirkus Reviews

"A unique, behind-the-scenes look  . . . Readers of literary biographies (or any type of biography) rarely get such an insight into the process itself." —Lee Polevoi, Highbrow Magazine

"Witty, conscientious, and perceptive . . . Part literary history and part memoir, this is a lively and elegant biography of biography itself." —Publishers Weekly

"An arresting book, at once personal and broad in its purview." —Robert Weibezahl, BookPage

"The dishiest book ever written about serious literature . . . A master class in empathy: stumbling on it, learning to use it, applying it to your own life." —Jesse Kornbluth, Head Butler

"Atlas, with incredible knowledge of all things literary, and with self-deprecating (almost self-lacerating at times) wit and wisdom, gives us the history of the biography form itself." —Michelle Willens, The Huffington Post

"The Shadow in the Garden is written on behalf of all the biographers whose honesty about their subjects was interpreted as gossip, or whose readability was maligned as salaciousness. Such are the pitfalls of the genre. But is biography writing worth it? Atlas thinks it is." —Robert Minto, The New Republic

"Biographers and their subjects engage in a prolonged dance of mutual seduction and betrayal and nobody elucidates this maddening psychodrama better than James Atlas. With candor, subtle insight, and almost heartbreaking humility, he narrates his pursuit of the deceased Delmore Schwartz and the often forbiddingly alive Saul Bellow, laying bare both the pitfalls and rewards of biography. Best of all his memoir is enriched by an encyclopedic knowledge of literary biography that enables the reader to measure his unending quest against the high standard set by James Boswell and Samuel Johnson and many other illustrious predecessors. Anyone even remotely interested in the art of biography will be captivated." —Ron Chernow, author of Alexander Hamilton
 
"I loved this book and was sorry to see it end—not simply because I happen to be one of the 'obsessive diggers drawn to this odd profession,' as Atlas puts it, but because it's a funny, amazingly candid, beautifully written, and, yes, profound meditation on the maddening (and ultimately impossible) business of understanding another human being." —Blake Bailey, author of Cheever: A Life
 
"How can a book be both modest and magisterial? James Atlas, in his confidences about his own methods as a biographer and in his thrilling presentation of the great biographers of the past (from Plutarch to Leon Edel), tells us everything we need to know, but lightly, sincerely—and definitively." —Edmund White, author of Rimbaud: The Double-Life of a Rebel
 
"The biographer slips into another's skin; he is meant to assume someone else's unconscious. By definition, he erases himself in the process. Writing of and around his books, Atlas triumphantly returns that fugitive figure—part sleuth, part scholar, part analyst, part medium, an emissary between worlds—to the page. The result is a lyrical, tender, and unexpectedly suspenseful take on a life in literature. 'There is no such thing as Biography School,' Atlas laments at one juncture. There is now." —Stacy Schiff, author of Cleopatra: A Life
 
"Oh God, Atlas has given it all away: all the trade secrets, anxieties, ploys, scruples, and obsessions of the literary biographer, the noble and ignoble inner workings of the craft, along with an enthralling history of it, and of its greatest practitioners. This excellent memoir may make you think twice about writing a life—i.e., subsuming your own to it—but it will inspire you to rush out to read one." —Judith Thurman, author of Isak Dinesen: The Life of a Storyteller
Pantheon, 9781101871690, 400pp.
Publication Date: August 22, 2017
About the Author
JAMES ATLAS is the author of Bellow: A Biography; Delmore Schwartz: The Life of an American Poet (nominated for the National Book Award); and the memoir My Life in the Middle Ages: A Survivor's Tale. The founder of the Lipper/Viking Penguin Lives series, Atlas was for many years an editor at The New York Times, first at the book review and later at the magazine. His work has appeared in The New Yorker, The Atlantic, The New York Review of Books, Vanity Fair, and other journals. He lives in New York City.
or
Not Currently Available for Direct Purchase