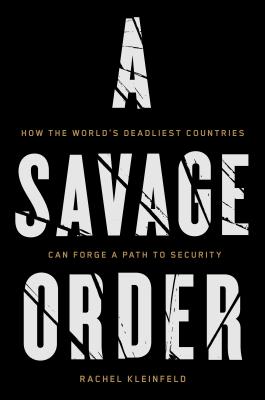 A Savage Order
How the World's Deadliest Countries Can Forge a Path to Security
Hardcover

* Individual store prices may vary.
Other Editions of This Title:
Digital Audiobook (11/5/2018)
Paperback (10/22/2019)
MP3 CD (11/6/2018)
Compact Disc (11/6/2018)
Description
The most violent places in the world today are not at war. More people have died in Mexico in recent years than in Iraq and Afghanistan combined. These parts of the world are instead buckling under a maelstrom of gangs, organized crime, political conflict, corruption, and state brutality. Such devastating violence can feel hopeless, yet some places—from Colombia to the Republic of Georgia—have been able to recover.
 
In this powerfully argued and urgent book, Rachel Kleinfeld examines why some democracies, including our own, are crippled by extreme violence and how they can regain security. Drawing on fifteen years of study and firsthand field research—interviewing generals, former guerrillas, activists, politicians, mobsters, and law enforcement in countries around the world—Kleinfeld tells the stories of societies that successfully fought seemingly ingrained violence and offers penetrating conclusions about what must be done to build governments that are able to protect the lives of their citizens.
 
Taking on existing literature and popular theories about war, crime, and foreign intervention, A Savage Order is a blistering yet inspiring investigation into what makes some countries peaceful and others war zones, and a blueprint for what we can do to help.
Praise For A Savage Order: How the World's Deadliest Countries Can Forge a Path to Security…
"A powerful account . . . A timely perspective as right-wing populism takes hold in unexpected places worldwide. With racist and xenophobic behavior gaining legitimacy, violence becomes an ever-greater concern. The prescriptions Kleinfeld proposes for contending with a breakdown in norms—such as greater engagement of the middle class and the importance of political movements—offer valuable insight." —The Washington Post

"A Savage Order urges us to abandon untethered idealism, middle-class apathy, and partisan devotion that blinds us to unorthodox solutions, and to join the ranks of pragmatic reformers working to protect innocent lives around the globe. Encouragingly, we have a good idea of what works." —The Wall Street Journal

"An argument for the ways in which countries can emerge from political polarization, corruption, violence, and chaos . . . Richly researched . . . and easily accessible . . . A solid, convincing argument based on experience, research, travel, and intelligence." —Kirkus Reviews, *starred review*

"This is a brilliant analysis of societies that appear to be intractably violent, but in fact are not—including our own. A Savage Order is original, penetrating, and filled with gripping history and reporting." —Steven Pinker
 
"A Savage Order gives us a comprehensive survey of countries that have overcome extreme violence and shows how there is a common thread to their recoveries, one that could be of tremendous help to countries currently in the grip of deadly violence. Rachel Kleinfeld's analysis is both analytically rigorous and accessible, and will be required reading for those players and policymakers who are actually trying to deal with such terrible problems today." —Francis Fukuyama
 
"A Savage Order is a fascinating, moving, and deeply important study that will be widely read by scholars, activists, policy makers and ordinary citizens who seek a more peaceful and just world." —Larry Diamond
 
"In this exhaustively researched and deftly reasoned volume, Rachel Kleinfeld shows us why durable solutions to bloodshed lie not with repression or dirty deals, but with an engaged middle class and political leadership framing demands for reform in rigorously nonpartisan ways."
—Sarah Chayes
 
"Nearly 370 years after Thomas Hobbes wrote Leviathan, we still lack both an understanding of the underpinnings of social order, and practical strategies to achieve it. This book brings together a new theoretical argument with rich case study evidence which provides a roadmap, if not a magic wand, for how social order can be successfully achieved. Breaks new ground wherever it moves." —James A. Robinson

"Chock-full of surprising statistics, vignettes and the fascinating observations that Rachel Kleinfeld has gathered in two decades studying violence, A Savage Order is an obligatory reference to those interested in understanding and solving one of the defining problems of our time." —Moisés Naim
Pantheon, 9781101871997, 496pp.
Publication Date: November 6, 2018
About the Author
RACHEL KLEINFELD is a senior fellow at the Carnegie Endowment for International Peace and was the founding CEO of the Truman National Security Project. From 2011 to 2014 she served on the U.S. State Department's Foreign Affairs Policy Board and regularly advises officials in the United States, the United Kingdom, and other allied governments. Kleinfeld is the author of two previous books and has been featured in The New York Times, The Wall Street Journal, Fox News, and other national television, radio, and print media. She lives in Santa Fe, New Mexico.
or
Not Currently Available for Direct Purchase