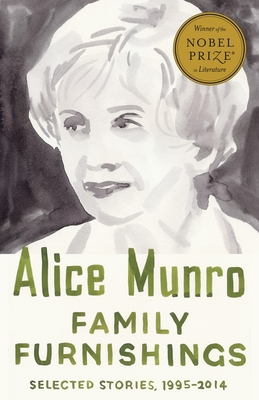 Family Furnishings
Selected Stories, 1995-2014 (Vintage International)
Paperback

* Individual store prices may vary.
Other Editions of This Title:
Hardcover (11/11/2014)
Description
A Best Book of the Year: San Francisco Chronicle, NPR, Minneapolis Star Tribune

Here is a selection of Munro's most accomplished and powerfully affecting short fiction from the last two decades, a companion volume to A Wilderness Station: Selected Stories, 1968–1994. These stories encompass the fullness of human experience, from the wild exhilaration of first love (in "Passion") to the punishing consequences of  leaving home ("Runaway") or ending a marriage ("The Children Stay"). And in stories that Munro has described as "closer to the truth than usual"—"Dear Life," "Working for a Living," and "Home"—we glimpse the author's own life.
       Subtly honed with her hallmark precision, grace, and compassion, these stories illuminate the quotidian yet astonishing particularities in the lives of men and women, parents and children, friends and lovers as they discover sex, fall in love, part, quarrel, suffer defeat, set off into the unknown, or find a way to be in the world.
Praise For Family Furnishings: Selected Stories, 1995-2014 (Vintage International)…
"What a stunning, subtle and sympathetic explorer of the heart Munro is." —The Washington Post

"Generations to come will relish and study Family Furnishings. . . . A superb introduction for those new to her work, and a reminder to longtime fans that Munro is a writer to be cherished." —NPR

"Brilliant. . . . In the simplest of words, and with the greatest of power, she makes us see and hear an 'unremarkable' scene we will never forget." —The New York Review of Books 
 
"Turn to just about any page and you'll discover a brilliant insight into human behavior. . . . Family Furnishings reminds us that Munro is our greatest contemporary short story writer." —USA Today

"[An] extraordinary collection. . . . Munro seems to have gotten hold of our own darkest feelings about the people in our lives and transformed them, gloriously, into art." —San Francisco Chronicle
 
"The preeminent short-fiction writer of her time. . . . Astonishing. . . . Stunning. . . . Remind[s] us that fiction, at its most profound and moving, is about human endurance, which makes it very much a reflection of reality." —Los Angeles Times
 
"Munro's literary genius for the short-story form has been widely deemed incomparable. The Canadian writer captures those small moments that reverberate through ordinary lives in meticulous prose. Her economy in words fashions a language that pierces the heart." —New York Daily News
 
"These are human stories, and great ones. . . . Nobody can tell a tale, spin a character, break a heart, the way Alice Munro can." —Minneapolis Star Tribune
 
"Munro may have arrived at the end of her career, but her stories keep changing, as works of art tend to do. . . . Because Munro's people often act unpredictably—they wind up doing things they hadn't known they were going to do and startle themselves—the stories, even on repeated readings, retain their original suspense, their sense that anything can happen." —The New York Times Book Review
 
"If there's literary pleasure greater than reading Alice Munro, it must be rereading Alice Munro." —The Seattle Times
 
"It is no exaggeration to state that Munro's short stories are among the finest that have ever been written. She's sure to endure alongside Poe, Hemingway and O'Connor. . . . She's that rare writer who is able to match her early career achievements and even top them." —The Dallas Morning News
 
"A writer who slowly fashioned a house of fiction large enough for both a room of her own and all of her family furnishings—ensuring that she herself had space to maneuver while others still had plenty of space to stretch out and live. Those others include us, her very lucky readers." — The Philadelphia Inquirer  
 
"Munro's stories are remarkable for their evocation of places and the people who live there, for ambiguities, their ellipses, and their deftness. Her prose is lucid: ranging from delicacy to forthright attack, sometimes witty, ironic." —The Washington Times
Vintage, 9781101872352, 784pp.
Publication Date: September 15, 2015
About the Author
Alice Munro grew up in Wingham, Ontario, and attended the University of Western Ontario. She has published thirteen collections of stories and a novel. During her distinguished career she has been the recipient of many awards, including two Giller Prizes, the National Book Critics Circle Award, and the Man Booker International Prize. In 2013 she was awarded the Nobel Prize for Literature. Her stories have appeared in The New Yorker, Atlantic Monthly, Harper's Magazine, The Paris Review, Granta, and many other publications, and her collections have been translated into thirteen languages.