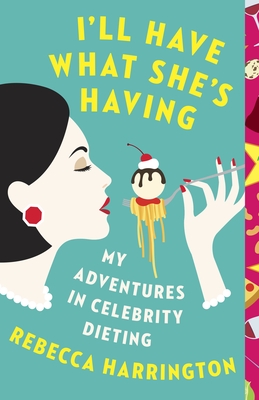 I'll Have What She's Having
My Adventures in Celebrity Dieting
Paperback

* Individual store prices may vary.
Other Editions of This Title:
Digital Audiobook (1/5/2015)
Description
A hilarious look at the eating habits of the fit and famous--from Gwyneth's goji berry and quail egg concoctions to Jackie Kennedy's baked potato and Beluga caviar regimen--Rebecca Harrington leaves no cabbage soup unstirred in her wickedly funny, wildly absurd quest to diet like the stars.
    Elizabeth Taylor mixed cottage cheese and sour cream; Madonna subsisted on "sea vegetables;" and Marilyn Monroe drank raw eggs whipped with warm milk. Where there is a Hollywood starlet offering nutritional advice, there is a diet Rebecca Harrington is willing to try. Facing a harrowing mix of fainting spells, pimples, and salmonella, Harrington tracks down illegal haggis to imitate Pippa Middleton, paces her apartment until the wee hours drinking ten Diet Cokes à la Karl Lagerfeld, and attempts something forbiddingly known as the "Salt Water Flush" to channel her inner Beyoncé. Rebecca Harrington risks kitchen fires and mysterious face rashes, all in the name of diet journalism. Taking cues from noted beauty icons like Posh Spice (alkaline!), Dolly Parton (Velveeta!), Sophia Loren (pasta!) and Cameron Diaz (savory oatmeal!), I'll Have What She's Having is completely surprising, occasionally unappetizing, and always outrageously funny.
Praise For I'll Have What She's Having: My Adventures in Celebrity Dieting…
"Over the course of I'll Have What She's Having, Ms. Harrington eats like 14 different celebrities, both dead and alive. Among them: Madonna , Jackie Kennedy, Marilyn Monroe , Karl Lagerfeld, Dolly Parton, and the GOOP goddess herself, Gwyneth Paltrow . . . The writing—though not the food—is delectable." – Bari Weiss, The Wall Street Journal

"Novelist Harrington (Penelope) undertakes a hilariously ill-advised experiment in celebrity diets ranging from Beyoncé's master cleanse lemonade with cayenne pepper and maple syrup to Karl Lagerfeld's guzzling reliance on Diet Coke... While the content is mostly lighthearted and humorous, there is a palpable undercurrent of sharp feminist commentary." -- Publisher's Weekly

"Fandom through weight loss… well, why not? You'll laugh out loud at the author's attempts to follow the sometimes excellent, sometimes stomach-churning diet regimens of celebrities: Gwyneth Paltrow (tasty!), Elizabeth Taylor (peanut butter and steak, yuck), Madonna, Beyoncé and more." – People Magazine's Best New Books

"After the sugar-rush of the holidays come the January diet books. One of the most entertaining is I'll Have What She's Having: My Adventures in Celebrity Dieting by Rebecca Harrington . . . It's both hilarious and sad to think of Gwyneth Paltrow subsisting on kale juice and raw almonds soaked in water, or Dolly Parton trying to slim down on vats of cabbage soup. In the end, Harrington decides, we should quit worrying about being perfect, and have a slice of pizza." – Minneapolis Star-Tribune ("Five Faves of the Week")

"Harrington delves into the lives of legendary beauties in the most personal way possible: by emulating their diets. From Greta Garbo to Beyoncé, Harrington chronicles the food and fitness regimens that may or may not transform us into svelte stars, too . . . Hilariously humanizing." – TimeOut  

"While this is not a "tell-all" of When Harry Met Sally, Harrington's new book gives readers the inside scoop of what celebrities do to diet. Harrington actually tries these diets—including Pippa Middleton's haggis and Beyoncé's 'salt water flush' in this hilarious account." – The Reading Room

"If you're hoping to take a critical look at the odd and interesting ways famous people eat, you'll enjoy digging in to Harrington's short, quippy book . . . Pop culture enthusiasts will devour it." – StyleBistro Book Club: January 2015
Vintage, 9781101872437, 176pp.
Publication Date: January 6, 2015
About the Author
Rebecca Harrington is the author of the novel Penelope. She studied history and literature at Harvard and journalism at Columbia. Her work has appeared in New York Magazine, The New York Times,NPR.com and other publications. She lives in New York City.
or
Not Currently Available for Direct Purchase