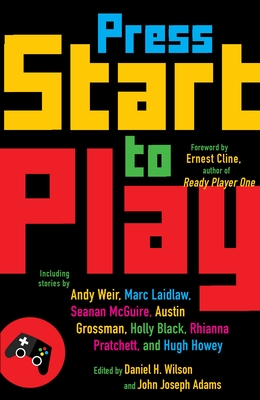 Press Start to Play
Paperback

* Individual store prices may vary.
Description
IT'S DANGEROUS TO GO ALONE! TAKE THIS.
 
You are standing in a room filled with books, faced with a difficult decision. Suddenly, one with a distinctive cover catches your eye. It is a groundbreaking anthology of short stories from award-winning writers and game-industry titans who have embarked on a quest to explore what happens when video games and science fiction collide.

From text-based adventures to first-person shooters, dungeon crawlers to horror games, these twenty-six stories play with our notion of what video games can be—and what they can become—in smart and singular ways. With a foreword from Ernest Cline, bestselling author of Ready Player One, Press Start to Play includes work from: Daniel H. Wilson, Charles Yu, Hiroshi Sakurazaka, S.R. Mastrantone, Charlie Jane Anders, Holly Black, Seanan McGuire, Django Wexler, Nicole Feldringer, Chris Avellone, David Barr Kirtley,T.C. Boyle, Marc Laidlaw, Robin Wasserman, Micky Neilson, Cory Doctorow, Jessica Barber, Chris Kluwe, Marguerite K. Bennett, Rhianna Pratchett, Austin Grossman,  Yoon Ha Lee, Ken Liu, Catherynne M. Valente, Andy Weir, and Hugh Howey.

Your inventory includes keys, a cell phone, and a wallet. What would you like to do?
Praise For Press Start to Play…
"Fascinating. If you want some interesting, adult takes on aspects your favorite hobby, this is worth picking up." –Felicia Day, author of You're Never Weird on the Internet (Almost) and creator of The Guild

"Even those who doubt the editors' claim that "video games have come to play a vital role in modern human civilization" will be enthralled by these 26 stories (most of which are original to this volume). . . . Wilson and Adams have assembled a provocative assortment of thoughtful stories, making a valuable contribution to ongoing conversations about the future directions of video gaming." —Publishers Weekly (starred review)

"Sci-fi fans will find [Press Start to Play] well worth their while" —Kirkus Reviews
Vintage, 9781101873304, 528pp.
Publication Date: August 18, 2015
About the Author
Daniel H. Wilson

Daniel H. Wilson is a New York Times bestselling author and coeditor of the Press Start to Play anthology. He earned a PhD in robotics from Carnegie Mellon University in Pittsburgh, where he also received master's degrees in robotics and in machine learning. He has published more than a dozen scientific papers, holds four patents, and has written eight books. Wilson has written for Popular Science, Wired, and Discover, as well as online venues such as MSNBC.com, Gizmodo, Lightspeed, and Tor.com. In 2008, Wilson hosted The Works, a television series on the History Channel that uncovered the science behind everyday stuff. His books include How to Survive a Robot Uprising, A Boy and His Bot, Amped, and Robopocalypse (the film adaptation of which is slated to be directed by Steven Spielberg). He lives and writes in Portland, Oregon. Find him on Twitter @danielwilsonPDX.

John Joseph Adams

John Joseph Adams is the series editor of Best American Science Fiction & Fantasy, published by Houghton Mifflin Harcourt. He is also the editor of many other bestselling anthologies, such as The Mad Scientist's Guide to World Domination, Armored, Brave New Worlds, Wastelands, and The Living Dead. Recent and forthcoming projects include: Loosed Upon the World, Robot Uprisings, Dead Man's Hand, Operation Arcana, Wastelands 2, and The Apocalypse Triptych, which consists of The End Is Nigh, The End Is Now, and The End Has Come. Called "the reigning king of the anthology world" by Barnes & Noble, Adams is a winner of the Hugo Award (for which he has been nominated eight times) and is a six-time World Fantasy Award finalist. Adams is also the editor and publisher of the digital magazines Lightspeed and Nightmare and is a producer for Wired.com's "The Geek's Guide to the Galaxy" podcast. Find him on Twitter @johnjosephadams.