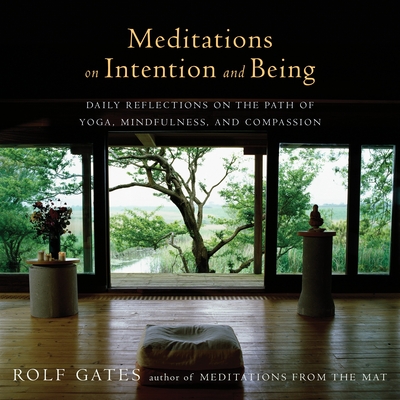 Meditations on Intention and Being
Daily Reflections on the Path of Yoga, Mindfulness, and Compassion
Paperback

* Individual store prices may vary.
Other Editions of This Title:
Digital Audiobook (12/7/2015)
Compact Disc (12/8/2015)
MP3 CD (12/8/2015)
Compact Disc (12/8/2015)
Description
Take the mindfulness of yoga off the mat and integrate it into every aspect of life with 365 inspirational daily reflections from acclaimed yoga teacher Rolf Gates.
 
Gates draws on twenty years of teaching experience to help readers—from experienced yogis to novices seeking a little tranquility—fundamentally reconsider their relationships with their minds, bodies, and the universe around them through self-reflection. 

Over the course of seven chapters, he explores Effortlessness, Nonviolence, The Spirit of Practice, Mindfulness, Compassion and Loving-kindness, Equanimity and Joy, and Intention and Being, giving readers the tools they need to effect positive changes in their lives.
Praise For Meditations on Intention and Being: Daily Reflections on the Path of Yoga, Mindfulness, and Compassion…
"An absolute gift.  Rolf is able to take profound teachings and make them both personal and accessible. It's like having a wise, compassionate friend in your ear, guiding you toward your own well-being."
—Gabrielle Bernstein, New York Times bestselling author of Miracles Now
 
"Rolf Gates offers a deeply personal, and universally applicable, study of the core practices that are embedded in the ancient systems of yoga and Buddhism, with a wholly unique perspective and voice for the contemporary age."
—David Lipsius, CEO, Kripalu Center for Yoga & Health
 
"Gates reveals himself as a teacher whose intimacy, honesty, and larger intention to live and love well bring forth jewels of wisdom in this precious collection."
—Shiva Rea, creator, Prana Vinyasa, author of Tending the Heart Fire: Living in Flow with the Pulse of Life

"Rolf presents his wealth of yoga knowledge and his life experiences in such a way that you feel encouraged to follow suit. He combines the more complex teachings of Buddha with specific examples that guide the reader through very meaningful and accessible chapters. Not only does he talk the talk—he walks the walk, too."
—Kathryn Budig, yoga teacher and author of Aim True
 
"Meditations on Intention and Being is a wonderful balance between personal story and traditional Eastern philosophy, and offers an inspirational and informed perspective on the place of yoga, mindfulness, and compassion in our everyday lives."
—Beryl Bender Birch, author of Power Yoga and Yoga for Warriors
 
"Rolf has done it again. These reflections are so down to earth and practical that you relax just reading them. If you are interested in living your life from the inside out, this is the book you want to start your day with."
—Congressman Tim Ryan, author of A Mindful Nation: How a Simple Practice Can Help Us Reduce Stress, Improve Performance and Recapture the American Spirit
 
"Inspiring and accessible. Rolf's intimate writing about his own life journey demonstrates to the reader how to apply the key teachings from yoga and mindfulness in every day life."
—Phillip Moffitt, author of Dancing with Life and Emotional Chaos to Clarity
 
"Gates' searching meditations on life's pains and imperfections, and the huge challenges we face in meeting those pains with compassion, are among the most eloquent I have read in modern yoga literature."
—Rob Schware, executive director, the Give Back Yoga Foundation; president, the Yoga Service Council
 
"Filled with beautifully polished reflections of life and ancient wisdom teachings. Rolf's personal honesty and ability to craft a lush story make page after page a brilliant, insightful gift."
—R. Nikki Myers, founder Y12SR (The Yoga of 12-Step Recovery)
 
"Meditations on Intention and Being whispers us through a heartfelt journey into both inward and outward dimensions. This book challenges the reader, but more importantly, supports and instills hope. I recommend it for anyone seeking to live a better, more fulfilling life."
—Matthew Sanford, president-CEO, Mind Body Solutions; author of Waking
 
"Meditations on Intention and Being is a gift of Rolf's accessible and uncanny wisdom that we can enjoy from our own favorite chair, sofa, or yoga mat right at home."
—Brian Leaf, author of Misadventures of a Garden State Yogi
 
"A masterful work of art. My heart is more open, my mind is quieter, and my purpose is clearer after reading this extraordinary book."
—Sarah Gardner, founder, Yoga Reaches Out
 
"An excellent guide to further all of us down our personal path of knowledge and understanding. As Rolf talks about how some of these life lessons came to him, we see how they often appear in simple, everyday occurrences. As he points out, we should take these teachings where we find them and apply them however works. So no matter what happens, no matter where we find ourselves in the metaphorical sense, just keep paddling."
—Gerry Lopez, legendary surfer, actor, and author of Surf is Where You Find It
 
"Rolf speaks to us out of his own struggles and learnings, his own ongoing path of growth, and his own authenticity, humility, and self-compassion."
—Gordon Wheeler, president, Esalen Institute
Anchor, 9781101873502, 384pp.
Publication Date: December 8, 2015
About the Author
Rolf Gates, author of the acclaimed book on yogic philosophy, Meditations from the Mat: Daily Reflections on the Path of Yoga, conducts yoga workshops, retreats, teacher trainings, and coaching and mentorship programs throughout the U.S. and abroad—and online. Rolf and his work have been featured in numerous media, including Yoga Journal, ORGINS, Natural Health, People Magazine, and Travel and Leisure's 25 Top Yoga Studios in the World. Rolf is the co-founder of the Yoga, Meditation and Recovery Conference at the Esalen Institute in Big Sur, California and the Kripalu Center for Yoga and Health in Lenox, Massachusetts and a teacher at Spirit Rock Insight Meditation Center in Northern California.  He is also on the Advisory Board for the Yoga Service Council and the Veterans Yoga Project.  A former addictions counselor and U.S. Army Airborne Ranger who has practiced meditation for over twenty-five years, Rolf brings his eclectic background to his practice and his teachings.  Rolf and his wife, Mariam Gates, author of Good Night Yoga: A Pose by Pose Bedtime Story, live in Santa Cruz, California with their two children.
or
Not Currently Available for Direct Purchase