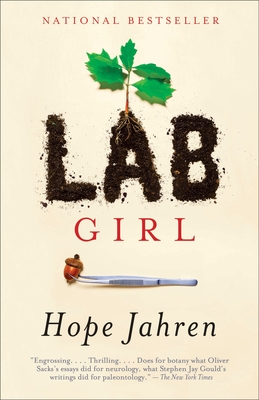 Lab Girl (Paperback)
Vintage, 9781101873724, 304pp.
Publication Date: February 28, 2017
Other Editions of This Title:
Digital Audiobook (4/4/2016)
Paperback, Large Print (4/26/2017)
Hardcover (4/5/2016)
Hardcover, Large Print (7/6/2016)
* Individual store prices may vary.
April 2016 Indie Next List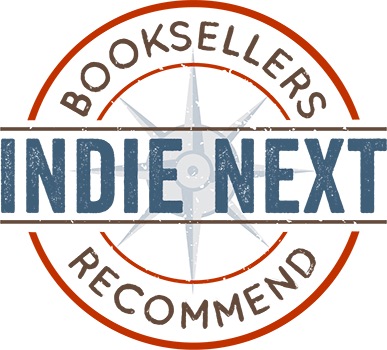 "This book has it all: nature, love, science, drama, heartbreak, joy, and plenty of dirt. Not since Cheryl Strayed's Wild have I read such a rich and compelling nonfiction narrative. Lab Girl is the story of Jahren's life in science, and her writing on the wonders of nature will renew your sense of awe. But more than that, it is an exploration of friendship, mental illness, parenthood, and the messiness of life. The only flaw -- these pages fly by too quickly, leaving you wondering what you could possibly read next that will be just as good."
— Pete Mulvihill (W), Green Apple Books, San Francisco, CA
View the List
Description
National Bestseller

Winner of the National Book Critics Circle Award for Autobiography

A New York Times Notable Book
 
Winner of the American Association for the Advancement of Science/Subaru Science Books & Film Prize for Excellence in Science Books 

Finalist for the PEN/E.O. Wilson Literary Science Writing Award 

One of the Best Books of the Year: The Washington Post, TIME.com, NPR, Slate, Entertainment Weekly, Newsday, Minneapolis Star Tribune, Kirkus Reviews

Geobiologist Hope Jahren has spent her life studying trees, flowers, seeds, and soil. Lab Girl is her revelatory treatise on plant life—but it is also a celebration of the lifelong curiosity, humility, and passion that drive every scientist. In these pages, Hope takes us back to her Minnesota childhood, where she spent hours in unfettered play in her father's college laboratory. She tells us how she found a sanctuary in science, learning to perform lab work "with both the heart and the hands." She introduces us to Bill, her brilliant, eccentric lab manager. And she extends the mantle of scientist to each one of her readers, inviting us to join her in observing and protecting our environment. Warm, luminous, compulsively readable, Lab Girl vividly demonstrates the mountains that we can move when love and work come together. 

 
About the Author
Hope Jahren is an award-winning scientist who has been pursuing independent research in paleobiology since 1996, when she completed her PhD at University of California Berkeley and began teaching and researching first at the Georgia Institute of Technology and then at Johns Hopkins University. She is the recipient of three Fulbright Awards and is one of four scientists, and the only woman, to have been awarded both of the Young Investigator Medals given within the Earth Sciences. She was a tenured professor at the University of Hawaii in Honolulu from 2008 to 2016, where she built the Isotope Geobiology Laboratories, with support from the National Science Foundation, the Department of Energy and the National Institutes of Health. She currently holds the J. Tuzo Wilson professorship at the University of Oslo, Norway.

hopejahrensurecanwrite.com

jahrenlab.com
Praise For Lab Girl…
"Engrossing. . . . Thrilling. . . . Does for botany what Oliver Sacks's essays did for neurology, what Stephen Jay Gould's writings did for paleontology." —The New York Times

"Lab Girl made me look at trees differently. It compelled me to ponder the astonishing grace and gumption of a seed. Perhaps most importantly, it introduced me to a deeply inspiring woman—a scientist so passionate about her work I felt myself vividly with her on every page. This is a smart, enthralling, and winning debut." —Cheryl Strayed

"Brilliant. . . . Extraordinary. . . . Delightfully, wickedly funny. . . . Powerful and disarming." —The Washington Post
 
"Clear, compelling and uncompromisingly honest . . . Hope Jahren is the voice that science has been waiting for." —Nature

"Spirited. . . . Stunning. . . . Moving." —The New York Times Book Review

"A powerful new memoir . . . Jahren is a remarkable scientist who turns out to be a remarkable writer as well. . . .  Think Stephen Jay Gould or Oliver Sacks. But Hope Jahren is a woman in science, who speaks plainly to just how rugged that can be. And to the incredible machinery of life around us." —On Point/NPR

"Lyrical . . .  illuminating . . . Offers a lively glimpse into a scientifically inclined mind." —The Wall Street Journal

"Some people are great writers, while other people live lives of adventure and importance. Almost no one does both. Hope Jahren does both. She makes me wish I'd been a scientist." —Ann Patchett, author of State of Wonder 

"Lab Girl surprised, delighted, and moved me. I was drawn in from the start by the clarity and beauty of Jahren's prose. . . . With Lab Girl, Jahren joins those talented scientists who are able to reveal to us the miracle of this world in which we live." —Abraham Verghese, author of Cutting for Stone

"Revelatory. . . . A veritable jungle of ideas and sensations." —Slate

"Warm, witty . . . Fascinating. . . . Jahren's singular gift is her ability to convey the everyday wonder of her work: exploring the strange, beautiful universe of living things that endure and evolve and bloom all around us, if we bother to look." —Entertainment Weekly

"Deeply affecting. . . . A totally original work, both fierce and uplifting. . . . A belletrist in the mold of Oliver Sacks, she is terrific at showing just how science is done. . . . She's an acute observer, prickly, and funny as hell." —Elle

"Magnificent. . . . [A] gorgeous book of life. . . . Jahren contains multitudes. Her book is love as life. Trees as truth." —Chicago Tribune

"Mesmerizing. . . . Deft and flecked with humor . . . a scientist's memoir of a quirky, gritty, fascinating life. . . . Like Robert Sapolsky's A Primate's Memoir or Helen Macdonald's H is for Hawk, it delivers the zing of a beautiful mind in nature."  —Seattle Times

"Jahren's memoir [is] the beginning of a career along the lines of Annie Dillard or Diane Ackerman." —Minneapolis Star Tribune

"A scientific memoir that's beautifully human." —Popular Science

"Breathtakingly honest. . . . Gorgeous. . . . At its core, Lab Girl is a book about seeing—with the eyes, but also the hands and the heart." —American Scientist