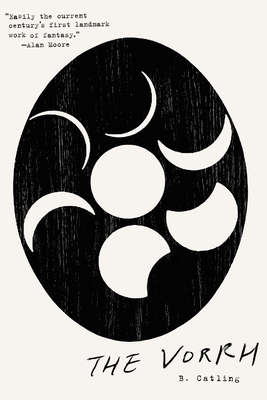 The Vorrh (The Vorrh Trilogy #1)
Paperback

* Individual store prices may vary.
Description
Prepare to lose yourself in the heady, mythical expanse of The Vorrh, a daring debut that Alan Moore has called "a phosphorescent masterpiece" and "the current century's first landmark work of fantasy." 

Next to the colonial town of Essenwald sits the Vorrh, a vast—perhaps endless—forest. It is a place of demons and angels, of warriors and priests. Sentient and magical, the Vorrh bends time and wipes  memory. Legend has it that the Garden of Eden still exists at its heart. Now, a renegade English soldier aims to be the first human to traverse its expanse. Armed with only a strange bow, he begins his journey, but some fear the consequences of his mission, and a native marksman has been chosen to stop him. Around them swirl a remarkable cast of characters, including a Cyclops raised by robots and a young girl with tragic curiosity, as well as historical figures, such as writer Raymond Roussel and photographer and Edward Muybridge.  While fact and fictional blend, and the hunter will become the hunted, and everyone's fate hangs in the balance, under the will of the Vorrh.
Praise For The Vorrh (The Vorrh Trilogy #1)…
"The English language has given birth to some great works of unbounded vision and imagination, and here is another one. Is it fantasy? I couldn't care less. It's a very sophisticated and subtle exploration of the decadent, the primitive and the mythical. Many books are said to be like nothing else, and aren't, but Brian Catling's really is." —Philip Pullman, The Guardian

"One of the most original works of visionary fiction since Peake or Carpentier. . . . For all its page-turning story, it is a poet's novel, a serious piece of writing."—Michael Moorcock, The Guardian

"A dizzying trek into the dark heart of fantasy. . . . Catling's first foray into long-form fiction does not disappoint. Instead, it feels like the midcareer highpoint of an established novelist, full of lyrical subtlety, piercing clarity, and an understated assurance. . . . Catling's plot and prose, like his setting, are dreamlike and hyper-vivid. His frequent and liquid shifts in point-of-view only add to that kaleidoscopic vision, and his surrealistic style dovetails empathetically with the source of his inspiration . . . . The Vorrh is not only a work of alternative history, but of alternate literature; Catling builds his imaginary story of the conception of Impressions of Africa into his Joseph Conrad-esque voyage into the unknown. . . .There are a staggering number of elements to juggle, and Catling practically levitates them. . . . In Catling's world, a miraculous healing touch becomes a plague of unchecked beneficence, where primitive tribes of cannibals do not adhere to the racist stereotypes of the time, and where angels must bury themselves under the soil in order to sleep. None of these wonders is there for show; they each play a part, sometimes pivotal and sometimes peripheral, in the teeming conceptual ecosystem of The Vorrh. . . . For all its eye-gouging, mind-bending spectacle, The Vorrh makes room for hushed poignancy and philosophical heft. . . . It's a testament to Catling's skill as a sculptor of words that such otherworldly ideas and images not only connect, but resonate to the bone."—NPR.org
  
"An amazing, mind-expanding novel."—Bookriot

"Catling's novel reads like a long-lost classic of Decadent or Symbolist literature, with that same sense of timelessness. It's peculiar, wildly imaginative, unafraid to transgress and get lost, and is unlike anything I've ever read." —Jeff VanderMeer, author of The Southern Reach Trilogy
 
"A phosphorescent masterpiece. . . . Easily the current century's first landmark work of fantasy. . . . A brilliant and sustained piece of invention which establishes a benchmark not just for imaginative writing but for the human imagination in itself. . . . Read this book, and marvel." --Alan Moore, author of Watchmen and V for Vendetta
 
"Brian Catling is simply a genius. His writing is so extraordinary it hurts, it makes me realize how little imagination I have." —Terry Gilliam

"I am glad to have the book as a companion on my own dark quest." —Tom Waits 
 
"A dazzling display of storytelling. . . . Readers who enjoy the genre-blending novels of Felix Gilman (The Half-Made World, 2010) and David Mitchell (The Bone Clocks, 2014)—and are comfortable with the violence of Jesse Bullington's The Enterprise of Death (2011)—will find themselves right at home here."--Booklist

"Darkly imaginative. . . . Packed with striking images . . . real beauty and power."—Kirkus 
 
"Richly textured. . . . Full of memorable imagery and language."—Publishers Weekly
 
"There are not many books that rearrange the molecules of your being, turning your eyes inside out. The Vorrh, this saturnine post-traumatic testament, is one of them. A work of genius." —Iain Sinclair
Vintage, 9781101873786, 512pp.
Publication Date: April 28, 2015
About the Author
Brian Catling  is a poet, sculptor, painter, and performance artist. He makes installations and paints portraits of imagined Cyclops in egg tempera. Catling has had solo shows at The Serpentine Gallery, London; the Arnolfini in Bristol, England; the Ludwig Museum in Aachen, Germany; Hordaland Kunstnersentrum in Bergen, Norway; Project Gallery in Leipzig, Germany; and the Museum of Modern Art in Oxford, England.