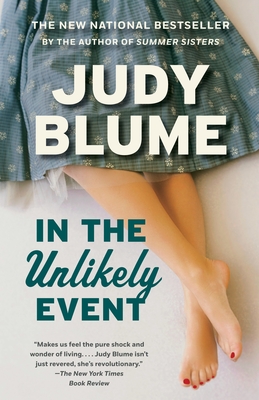 In the Unlikely Event
A Novel
Paperback

* Individual store prices may vary.
Other Editions of This Title:
Digital Audiobook (6/1/2015)
Prebound (5/3/2016)
CD-Audio (6/2/2015)
Paperback, Large Print (6/2/2015)
Hardcover (6/2/2015)
Description
In this brilliant new novel—her first for adults since Summer Sisters—Judy Blume takes us back to the 1950s and introduces us to the town of Elizabeth, New Jersey, where she herself grew up. Here she imagines and weaves together a vivid portrait of three generations of families, friends, and strangers, whose lives are profoundly changed during one winter. At the center of an extraordinary cast of characters are fifteen-year-old Miri Ammerman and her spirited single mother, Rusty. Their warm and resonant stories are set against the backdrop of a real-life tragedy that struck the town when a series of airplanes fell from the sky, leaving the community reeling. Gripping, authentic, and unforgettable, In the Unlikely Event has all the hallmarks of this renowned author's deft narrative magic.

 
 
 
Praise For In the Unlikely Event: A Novel…
"Makes us feel the pure shock and wonder of living. . . . Judy Blume isn't just revered, she's revolutionary." —The New York Times Book Review

"[A] page-turner, emotionally resonant and down-to-earth. . . . Reading In the Unlikely Event is like reconnecting with a long-lost friend." —The New Yorker

"Gives us everything that Blume is known (and beloved) for. . . . This novel is her most ambitious to date, and she lives up to its reach with her characteristic frankness, compassion, and charm." —San Francisco Chronicle
 
"Judy Blume is back—and on her game! . . . You won't want to turn the last page." —People

"A page-turner with cross-generational appeal. . . . Will appeal to loyal fans as well as new readers." —Minneapolis Star Tribune

"A fascinating novel. . . . Blume, in clear and forthright storytelling, creates realistic characters searching for happiness. . . . Just as dramatic as the devastation and panic caused by the crashes are Blume's ruminations on the mysteries of the human heart. " —Chicago Tribune

"Judy Blume is still here, opening our eyes to the daily astonishments of life all these years later." —USA Today

"Quite simply, extraordinary. . . . Utterly brilliant." —The Observer (London)

"Blume succeeds in capturing the condition of an entire community. . . . No one captures coming-of-age milestones and stomach butterflies like Blume, and those scenes are worth waiting for." —The Boston Globe

"Judy Blume's writing is simply a delight. . . . Blume is a master at presenting the complexities of life. This novel is entertaining, heartbreaking, and redeeming." —The Missourian

"Heartwarming." —New York Daily News

"Satisfying, heartfelt. . . Delivers on the warm nostalgia that we remember from Blume's earlier books and will appeal to her admirers—of which I am absolutely one—who regard any new book by this trailblazing literary and cultural icon as a celebratory event." —Melissa M. Firman, Pittsburgh Post-Gazette

"Blume creates characters who are real and sympathetic." —St. Louis Post-Dispatch

"Excellent and satisfying. . . Has all the elements of Blume's best books: the complex relationships between friends and family members, the straight talk and lack of shame about sex, and, most of all, the compassionate insight into the pleasures and pains of growing up." —Chicago Reader

"Has [Blume's] signature warm, personal touch." —Vogue.com

"Vividly rendered. . .  Blume deftly demonstrates just how different the personal fallout from tragedy can turn out to be. . . . As Blume proves over and over again not just in In the Unlikely Event but in all of her fiction, life does go on in spite of hardship. We love. We lose. We fail. We may fall. But the lucky ones, we try our best to endure." —The Oregonian

"Soars. . . . It's Judy Blume and, therefore, it's gold." —Newark Star Ledger

"Judy Blume is revered. She is claimed, and cherished, and clutched close to the hearts of American adolescents and former adolescents, everywhere that books are read. . . . Blume's great gift is [her] personal touch; her unflinching but reassuring voice—that of a no-nonsense big sister who gives it to you straight, then gives you a hug." —Buffalo News

"Characteristically accessible, frequently charming, and always deeply human." —Publishers Weekly

"Compelling. . . . Smoothly written. . . . A new Blume novel will always be big news." —Booklist (starred review)
Vintage, 9781101873984, 512pp.
Publication Date: May 3, 2016
About the Author
Judy Blume is one of America's most beloved authors. She grew up in Elizabeth, New Jersey, and was a teenager in 1952 when the real events in this book took place. She has written books for all ages. Her twenty-eight previous titles include Are You There God? It's Me, Margaret; Forever; and Summer Sisters. Her books have sold more than eighty-five million copies in thirty-two languages. She is a champion of intellectual freedom, working with the National Coalition Against Censorship in support of writers, teachers, librarians, and students. In 2004, Blume was awarded the National Book Foundation's Medal for Distinguished Contribution to American Letters. She lives in Key West and New York City.
1. Discuss the environment of Elizabeth, New Jersey, before the crashes occur. How would you describe the community? How does the community band together after the first crash?
2. Throughout the book, newspaper clippings are interspersed among the text. How do those articles help to provide context for the events that occur? How did they aid your understanding of changes in Elizabeth?
3. Class and status play a role throughout the book. How does Miri see herself in the socioeconomic structure of Elizabeth? When does she feel most uncomfortable with her family's position? How does her idea of relative wealth change once she meets Mason?
4. Discuss Miri's relationship with her mother. How would you define the relationship between Miri and Rusty at the beginning of the novel? Does the relationship change once Miri has her own children?
5. In the Unlikely Event is arguably a novel about the crashes as much as it is one about Henry Ammerman's development as a journalist. How does Henry's career evolve over the course of the novel? Is he ever conflicted by his role in reporting the tragedy?
6. Discuss the conspiracy theories that emerge after the crashes. For the teenagers in the novel, how do these rumors act as a means of coping?
7. The crashes create a sense of palpable fear and anxiety for the residents of Elizabeth throughout In the Unlikely Event. How does it affect Miri on a psychological level? What about Natalie?
8. How is teen culture described throughout In the Unlikely Event? What influence does pop culture have on Miri and her peers? Were you able to trace any similarities between the teens of the 1950s and the teens of today?
9. Discuss the events of the reunion. Did the characters' lives turn out differently from how you would have expected?
10. Judy Blume has had a prolific career writing books for readers of all ages. How many of her previous novels, if any, have you read? How did your reading experience of In the Unlikely Event compare with her other works? Are you able to pinpoint anything in the writing or character development that felt distinctly "Judy Blume" in style or execution?