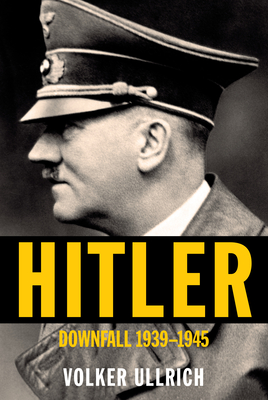 Hitler
Downfall: 1939-1945
Hardcover

* Individual store prices may vary.
Other Editions of This Title:
Digital Audiobook (8/31/2016)
Paperback (10/24/2017)
Hardcover (9/6/2016)
Description
From the author of Hitler: Ascent, 1889-1939—a riveting account of the dictator's final years, when he got the war he wanted but his leadership led to catastrophe for his nation, the world, and himself.

In the summer of 1939 Hitler was at the zenith of his power. The Nazis had consolidated political control in Germany and a series of foreign-policy coups had restored Germany to the status of a major world power. He now embarked on realizing his lifelong ambition: to provide the German people with the resources they needed to flourish and to exterminate those who stood in the way. Yet despite a series of stunning initial triumphs, Hitler's decision to invade the Soviet Union in 1941 turned the tide for good.

Now, Volker Ullrich offers fascinating new insight into Hitler's character and personality, vividly portraying the insecurity, obsession with minutiae, and narcissistic penchant for gambling that led Hitler to overrule his subordinates and then blame them for his failures; and, ultimately, when he realized the war was not winnable, to embark on the annihilation of Germany itself in order to punish the people who he believed had failed to hand him victory.

This is a masterful account of a spectacular downfall, and an essential addition to our understanding of Hitler and the Second World War.
Praise For Hitler: Downfall: 1939-1945…
A Time Top Ten Nonfiction Book of 2020
An AirMail Best Book of 2020

"The impulsiveness and grandiosity, the bullying and vulgarity, were obvious from the beginning; if anything, they accounted for Adolf Hitler's anti-establishment appeal.... Ullrich argues that the very qualities that accounted for the dictator's astonishing rise were also what brought about his ultimate ruin."
⁠—Jennifer Szalai, New York Times

"Ullrich's work is a remarkable treatise on the malevolence of power in modern times. Take care, lest we fall into the trap of autocracy."
⁠—Roger Abrams, New York Journal of Books

"Magisterial...  lucidly formulated for a new generation of readers and scholars."
⁠—Library Journal

"An endlessly revealing look at the Nazi regime that touches on large issues and small details alike."
⁠—Kirkus, starred

"Meticulous... Smoothly written and splendidly translated, Ullrich's book gives us a Hitler we have not seen before, at once cold-blooded and narcissistic and cloyingly sentimental. And precisely because he seems so much like the rest of us, it is probably the most disturbing portrait of Hitler I have ever read."
⁠—Dominic Sandbrook, The Sunday Times

"The reader who plunges in is rewarded with insight, understanding, fine judgements and read-me narrative drive... [This] biography of Hitler makes essential reading, especially one as deeply researched, beautifully written and finely judged as this one."
—Tony Rennell, Daily Mail
 
"Ullrich's work is much more than just a biography. It is a work of synthesis, certainly, but a thorough and thoroughly readable one nonetheless, which stands muster alongside Hitler's most significant earlier biographers: Bullock, Toland, Fest and Kershaw. Elegantly written, engaging and insightful, it is a new standard work on its subject."
 —Roger Moorhouse, BBC History
 


Knopf, 9781101874004, 848pp.
Publication Date: September 1, 2020
About the Author
VOLKER ULLRICH is a historian and journalist whose previous books in German include biographies of Bismarck and Napoleon, as well as a major study of Imperial Germany, Die nervöse Grossmacht 1871-1918 (The Nervous Empire). From 1990 to 2009, Ullrich was the editor of the political book review section of the influential weekly newspaper Die Zeit. He lives in Germany.