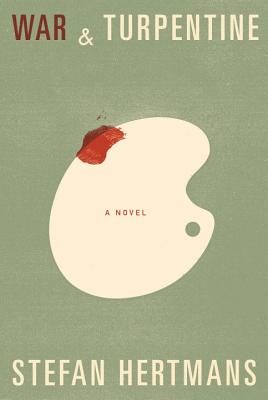 War and Turpentine
A novel
Hardcover

* Individual store prices may vary.
Other Editions of This Title:
Digital Audiobook (8/8/2016)
Paperback (7/25/2017)
Description
Longlisted for the Man Booker International Prize 2017
A New York Times Top 10 Best Book of the Year
An Economist Best Book of the Year

The life of Urbain Martien—artist, soldier, survivor of World War I—lies contained in two notebooks he left behind when he died in 1981. In War and Turpentine, his grandson, a writer, retells his grandfather's story, the notebooks providing a key to the locked chambers of Urbain's memory.

With vivid detail, the grandson recounts a whole life: Urbain as the child of a lowly church painter, retouching his father's work;dodging death in a foundry; fighting in the war that altered the course of history; marrying the sister of the woman he truly loved; being haunted by an ever-present reminder of the artist he had hoped to be and the soldier he was forced to become. Wrestling with this tale, the grandson straddles past and present, searching for a way to understand his own part in both. As artfully rendered as a Renaissance fresco, War and Turpentine paints an extraordinary portrait of one man's life and reveals how that life echoed down through the generations.

(With black-and-white illustrations throughout)
Praise For War and Turpentine: A novel…
Winner of the AKO Literature Prize
Winner of the Culture Prize of the Flemish Community 2014
Winner of the INKTAAP Prize
Shortlisted for the Golden Owl in Belgium
Shortlisted for the Libris Literature Prize 2014 in the Netherlands
Shortlisted for the Premio Strega Europe in ItalyInternational Praise for War and Turpentine:

"Potent. . . . Harrowing. . . . Built to last. . . . 
War and Turpentine
is billed as a novel, but that's hardly the word for it. It's an uncanny work of historical reconstruction. . . . a gritty yet melancholy account of war and memory and art that may remind some readers of the work of the German writer W. G. Sebald." —Dwight Garner,
The New York Times

"A masterly book about memory, art, love and war. . . . Not since reading W.G. Sebald's The Rings of Saturn have I been so taken with a demonstration of the storytelling confluence of fiction and nonfiction. . . .  War and Turpentine affords the sensory pleasures of a good novel while also conveying the restlessness of memoir through its probing, uncertain narrator, who raids the family pantry in search of existential meaning. . . . One of the triumphs of War and Turpentine is that the style of delivery is perfectly suited to its central concerns—the flux of memory and the unspooling of a human life. . . . In a world of novels with overdetermined, linear plotlines—their chapters like so many boxcars on a train—War and Turpentine delivers a blast of narrative fresh air." —The New York Times Book Review
"A rich fictionalized memoir. . . . Death, destruction, obligation, duty--Urbain faces them all and yet he still finds joy in life." 
—
The Times
(UK)
"A future classic. . . .
War and Turpentine
 is the astonishing result of Hertmans' reckoning with his grandfather's diaries. It is a book that lies at the crossroads of novel, biography, autobiography and history, with inset essays, meditations, pictures. It seems to be aching to be called 'Sebaldian,' and earns the epithet glowingly. . . . In David McKay's lyrical translation, every detail has the heightened luminosity of poetry. . . . The book has such convincing density of detail, with the quiddities of a particular life so truthfully rendered, that I was reminded of a phrase from 
Middlemarch
: 'an idea wrought back to the directness of sense, like the solidity of objects.' Hertmans' achievement is exactly that." 
—
Neel Mukherjee, 
The Guardian
"Poignantly nuanced . . . readers will thank an exceptional novelist (and a skilled translator)." —
Booklist
(Starred Review)
"Wonderful, full of astonishingly vivid moments of powerful imagery. . . . moving moments of mysterious beauty. . . . Hertmans. . .brilliantly captures the intractable reality of a complex man." —
Sunday Times (UK)
"Hertmans follows in his grandfather's footsteps in this brilliant and moving imagined reconstruction, his imagination beautifully filling the gaps as he describes 'the battle between the transcendent, which he yearned for, and the memory of death and destruction, which held him in its clutches.'" —
Sunday Express
(UK) 
"A mesmerising portrait of an artist as a young man, a significant contribution to First World War literature and a brilliant evocation of a vanished world." —
Herald
(UK)
"With
War and Turpentine
, Stefan Hertmans has written one of the most moving books of the year." —
De Standaard

"An exceptionally rich and rewarding piece of writing. It is hard to imagine a wiser and more important book at this point of time." —
Stavanger Aftenblad
"A gem of a novel, full of history, full of life, full of wisdom." —
Nederlands Dagblad
"Recalls the great W. G. Sebald." —
Espresso
"
War and Turpentine
is a masterfully written story of a dramatic life, a piece of Ghent family history, and a tribute to Hertmans' mysterious grandfather. . . . Beautiful." —
NRC Handelsblad
"A masterpiece." —
Humo
"An unvarnished and moving tribute to [Hertmans'] grandfather." —
De Groene Amsterdammer
"A wide domestic fresco which retraces Flanders' spiritual geography, straddling between two worlds: the world of honor and innocence and the world of the horrors of war." —
Alias
"
War and Turpentine
is literature at its best: giving voice to the voiceless." —
Dagblad De Limburger
"A loving memorial. Hertmans paints in words, each one carefully weighed, with sublime composition and stylistic ingenuity." —
Noordhollands Dagblad

"A successful mix of memoir and fiction." —
Il Manifesto
"Using the methods of narrative collage. . . and affectionate detective work—the writer evokes his grandfather's life in full: his impecunious childhood, early work at a relative's smithy and then at a foundry that left his back scarred by red-hot tailings, his asthmatic painter-father's early death, his grotesque experiences in the trenches interspersed with hospital stays during the war. . . . The book is especially eloquent and persuasive about the role that art—especially painting but also music and, by extension, narrative—played in Urbain's life and in the life of the grandson who is his visitant and scribe and portraitist. And Ghent as setting is beautifully portrayed, too. Hertmans provides a richly detailed excavation of a life and a thoughtful exploration of familial memory." —
Kirkus
"A multi-award winner in Europe that sold 200,000 copies in the Netherlands and Belgium alone, this broad-canvas work features a Flemish man reconstructing the life of his grandfather. From modest retoucher of church paintings to worker in a dangerous foundry to drafted soldier who married his beloved's sister, Urbain Martien has seen his life and dreams flattened. For readers of good literature and war stories, too." —
Library Journal
Pantheon, 9781101874028, 304pp.
Publication Date: August 9, 2016
About the Author
STEFAN HERTMANS is an internationally acclaimed Flemish author. For more than twenty years he was a professor at the Royal Academy of Fine Arts, Ghent, where he wrote novels, poems, essays, and plays. War and Turpentine was awarded the prestigious AKO Literature Prize in 2014.

Translated from the Dutch by David McKay.