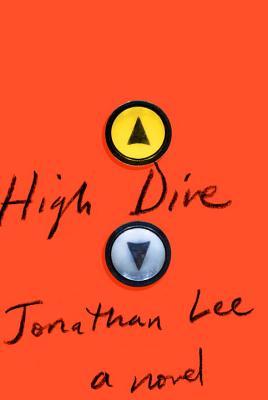 High Dive
A novel
Hardcover

* Individual store prices may vary.
Other Editions of This Title:
Digital Audiobook (3/7/2016)
Compact Disc (3/8/2016)
MP3 CD (3/8/2016)
Paperback (2/7/2017)
Hardcover, Large Print (5/4/2016)
Description
**Named a Best Book of the Year by the New York Times, Wall Street Journal, Washington Post, San Francisco Chronicle**

"Devastating . . . Inspired . . . We make so many complex emotional investments in the lives of Lee's characters that it takes a monk's restraint not to flip to the very end of the book before you get there." —Jennifer Senior, New York Times

In September 1984, a bomb was planted at the Grand Hotel in the seaside town of Brighton, England, set to explode in twenty-four days when the British prime minister and her entire cabinet would be staying there. High Dive not only takes us inside this audacious assassination attempt—a decisive act of violence on the world stage—but also imagines its way into a group of unforgettable characters. Nimbly weaving together fact and fiction, comedy and tragedy, the story switches among the perspectives of Dan, a young IRA explosives expert; Moose, a former star athlete gone to seed, who is now the deputy hotel manager; and Freya, his teenage daughter, trying to decide what comes after high school. Over the course of a mere four weeks, as the prime minister's arrival draws closer, each of their lives will be transformed forever.  

A bold, astonishingly intimate novel of laughter and heartbreak, High Dive is a moving portrait of clashing loyalties, guilt and regret, and how individuals become the grist of history.
Praise For High Dive: A novel…
"A masterly novel . . . Achingly good . . . At his best—and he is at it often—Lee displays a nimble metaphysical wit and a verbal ingenuity on a par with Martin Amis's."
—Thomas Mallon, The New Yorker 

"High Dive is a novel so smart and compassionate and beautifully written that it asks for total immersion. A reader will hold her breath for long, perfectly-paced stretches, and she will surface, dizzied, at the end." 
—Lauren Groff, author of Fates and Furies

"A beautifully realized novel about the intertwining of loyalty, family, ambition and politics…. Long after the bomb goes off, long after I closed the book, I found myself wondering about Moose and Freya and Dan. That persistence of interest is a testament to how fully realized those characters are, and how astonishingly well executed this novel is....Exquisitely rendered."
—The Washington Post

"Inspired . . . Lee creates a sympathetic ensemble both at the Grand Hotel and in the streets of Belfast, all while making expert use of the dramatic tension inherent in waiting for a lethal explosion . . . [There's] a sort of phyllo-dough layering that makes High Dive so rich . . . We make so many complex emotional investments in the lives of Lee's characters that it takes a monk's restraint not to flip to the very end of the book before you get there . . . There's great range and compassion and high-definition imagery in Lee's writing . . . Devastating."
—Jennifer Senior, New York Times

"A mongrel blend of political thriller, dark comedy, and pathos  . . . Tolstoy's sense—of an overpowering momentum of events, in which humans may act but ultimately fade back into insignificance—hovers in a ghostly way around the pages of High Dive . . . Boldly imagine[d]."
—San Francisco Chronicle

"Highly amusing and ultimately very moving . . . Lee draws the reader into his characters' lives with such sympathy and affection that when that inevitable explosion occurs, its impact is all the more devastating."
 —Wall Street Journal 

"A tender story about the hopes and flaws of ordinary people made extraordinary by events . . . Lee keeps the drama taut."
—New York Times Book Review
 
"Brilliant, urgent, unstoppable . . . An incredible novel of rare insight, velocity, depth, and daring."
—Publishers Weekly (starred, boxed)
 
"In fluent, agile prose Jonathan Lee takes on one of the more famous assassination plots in recent history with striking evenhandedness and depth. His novel offers a funny, gripping, and ultimately tragic view into the life of a young IRA man and the dear price he, and his victims, pay during the dark years of the Troubles." 
 —Ayana Mathis, author of The Twelve Tribes of Hattie

"High Dive is a fascinating look into a troubled past. In taut scene after taut scene, with a fine style and wit among the carnage, Jonathan Lee does service to history and the novel both."
—Joshua Ferris, author of Then We Came to the End

"Excellent . . . Provocative, moving . . . High Dive is not only a well-executed suspense novel or political thriller (although it's both). Lee also takes great care in constructing detailed, empathetic portraits of his characters, investing readers in their fates and adding depth and nuance to his story. He blends fact with fiction, comedy with tragedy, and comes up with a seamless depiction of what happens at the crossroads of ordinary life and history."
—Miami Herald

"Yesterday I spent the day ignoring my work and my family, because I couldn't look up from the pages of High Dive by Jonathan Lee. The book is that good! Poignant and funny, beautifully written. It's a marvel."
—Ayelet Waldman, author of Love and Treasure

"An excellent new novel . . . His book is a subtle examination of lives that didn't turn out as planned and of parents struggling to keep their children from making the same mistakes."
—Houston Chronicle
 
"With wry wit and profound tenderness, Jonathan Lee's High Dive highlights the tensions—between hope and heartbreak, struggle and surrender—at the intersection of the mundane and the momentous. A bold, thrilling triumph of a book."
—Téa Obreht, author of The Tiger's Wife

"A brilliant, tense new novel . . . Somehow, through his fine-grained attention to the light and shade of human feeling, Lee makes us reflect on the grandest and most intractable questions. Seldom has a novel made me feel so intensely the double binds of historical guilt or the utter inadequacy of all our moral accountings. High Dive is a gorgeous, compassionate book. Please read it."
—Garth Greenwell, Electric Literature

 "Lee's writing has a marked freshness, his pacing and dialogue are exceptional, and every scene is deftly handled. This is a real craftsman at work."
—Kirkus Reviews (starred)
 
"Lee moves with ease between the epic and the intimate . . . Full of humor and compassion."
—Catherine Lacey, The Paris Review

"Jonathan Lee is a writer of stylish concision, humour, wisdom, and danger."
—Colin Barrett, author of Young Skins

"A completely absorbing novel about the lives of people who struggle in small and massive ways. Lee's writing is poignant, fluid, and very funny. Above all else it feels honest—you can see yourself in all of his characters. I really did love this book, and I'm still thinking and worrying about it."
—Evie Wyld, author of All the Birds, Singing
 
"High Dive is both wistful and very funny. It is also genuinely lyrical. But more than anything, what distinguishes it from so many other novels is its rare sincerity."
—Alexander Maksik, author of A Marker to Measure Drift

"Lee's an excellent storyteller, the kind you'd follow anywhere—his prose is full of sharp wit and surprising empathy, easily earning complete absorption."
—Guernica

"Every assassination is a plot with personal history and national history intertwined, action and inaction offsetting each other, misstep transforming into opportunity, luck submitting to fate. Jonathan Lee is a virtuoso storyteller, combining the skills of a historian, a reporter, a criminal psychologist, and most importantly, a close observer of the complexity of everyday life. What a thrilling new novel."
—Yiyun Li, author of Kinder Than Solitude

"In The Line of Beauty, the winner of the 2004 Man Booker Prize, Alan Hollinghurst achieved a breakthrough, portraying Thatcher as a lightning rod and exploring precisely the extremities of response to which his emotive predecessors had succumbed. In High Dive, the celebrated young British novelist Jonathan Lee puts the prime minister in even clearer perspective . . . Her presence enables Lee's novel to bypass a crude critique, or cartoon version, of the period in order to portray individual lives floundering and changing in the midst of social and political upheaval."
—Leo Robson, The Atlantic

"Beautifully written and utterly absorbing."
—Chicago Tribune

"Every character feels fully realized; the ensemble has the most individualized identities of any group I've read in the past few years."
 —Kansas City Star

"We ask literature at its best to do more than entertain, but it is no bulwark against terrorist violence. What we can expect is a rendering of our fault-lines and a context that honors our common humanity. It is here that Jonathan Lee excels."
—Fredericksburg Free Lance-Star 

"As poignant and powerful as it is humorous and heartbreaking . . . Tense [and] gripping . . . Jonathan Lee has certainly written a novel for our times.
—Steven Whitton,

"Lee is a wonderful writer; High Dive a novel with extraordinary qualities . . . It's a book with virtuosity shot through many scenes."
—Newsday

"Brilliant. . . A poignant, multi-voiced account of the precarious weeks leading up to the explosion, High Dive offers an intimate look at tragedy, loyalty, and a pivotal moment in history."
—Buzzfeed.com, "The 27 Most Exciting Books Coming in 2016"

Praise from the UK:

"Hauntingly atmospheric . . . Lee is quite brilliant at excavating the disappointments of characters constantly chasing lost opportunities . . . High Dive is, of course, a historical novel, detailing events that took place more than 30 years ago, yet there is always a sense of immediacy to the prose . . . In the mundane, Jonathan Lee finds the deep end, where all are diving for dear life."
—The Guardian
 
"Highly accomplished . . . Absorbing . . . Moving . . . The author powerfully uses a prismatic range of perspectives . . . The political is intricately interwoven with the personal . . . Lee dives deep into the minds and hearts of his characters, skillfully shoring up 'the private moments history so rarely records.'"
—The Observer
 
"Rich in the comedy of the mundane: the hopes and petty quarrels neatly contrasted with the approaching terror."
—Daily Mail
 
"Riveting . . . Novels about terrorism aren't usually this tender. It's Lee's way of bringing home the cost of bloodshed . . . A tragic-comic tale full of warmth and muddled humanity."
—Metro
 
"Utterly absorbing and beautifully wrought."
—BBC Radio 4 "Open Book" 

"Lee's powerful novel is an extraordinary performance: vividly written, painfully human, and fully fleshing the inner lives of its characters."
 —Sunday Times
 
"What's clear straight away is how good Lee is on character . . . He can be very funny too . . . Moose is a terrific creation."
—Spectator

"An ingenious and original mixture of the domestic and the political . . . At its heart is a father-and-daughter relationship that feels uncannily real and wonderfully touching."
—David Nicholls, The Guardian

"Lee masterfully ekes poetry out of everyday life . . . As a character study, High Dive is faultless. Freya, Moose, and Dan exist, you know them, they are gloriously and fully realized . . . For sheer beauty of description and engaging personal tone, my recommendation is High Dive."
—Stylist
 
"Lee writes well about the inner lives of his characters and his sensitivity to the complexity of human motivations shows evidence of an empathetic and forgiving emotional intelligence. The pictures he draws of the apparently unknowable nature of those to whom we are closest are poignant and memorable."
—Literary Review

"In High Dive, Jonathan Lee—a wordsmith of incomparable eloquence—has forged a canny edifice, intricately constructed . . . Electrifying . . . A work of serious and thoughtful integrity."
—The Independent
 
"Refreshing . . . Warm and compassionate . . . High Dive is a moving and charismatic novel . . . It succeeds, through its multiple sympathies and scrupulous empathy, on its own terms."
—Financial Times

"A courageous work of art that works its own kind of high dive trick—a relentless momentum whose twists demand close attention. Jonathan Lee is a real talent."
—South China Morning Post

"Lee has crafted an absorbing character piece that feels startlingly real . . . Extremely relatable . . . High Dive is funny, troublesome, and poignant, and will cement Lee's reputation."
—The Herald (Scotland)

Knopf, 9781101874592, 336pp.
Publication Date: March 8, 2016
About the Author
JONATHAN LEE is a British writer whose recent fiction has appeared in Tin House, Granta, and A Public Space, among other magazines. High Dive is his first novel to be published in the United States. He lives in Brooklyn, where he is a contributing editor for Guernica and a regular contributor to The Paris Review Daily.

or
Not Currently Available for Direct Purchase