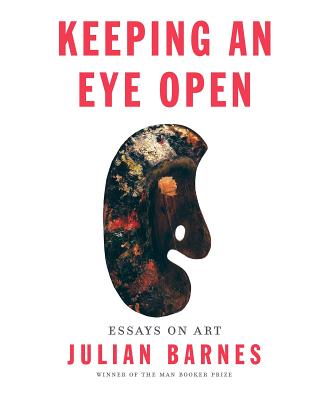 Keeping an Eye Open (Hardcover)
Essays on Art
Knopf, 9781101874783, 288pp.
Publication Date: October 6, 2015
Other Editions of This Title:
Paperback (6/13/2017)
* Individual store prices may vary.
Description
An extraordinary collection—hawk-eyed and understanding—from the Man Booker Prize–winning, best-selling author of The Sense of an Ending and Levels of Life.

As Julian Barnes notes: "Flaubert believed that it was impossible to explain one art form in terms of another, and that great paintings required no words of explanation. Braque thought the ideal state would be reached when we said nothing at all in front of a painting . . . But it is a rare picture that stuns, or argues, us into silence. And if one does, it is only a short time before we want to explain and understand the very silence into which we have been plunged."

This is the exact dynamic that informs his new book. In his 1989 novel A History of the World in 10½ Chapters, Barnes had a chapter on Géricault's The Raft of the Medusa, and since then he has written about many great masters of nineteenth- and twentieth-century art, including Delacroix, Manet, Fantin-Latour, Cézanne, Degas, Redon, Bonnard, Vuillard, Vallotton, Braque, Magritte, Oldenburg, Lucian Freud and Howard Hodgkin. The seventeen essays gathered here help trace the arc from Romanticism to Realism and into Modernism; they are adroit, insightful and, above all, a true pleasure to read.
About the Author
JULIAN BARNES is the author of twenty previous books, for which he has received the Man Booker Prize, the Somerset Maugham Award, the Geoffrey Faber Memorial Prize, the David Cohen Prize for Literature and the E. M. Forster Award from the American Academy of Arts and Letters; in France, the Prix Médicis and the Prix Femina; and in Austria, the State Prize for European Literature. In 2004 he was named Commandeur de l'Ordre des Arts et des Lettres by the French Ministry of Culture. His work has been translated into more than thirty languages. He lives in London.
Praise For Keeping an Eye Open: Essays on Art…
"Barnes is a consummate stylist, not only because of his artistic command of language but also by virtue of his searching intelligence, incisive candor, rogue wit, and righteous fairness. He brings these fine-honed qualities, along with his fluency in human complexity, to art criticism, elevating the entire endeavor to a spirited form of inquiry into creators, creations, and their reception. And his subjects are magnetizing. . . . Handsomely illustrated, superbly written, felicitously thought-provoking." —Donna Seaman, Booklist
 
"[Barnes] digs into fascinating details of isometric proportions. . . Highly recommended to all art readers." —Peter S. Kaufman, Library Journal

"Perceptive and entertaining. . . . Anyone with a serious interest in art will enjoy these essays, no matter their level of knowledge. This is a book to be read and reread for both information and pleasure." —Sara Catterall, Shelf Awareness

"Barnes puzzles over the intimate lives of artists and casts a generous and discerning eye over the small, painterly decisions that imbue a canvas with force. . . . Great art can take all we've got to throw at it, and as time passes, whatever we throw turns to dust and the art remains. Barnes knows this. Indeed, he revels in it. Great art, to him, is an interrogator and a liberator. The more we look, the more our presumptions shatter." —Cate McQuaid, The Boston Globe
 
"Barnes places static images within narrative contexts that enliven and animate them [and] all of these essays share this novelistic tone and are rich with anecdotes. . . . [Barnes's] strikingly eloquent lines [hit] with the force of a kick. He deals not in argument but in persuasion. . . . The point is sheer enchantment." —Becca Rothfeld, The Washington Post 

"A dazzling collection. . . about many wondrous things." —The Independent 
 
"Fascinating and brilliant. . . . This magnificent survey draws its strength from its intensely personal focus, each piece reverberating off the others. . . . It's a stream of thinking, over years." —The Financial Times
 
"Erudite, entertaining and highly personal." —The Tatler
 
"An artwork invites the eye to look.  How head, heart and imagination respond is explored and captured here with apparent ease and great skill. . . . It's a readable, riveting, informed work with sharp, marvellous anecdotes and observations. . . . In this beautifully illustrated book you're in great company." —The Irish Independent
 
"Extremely rewarding, informative, attentive, thoughtful, entertaining." —The Evening Standard
 
"Barnes weaves biography, history, philosophy in this fascinating, richly illuminating and beautifully written book." —Art Quarterly
 
"If only all art writing were as good as this." —The New Statesman
or
Not Currently Available for Direct Purchase