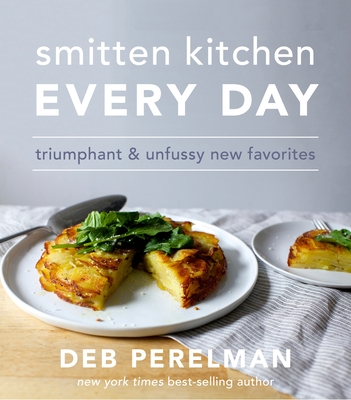 Smitten Kitchen Every Day
Triumphant and Unfussy New Favorites: A Cookbook
Hardcover

* Individual store prices may vary.
Description
NEW YORK TIMES BEST SELLER • From the best-selling author of The Smitten Kitchen Cookbook—this everyday cookbook is "filled with fun and easy ... recipes that will have you actually looking forward to hitting the kitchen at the end of a long work day" (Bustle).

A happy discovery in the kitchen has the ability to completely change the course of your day. Whether we're cooking for ourselves, for a date night in, for a Sunday supper with friends, or for family on a busy weeknight, we all want recipes that are unfussy to make with triumphant results.

Deb Perelman, award-winning blogger, thinks that cooking should be an escape from drudgery. Smitten Kitchen Every Day: Triumphant and Unfussy New Favorites presents more than one hundred impossible-to-resist recipes—almost all of them brand-new, plus a few favorites from her website—that will make you want to stop what you're doing right now and cook. These are real recipes for real people—people with busy lives who don't want to sacrifice flavor or quality to eat meals they're really excited about.

You'll want to put these recipes in your Forever Files: Sticky Toffee Waffles (sticky toffee pudding you can eat for breakfast), Everything Drop Biscuits with Cream Cheese, and Magical Two-Ingredient Oat Brittle (a happy accident). There's a (hopelessly, unapologetically inauthentic) Kale Caesar with Broken Eggs and Crushed Croutons, a Mango Apple Ceviche with Sunflower Seeds, and a Grandma-Style Chicken Noodle Soup that fixes everything. You can make Leek, Feta, and Greens Spiral Pie, crunchy Brussels and Three Cheese Pasta Bake that tastes better with brussels sprouts than without, Beefsteak Skirt Steak Salad, and Bacony Baked Pintos with the Works (as in, giant bowls of beans that you can dip into like nachos).

And, of course, no meal is complete without cake (and cookies and pies and puddings): Chocolate Peanut Butter Icebox Cake (the icebox cake to end all icebox cakes), Pretzel Linzers with Salted Caramel, Strawberry Cloud Cookies, Bake Sale Winning-est Gooey Oat Bars, as well as the ultimate Party Cake Builder—four one-bowl cakes for all occasions with mix-and-match frostings (bonus: less time spent doing dishes means everybody wins).

Written with Deb's trademark humor and gorgeously illustrated with her own photographs, Smitten Kitchen Every Day is filled with what are sure to be your new favorite things to cook.
Praise For Smitten Kitchen Every Day: Triumphant and Unfussy New Favorites: A Cookbook…
A New York Times Best Seller

"This is the kind of book you could easily cook out of for a month straight without tiring of it. You could also simply sit down and read it cover-to-cover, thanks to Perelman's honest, funny, and at times charmingly self-deprecating personal anecdotes that introduce each recipe. Where Perelman really shines is in coaxing big flavors out of minimal ingredients. . . . As with her first book, she shot all the photos herself in her own home kitchen, further adding to that sense of aspirational approachability. And really, that's the Smitten Kitchen magic: recipes that are ingeniously creative but so accessible that they leave you thinking, 'Why the hell didn't I think of that?'" —Eater

"Equal parts tongue-in-cheek commentary and measuring instructions, Perelman's style is relatable and fun. Her self-deprecating jokes are enough to make any novice cook feel comforted, and her well-thought-out recipe caveats will impress the most experienced baker. Perelman fills her latest cookbook with pages and pages of 'real recipes for real people,' as it says on the inside cover. I trust her to give me a great recipe for just about anything, and when a friend gives me a rave review, I tell them, 'Deb hasn't let me down yet.'" —Gabriela Saldivia, NPR

"No one delivers recipes inspired by equal parts curiosity and appetite quite like Smitten Kitchen's Deb Perelman, and [here] she celebrates the 'unfussy but triumphant' recipes that make her . . . really excited to cook and eat. Try getting through the book without flagging the Jam-Bellied Scones, Bacony Baked Pintos with the Works, and Lemon Meringue Pie Smash, and we'll be amazed." —Epicurious

"[The] Smitten Kitchen blog has won fans and followers with its spot-on recipe curation and Perelman's winning prose—she makes you feel like you're her friend. This book is a collection of recipes that, she writes, 'don't just fit into our lives, they make us happy.' Readers can reclaim joy in the kitchen, too, with cauliflower wedge salad, mini-matzo ball soup, tomato and gigante bean bake." —The Boston Globe
 
"Deb Perelman, the beloved food blogger and author, finally returns with her second book, five years in the making. Taking the name of her popular blog, the book is so much more: Of the cookbook's 115 recipes, 101 are brand new. Each recipe is accompanied by a photograph shot by Deb (as she's simply known to her many followers), herself. . . . It's no wonder this lovely new book took half a decade." —Chicago Tribune

"A tremendously appealing collection of recipes whose headnotes strike chord after rousing chord. Yes, of course I want those Pizza Beans and Pretzel Linzer Cookies. And why have I never heard of Jam-Bellied Bran Scones before—or had the sense to put jam in the belly of any baked good at all?" —Kristen Miglore, Food52

"Filled with fun and easy—but delicious and totally Instagramable—recipes that will have you actually looking forward to hitting the kitchen at the end of a long work day." —Bustle
Knopf, 9781101874813, 352pp.
Publication Date: October 24, 2017
About the Author
DEB PERELMAN is a self-taught home cook, photographer, and the creator of smittenkitchen.com. She is the author of the New York Times best-selling The Smitten Kitchen Cookbook, which won the IACP Julia Child Award. Deb lives in New York City with her husband, son, and daughter.