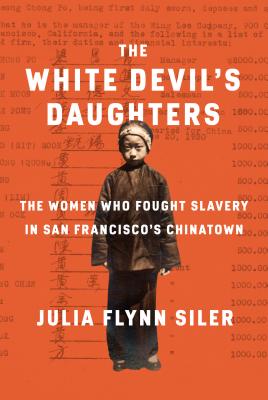 The White Devil's Daughters
The Women Who Fought Slavery in San Francisco's Chinatown
Hardcover

* Individual store prices may vary.
Other Editions of This Title:
Digital Audiobook (5/13/2019)
Paperback (4/7/2020)
Description
During the first hundred years of Chinese immigration--from 1848 to 1943--San Francisco was home to a shockingly extensive underground slave trade in Asian women, who were exploited as prostitutes and indentured servants. In this gripping, necessary book, bestselling author Julia Flynn Siler shines a light on this little-known chapter in our history--and gives us a vivid portrait of the safe house to which enslaved women escaped. The Occidental Mission Home, situated on the edge of Chinatown, served as a gateway to freedom for thousands. Run by a courageous group of female Christian abolitionists, it survived earthquakes, fire, bubonic plague, and violent attacks. We meet Dolly Cameron, who ran the home from 1899 to 1934, and Tien Fuh Wu, who arrived at the house as a young child after her abuse as a household slave drew the attention of authorities. Wu would grow up to become Cameron's translator, deputy director, and steadfast friend. Siler shows how Dolly and her colleagues defied convention and even law--physically rescuing young girls from brothels, snatching them from their smugglers--and how they helped bring the exploiters to justice. Riveting and revelatory, The White Devil's Daughters is a timely, extraordinary account of oppression, resistance, and hope.
Praise For The White Devil's Daughters: The Women Who Fought Slavery in San Francisco's Chinatown…
"Meticulously researched and inspiring . . . [Siler] recounts the bravery of the women who dared escape their imprisonment and the devotion of the women who ensured their safety . . . Some of the book's best scenes are gripping legal trials where Donaldina Cameron helps to set precedents for immigrant women's rights . . . A reminder that our political gestures and small wins accumulate and create ripple effects in ways we cannot often measure . . . Looking at [the Cameron House] after reading Siler's book is a terrific reminder of a how a life's work is built: brick by brick." —Anisse Gross, San Francisco Chronicle

"A solid introduction to an inspiring and, yes, heroic struggle against a barbaric practice . . . Siler has provided a usefully broad view of the fight against slavery in San Francisco's Chinatown, one especially effective in giving voice to previously underappreciated figures." —Gary Kamiya, The New York Times Book Review

"Siler offers readers a sympathetic if at times critical account of this largely unknown story. Her smooth prose and vivid descriptions, as well as the numerous photographs reproduced throughout the book, create a compelling picture of life in the rough-and-tumble world of San Francisco's Chinatown." —Maura Elizabeth Cunningham, The Wall Street Journal

"Vividly captures the atmosphere of sex trafficking in the late 19th and early 20th centuries . . . A wonderful storyteller, Siler places determined Dolly Cameron, leader of the Presbyterian Mission Home, and her assistant Tien Fuh Wu at the center of the struggle and brings to light a little-known chapter in U.S. history." —Minneapolis Star Tribune

"Intensely well-researched . . . Siler digs into archives and private records to tell the real life stories of young women who fled their country or dire situations to seek refuge. . . . The lives and activities of Cameron and Wu—early feminists, agents for change, civil rights activists, some men, and yes, women faithful to Christian or other religious beliefs and practices—are riveting and personal. Siler provides sweeping perspective on the era's racism, immigration, and women's position in society. Photographs throughout the book offer vivid reproductions of San Francisco at the turn of the 20th century." —Lou Fancher, Oakland Magazine

"Shines a historical spotlight on a problem that continues to plague the world today . . . Siler's research is thorough, [and] these events make for compelling reading." —Wendy Migdal, The Free Lance-Star (Fredericksburg, VA)

"An astonishing tale of devotion and heroism [and] a revealing glimpse into mid-19th-century San Francisco . . . It's the women themselves who fill the book's pages—Bessie Jeong, who became one of the first women physicians of her era, and Tien Fuh Wu, who became Cameron's longtime ally in the fight for women's rights . . . Siler's descriptions of the crowded Cameron House are indelible." —Georgia Rowe, The Mercury News

"An eye-opening account of the valiant work of a handful of Christian women against the enslavement of Asian girls in San Francisco's Chinatown from the mid-1870s well into the next century. In her latest impressive work of research and storytelling, Siler delves vigorously into a shocking story of racism and oppression. [She] vividly portrays both the vibrant, violent milieu of Chinatown of the era—amid the fear and hatred of the Chinese by whites and the effects of laws such as the Chinese Exclusion Act of 1882—and the lives and dedication of the extraordinary women of the Mission House. An accessible, well-written, riveting tale of a dismal, little-known corner of American history." —Kirkus Reviews (starred review)

"In this incisive history, journalist Siler uses the biographies of Donaldina Cameron and her longtime assistant, Tien Fuh Wu, to tell the story of San Francisco's Presbyterian Mission Home. . . . Their campaigns included literal rescues from sexual or household slavery as well as providing protection and a home to women and girls fleeing enslavement, forced marriages, and other forms of exploitation. . . . Siler offers a fascinating example of the urgency and ambiguity of turn-of-the-century social reform movements and reformers." —Sara Jorgensen, Booklist

"Gripping . . . Siler vividly recounts a shocking episode from America's past . . . This strong story will fascinate readers interested in the history of women, immigration, and racism." —Publishers Weekly

"Julia Flynn Siler has written a diamond of a book—solidly researched, polished, and crafted with a cutting edge. The White Devil's Daughters tells an unforgettable story of exploitation, oppression, and resistance, showing how the enslavement of Chinese women was woven into the birth of Asian America in nineteenth-century San Francisco. Most important, Siler rescues the remarkable women who waged war on this criminal trade, inside and outside the law, even as they battled pervasive anti-Chinese bigotry. This book is not only rewarding, but necessary." —T.J. Stiles, winner of the Pulitzer Prize for Custer's Trials and The First Tycoon

"Unveils a remarkable and controversial chapter of Chinatown history. Sounding a warning gong in a world still plagued by human trafficking, The White Devil's Daughters is a timely book and a valuable lesson in caring for the suffering of fellow humans while looking for a real cure." —Yunte Huang, author of Inseparable
Knopf, 9781101875261, 448pp.
Publication Date: May 14, 2019
About the Author
JULIA FLYNN SILER is a New York Times best-selling author and journalist. Her most recent book is Lost Kingdom: Hawaii's Last Queen, the Sugar Kings, and America's First Imperial Adventure. Her first book, The House of Mondavi: The Rise and Fall of an American Wine Dynasty, was a finalist for a James Beard Award and a Gerald Loeb Award for distinguished reporting. A veteran journalist, Siler is a longtime contributor and former staff writer for The Wall Street Journal and has been a guest commentator on the BBC, CNBC, and CNN. She lives in the San Francisco Bay Area with her husband and their two sons. Please visit juliaflynnsiler.com for more information.
or
Not Currently Available for Direct Purchase