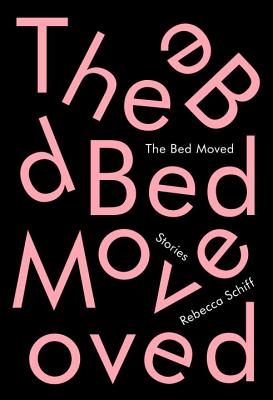 The Bed Moved
Stories
Hardcover

* Individual store prices may vary.
Other Editions of This Title:
Paperback (2/7/2017)
Description
The audacious, savagely funny debut of a writer of razor-sharp wit and surprising tenderness: a collection of stories that gives us a fresh take on adolescence, death, sex; on being Jewish-ish; and on finding one's way as a young woman in the world.

A New Yorker, trying not to be jaded, accompanies a cash-strapped pot grower to a "clothing optional resort" in California. A nerdy high-schooler has her first sexual experience at Geology Camp. A college student, on the night of her father's funeral, watches a video of her bat mitzvah, hypnotized by the image of the girl she used to be . . .

Frank and irreverent, Rebecca Schiff's stories offer a singular view of growing up (or not) and finding love (or not) in today's ever-uncertain landscape. In its bone-dry humor, its pithy observations, and its thrilling ability to unmask the most revealing moments of human interaction—no matter how fleeting—The Bed Moved announces a new talent to be reckoned with.
Praise For The Bed Moved: Stories…
"A stellar collection, an Amy Schumer sketch as chewed up by Andrea Dworkin . . . Schiff writes slim, ice-pick stories about sex and death and nighttime cab rides, sharpened by humor and extreme candor."
—Rebecca Makkai, New York Times Book Review

"We're in a golden age of young female writers who, when they wish to be, are powerfully, cleansingly, and sometimes bawdily funny. This is a post-Lorrie (Moore) and Lydia (Davis) generation . . . Irony and satire are only two of the tools in these writers' kits, but they are crucial in their consistent drawing of blood. [Schiff's] dark wit gives her stories genuine tensile strength . . . She dips into her own braininess as if it were a bottomless trust fund . . . Schiff has an almost Nabokovian boldness and crispness of phrase."
—Dwight Garner, The New York Times

"Each story is a delight—drily funny, irreverent, original. But just as they're refreshingly candid and witty—they are very witty—Schiff's stories also offer tender, but stubbornly unsentimental emotional truths. The stories in this collection are interested only in being honest, and that means shedding light on grief, pride, promiscuity, and loneliness in ways that are surprising, funny, and frank . . . Here is the magic of Schiff: she offers aphorisms without waxing pretentious, and she delivers humor without devaluing the emotional concerns."
—Electric Literature

"A wildly assured debut short-story collection featuring tales of bat mitzvahs, high school ennui, nudist hot springs, and women much smarter than the men they're sleeping with."
—O magazine

"A fresh voice well worth listening to."
—The Atlantic

"Bow down to Rebecca Schiff. In The Bed Moved this brilliant young writer serves up stories that are tough, funny, fearless, weird, and loaded with heartache and desire."
—Ben Marcus, author of Leaving the Sea and The Flame Alphabet

"Schiff's stories about grief-fueled promiscuity bring to mind a Jewish version of Cheryl Strayed . . . [Schiff is] funny and wise beyond her years and knows a thing or two about the price women pay for constantly pleasing others . . . Acerbic . . . Provocative . . . Heartbreaking."
—Los Angeles Review of Books

"I loved The Bed Moved . . . Schiff keeps things lively with her fearlessness and/or shamelessness and/or fearlessness of shame. This quality marks Schiff as heir to a specifically American Jewish tradition that began with Philip Roth and is carried forward today by novelists like Elisa Albert and Adam Wilson, as well as TV shows like Broad City and Girls . . . Welcome to the family."
—Bookforum

"Riveting . . . Schiff's most obvious forebear in minimalist stories that use crystalline language to explore human relationships is acclaimed writer Lydia Davis. But Schiff is certainly charting her own path . . . In her work, you see the grace in human frailty."
—The Nation

"People will say The Bed Moved is a collection of droll stories about love and youth and those people will be correct. But that's not the thing. The thing that makes this book so special is the punch-packing depth of these meticulously crafted pieces. Rebecca Schiff is a human spotlight and I will look wherever she points from now on."
—Sloane Crosley, author of The Clasp, How Did You Get This Number, and I Was Told There'd Be Cake

"Stunning."
—Lenny Letter

"The stories in The Bed Moved are tart, sexy, powerful, and very, very funny. Under Schiff's unsparing eye, uncomfortable, hilarious truths are laid bare. A terrific debut."
—Kirstin Valdez Quade, author of Night at the Fiestas

"Rebecca Schiff packs more genuine human feeling into these pages than most books triple its size do. Also slyly unforced humor. And strange, cracked observations about death. And casual sex—or, rather, not-really-casual sex posing as casual sex. And sadness in high school. And in college. And in adulthood while still living like you're in college and having the same emotional responses you did in high school. The Bed Moved is a superbly written reminder of the greatest pleasure fiction has to offer: profound access to the mind of someone else who is unlike anyone else."
—Teddy Wayne, author of The Love Song of Jonny Valentine

"Spare and buoyant . . . The women in Schiff's stories are realer than real; armed with wry humor and strong opinions, their quips are as funny as their insights are tender."
—Huffington Post

"You'll laugh, you'll cry, you'll cringe from red-faced embarrassment. Schiff gets at the relentlessness of being a young woman dealing with (or, hell, even being ambivalent about) love, dating, and grief, all while finding deep, sometimes dark, laughter in it."
—Marie Claire

"Reads like watching a mashup of Mark Morris and Twyla Tharp choreography . . . [The book] is narrated by ultrasmart, lonely, droll young women . . . Yet a mournful vapour trails Schiff's acrobatic wit."
—San Francisco Chronicle

"Rebecca Schiff's spiky prose white-knuckles your heart while making you laugh. And that's not easy. A remarkable debut."
—Patricia Volk, author of Stuffed, Shocked, and To My Dearest Friends 

"Enticing . . . irresistible . . . [Schiff] knows how to seduce a reader as blithely as some of her characters casually bed men, writing in stylishly simple and almost staccato prose, beneath the surface of which we soon spot roiling emotions—feelings of loss, the urge to connect . . . After taking them all in, we may find ourselves quite taken with this distinctive new voice in fiction, hungry for more of it and—like the collection's titular bed—moved."
—Kirkus, *starred review*

"Rebecca Schiff is one of the best young writers out there. Her stories are sharp, subtle, funny and incredibly moving." 
—Sam Lipsyte, author of The Ask

"If you see a bald man running through the streets of Brooklyn screaming Rebecca Schiff's name, do not fear for her life—it's just me, after one too many, singing the gospel of Schiff! I am in awe of this book, in awe of its sentences, in awe of the unapologetically horny and intelligent young women who populate these stories. I'm in awe of its author's bullshit-free exploration of everything from death to dating apps, in awe of her ability to capture so precisely what it's like to be alive in America during this weird-ass moment. Mostly I'm in awe of the way these compact stories are so spring-loaded with humor and pathos and soul. This is my favorite book that I've read in a long time, and I expect it will be another while yet before anything even close to as good comes along again." 
—Adam Wilson, author of What's Important is Feeling 

"Young women mourn, date, and equivocate in Schiff's lively debut story collection . . . Consistently and darkly funny, Schiff makes light of her characters' dilemmas, but never belittles their genuine distress, resulting in a fresh, varied collection that will resonate with readers."
—Publishers Weekly

"This collection of short (and really) short stories exemplifies just how powerful economy of language can be. At once acerbic and heartbreaking, Schiff's fictional plots draw on the modern female experience—what it means to share a bed, to endure a loss, to seek a crutch, and willingly become one yourself."
—Refinery29

"Hilarious, harrowing, and incisive . . . The Bed Moved is a thrilling debut that will have you cry-laughing in public and leave you wanting more."
—BuzzFeed
 
"Masterful . . . In The Bed Moved, Rebecca Schiff emerges with the biting tongue, warm affection, and well-advised hindsight of a rom-com best friend—in the best possible way . . . This collection unleashes its pent-up, raw energy like a box of suburban secrets finally being unveiled."
—The Iowa Review

"Lucid, powerful . . . Thoughtful and true, because this is how women move in the world."
—Brooklyn magazine

"Schiff's debut collection is piercing and playful, witty and wise . . . An observer extraordinaire, Schiff elucidates her characters' thoughts and moments, sharing them like little, unassuming gems."
—Booklist

"Schiff's cultural commentary is sharp and lethal . . . It's exciting to watch Schiff perform this linguistic feat."
—The Rumpus

"[Schiff's stories] abound with honesty, humour, pathos, and achingly acute observations about life . . . Smart, tender, and irreverent."
—Winnipeg Free Press
 
"Schiff occupies the space in fiction that Lena Dunham occupies in television and Amy Schumer occupies in comedy . . . Searingly funny."
—Fashion Unfiltered

"Brilliant . . . Devastatingly funny . . . Schiff doesn't simply know her characters; she knows them very, very well."
—Anniston Star (Alabama)

Praise from the UK:

 "Brave, intimate . . . Both powerful and poignant . . . A daring appraisal of adulthood, sexuality, and death amid uncertainty and self-doubt."
—Financial Times
 
"Converting the ore of the very banal into the truly interesting currency of realism is something that even many well-received authors find difficult. Rebecca Schiff has a gift for it . . . Strikingly original . . . Schiff's buzzy, concisely wise style is a perfect medium for the trappings of womanhood in modernity . . . Always electrifying."
 —The Spectator

Knopf, 9781101875414, 160pp.
Publication Date: April 12, 2016
About the Author
REBECCA SCHIFF graduated from Columbia University's MFA program, where she received a Henfield Prize. Her stories have appeared in n+1, Electric Literature, The American Reader, Fence, and Guernica. She lives in Brooklyn.
or
Not Currently Available for Direct Purchase