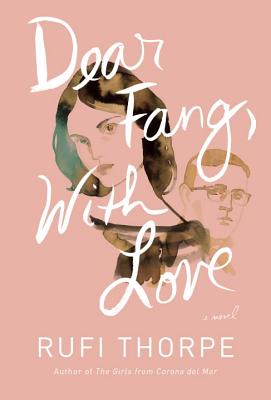 Dear Fang, With Love (Hardcover)
A novel
Knopf, 9781101875773, 320pp.
Publication Date: May 24, 2016
Other Editions of This Title:
CD-Audio (5/25/2016)
Paperback (4/18/2017)
* Individual store prices may vary.
Description
A bold, spellbinding novel featuring one of the most fascinating protagonists in recent memory, Dear Fang, With Love tells the story of seventeen-year-old Vera—ravishing, troubled, wildly intelligent—who travels to Europe with her estranged father, hoping that an immersion in history might help them forget his past mistakes and her uncertain future.

Lucas and Katya were boarding school seniors when, blindingly in love, they decided to have a baby. Seventeen years later, after a decade of absence, Lucas is a weekend dad, newly involved in his daughter Vera's life. But after Vera suffers a terrifying psychotic break at a high school party, Lucas takes her to Lithuania, his grandmother's homeland, for the summer. Here, in the city of Vilnius, Lucas hopes to save Vera from the sorrow of her diagnosis. As he uncovers a secret about his grandmother, a Home Army rebel who escaped Stutthof, Vera searches for answers of her own. Why did Lucas abandon her as a baby? What really happened the night of her breakdown? And who can she trust with the truth? Skillfully weaving family mythology and Lithuanian history with a story of mental illness, inheritance, young love, and adventure, Rufi Thorpe has written a breathtakingly intelligent, emotionally enthralling book.
About the Author
RUFI THORPE received her MFA from the University of Virginia in 2009. Her first novel, The Girls from Corona del Mar, was long-listed for the 2014 International Dylan Thomas Prize and for the 2014 Flaherty-Dunnan First Novel Prize. She lives in California with her husband and sons.
Praise For Dear Fang, With Love: A novel…
"One of the finest releases of 2016… Thorpe is a major talent, and reading her work will bring to mind other writers who deftly control their universes with such clarity and acuity, like Donna Tartt or Ann Patchett."
—Martin McClellan, The Seattle Review of Books 
 
"Thorpe excels at immersing readers in a foreign setting …. It's a beautiful novel to close out the summer: a family vacation narrative with far more depth and nuance than a typical beach read but a perfectly welcome addition to a beach tote all the same."
—Stacia L. Brown, The Washington Post
 
"Vera and Lucas and their tour companions will live on in the reader's imagination, all of them longing for something that seems out of reach, or if achieved, then grasped too late… As much as the characters live on, so too will Vilnius. Ms. Thorpe evokes it beautifully... She is both a skilled and intelligent writer: an adept of vivid prose and deft pacing. This book is her second novel. Let's hope for more to come. She is definitely an author to watch."
—Claire Hopley, The Washington Times 
 
"A deeply-detailed, beautiful, often hilarious novel, Dear Fang, With A captivating, compulsively readable and utterly original book."
—Mary Pauline Lowry, The Huffington Post 

"Thorpe's voice, language, and attention to detail sucked me into the world she's created. Thorpe manages to tackle dark issues—estranged families, mental illness, and failed relationships—with a unique sense of humor and big-hearted empathy."
—Michelle King, Electric Literature

"This book weaves an emotional web that will draw you in completely."
—Bustle 

"[Thorpe's] second novel, which blends the cultural history of The Tiger's Wife with the madcap energy of Dave Eggers, just might be her breakout book."
—BookPage 
 
"Tremendous... Showcase[s] Thorpe's fabulous versatility, insight, and humor... While the themes of the book--mania, the Holocaust, and the devastating number of ways that any parent-child dynamic can go awry--are undeniably dark, Thorpe's prose is light, often hilarious, and unshakably grounded in the concrete details of daily life... Thorpe has written an absolute winner." 
—Publishers Weekly (starred review)
or
Not Currently Available for Direct Purchase